With hot weather fast approaching, everyone is going to want to be in the water. Babies of all ages love the water, and it's great if the whole family can enjoy swimming together.
Even if you have the best baby pool float with all the safety features, you need to always supervise your baby. An accident can happen at any time so you always need to be within an arm's reach.
Introducing your infant or young toddler to the water at soon as possible is not only fun, it helps them to become a bit more comfortable water for when it's time for swimming lessons.
For older toddlers (25+ pounds), who ARE ready to start swimming, a good toddler swimming vest is the next step.
Our 6 Favorite Infant Pool Floats
Baby Pool Float Reviews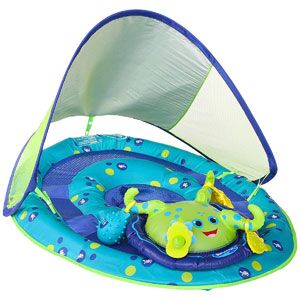 The SwimWays Baby Spring Float Activity Center is recommended for babies ages 9-24 months. It's the perfect way to introduce your little one to the pool! It has an adorable built-in play station that your baby will love!
Your baby will stay busy playing with the toys and splashing and kicking in the water, while you will appreciate the large detachable canopy that protects the baby from the sun with SPF 50.
We love that this baby float folds easily for storage and comes with its own carrying case. Additional features of this float include child safety valves, dual air chambers, and an innerspring for greater stability.
The soft mesh seat is very comfortable for baby and the fabric-covered rings make it more durable and prevent it from getting hot in the sun.
Although this float is recommended for babies over 9 months, many owners noted that they used the float for babies even younger with constant supervision and extra support from mom or dad.
Several moms stated that the dual rings on this float make it extra stable and it was super easy to inflate and set up. It's often recommended that those with older babies inflate it completely full so your baby doesn't weigh it down in the water.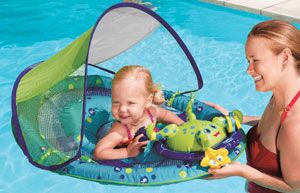 While we don't exactly recommend this, one user said that this float worked great for them at the beach. They went out past the wave break and their baby just floated on the waves in his float with dad holding on to it at all times. So much better than holding him in your arms and having him get splashed in the face every time a wave comes up.
Some parents do find that the seat on this float was a little deep and babies who could not sit up on their own had to have some additional support.
Other users were also disappointed that the toys weren't attached to anything and their baby was constantly dropping them in the pool. Although if you also have an older child, they'd probably love diving down to get the toys.
The SwimWays Infant Baby Spring Float is recommended for babies ages 3-9 months, so it's a great infant pool float.
Unlike typical floats which have 2 holes for the baby's legs to go through, this one features a soft seat that cradles your baby on top of the float and has a 3-point harness for safety.
Your baby can get a little wet in this floaty, but he is not actually in the water. It's great for very young babies that can't sit up yet. Much better than having to hold them the entire time you're in the water!
It has a wide base and a patented inner spring for greater stability. Additional safety features include dual inflation chambers and child safety valves, as well as a durable fabric cover.
We love that it has built-in handles for mom or dad to hold on to! The floatie folds flat for storage and comes with a carry case and also features a removable canopy with SPF 50 sun protection.
This float packs compactly for travel and is well worth bringing on vacation.
Several moms said that their babies love this float so much that they fall asleep in it! They even used it as a place for the baby to lay on the beach under the sunshade or on the deck by the pool. The majority of uses found it to be very sturdy and stable in the water.
Some users felt that the sunshade on this floatie should be bigger so that they didn't have to constantly turn the floatie to keep the baby's face out of the sun. There were also a few that were disappointed that their baby didn't stay COMPLETELY dry in this floatie. But all in all, both moms and babies love this floatie!
Yet another SwimWays model (we're obviously fans), this Baby Spring Float is made for ages 9-24 months. The soft mesh seat allows your baby to kick his feet in the water while he floats around in the pool.
Safety features on this baby pool float with canopy include dual air chambers and child safety valves. It has a low center of gravity and an innerspring that make it more stable in the water. It folds compactly for travel and goes right back into its convenient storage bag.
There is an adjustable, removable canopy on this floatie and it has an SPF of 50. The fabric-covered rings add durability and the soft mesh seat is very comfortable for your baby. A mesh play space is included for holding the baby's toys. Your baby will love to practice kicking in the water!
Most users found this floatie to be very easy to inflate, but there were some that complained of issues with the blow-up valve so be sure to give it a test run before heading out to the beach or pool.
It deflates easily and then twists up (like a sunshade) for compact storage. It has its own mesh storage bag for travel, so it's very easy to pack and carry.
The Mambobaby Air-Free Swim Ring by V Convey is made for babies and toddlers from three months to two years old.
The float itself is made from an extremely buoyant pearl foam, so it never needs to be inflated, and you'll never have to worry about leaks.
The outside of this baby float is covered with a soft swim cloth for your little one's comfort. This non-inflatable swim ring comes in three colors for boys and girls.
This versatile swim ring allows children from 3 to 12 months to float in the backstroke position, while children up to 24 months can float in the breaststroke position.
The design features an adjustable harness with a crotch strap to keep the baby from slipping out of the floatie while in the water. The harness has been upgraded with buckles that feature a quick-release button and non-slip straps for added peace of mind.
Unfortunately, this floatie does not come with a canopy, so parents will need to be extra attentive about sun protection. This product does not flatten for storage, so it's not a great option for traveling.
However, many parents report that it's worth the trade-off of never having to inflate this float or worry about leaks. It's a good choice for parents who want a hassle-free float to use in their swimming pool at home or even their bathtub.
The Ayeboovi Baby Pool Float is made for babies from nine to 36 months, weighing up to 40 pounds. The design includes a detachable canopy to shade your little one from the sun.
This pool float is made from non-toxic, high-quality PVC and has an adorable smiling baby shark shape that boys and girls will love.
The Ayeboovi baby swim ring has a large circumference and two sturdy hand grips on the sides to help children feel more stable in the water.
With the addition of the inflatable tail and side fins, you can rest assured that your little one will not tip over in the water. The design also includes thick, rounded edges on the back for the baby to lean on comfortably.
Parents love how large and sturdy this baby pool float is. It inflates quickly with either an electric or a hand pump and deflates for storage.
They also report that the leg holes are smooth and comfortable for the baby, unlike some other floats. Kids love the little bells that are inside the shark's teeth.
A few reviewers had issues with the canopy falling forward, but most reviewers say that the problem is easily overcome by making sure to fully inflate the canopy.
The Ayeboovi Baby Pool Float is very well made and features multiple chambers for added safety. It's an excellent swim ring for little kids with a very affordable price tag.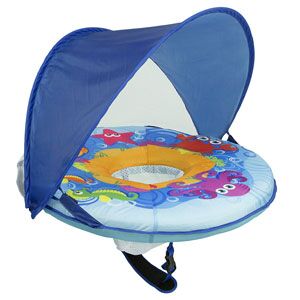 SwimSchool's unsinkable, self-inflating, baby float is made for babies from six to 24 months. Our favorite thing about this baby floatie is that it's completely hassle-free! According to the manufacturer, it inflates itself in just 60 seconds. You never have to worry about a pump or leaks with this floatie.
The super dense, unsinkable foam core is exceptionally buoyant to keep your little one safe and stable in the water. The adjustable mesh seat lifts your baby to the perfect level in the water, making this floatie extremely versatile. The zip-off canopy is retractable and provides a UPF of 50+ for maximum sun protection.
Kids will love the light blue color and the brightly colored sea creatures printed on this fabric floatie. Parents report that this floatie is very stable in the water and doesn't tip, even when the baby leans forward to splash and play. It also dries quickly and packs away flat for storage.
Unfortunately, for some reviewers, the valve had to be left open for a couple of hours before the floatie inflated all the way. Others also had difficulty keeping the sunshade in place.
At the end of the day, if you want to avoid the hassle of using a pump, this self-inflating floatie is certainly worth a try.
FAQs
Are baby neck floats safe?
The dangers of baby neck floats are too great and therefore we do not recommend using a baby neck float to introduce your baby to the water. Since there is only one seam, if the seam fails on a baby's neck float, they could quickly go under the water.
Are there any other types of baby pool float?
Baby float suits are another type of baby float. They are intended to teach your child how to swim. They give extra buoyancy while the baby is paddling, but very close supervision is required because a nonmoving baby will tip whichever way the baby leans.
They will not keep the baby's face out of the water as a float does. See our review of the Splash About float suit.
What Are Some Baby Pool Float Safety Tips
Your eyes and attention must be on the baby whenever he is in the water. Never turn your back on a baby in the water, not even when he's in a floatie.
Stay within arm's reach of your child always.
If you are going to be at the pool regularly with your child, learn CPR. Accidents happen quickly and you could end up saving the life of your child, or maybe even someone else's.
Pool floats are just that… for the pool. If you plan on taking your family including the baby out on a boat and dropping anchor for some swimming, a USCG approved baby life jacket is mandatory.
Baby pool floats are great for introducing your baby to the water. You can have your arms free to swim and your baby will love it!