It's summertime and everyone wants to be outdoors! Keeping your little one protected from the sun, wind, and bugs can be a challenge, especially at the beach! A baby beach tent is the perfect, affordable solution and the perfect place for napping and playtime. Find the best baby beach tent for you with our review.
The best baby beach tent will not only protect your little one from the sun, it should also have good ventilation to help them stay cool, tent pegs to keep it in place, and be easy to set up and take down.
Portability is also important so you can easily pack it up for travel. It's also nice if the tent includes sandbags (or pouches to put sand in) to keep it from blowing away.
Even with one of these tents, always pack a sun hat and water resistant, baby safe sunblock for when your baby isn't in his or her shade tent.
Our 9 Favorite Baby Beach Tents
| | Product | Size (L x W x H) | Weight | Includes |
| --- | --- | --- | --- | --- |
| | Schylling Play Shade | 51 x 39 x 31 | 2.0 lbs | 4 pegs, sand pockets, travel bag |
| | Pop'n'Go Portable Playpen | 59 x 40 x 48 | 7.2 lbs | 6 pegs, travel bag, UV cover |
| | Monobeach Baby Beach Tent | 48 x 32 x 28 | 1.8 lbs | 4 pegs, travel bag |
| | Pacific Play Tents Lil' Nursery Tent | 36 x 36 x 36 | 3.0 lbs | travel bag |
| | Nidö 2-in-1 Sun Shelter | 37 x 37 x 25 | 1.0 lbs | travel bag, mat, 3 toys |
| | Babymoov Sun Shelter | 39 x 35 x 33 | 1.5 lbs | 4 pegs, travel bag |
| | Overcrest Pop Up Baby Tent | 42 x 27 x 20 | 1.0 lbs | 2 pegs, travel bag |
| | Bend River Baby Beach Tent | 53 x 35 x 24 | 1.4 lbs | 2 pegs, travel bag |
| | Aiernuo Baby Beach Tent | 50 x 26 x 24 | 2.5 lbs | 2 pegs, travel bag |
Baby and Toddler Beach Tent Reviews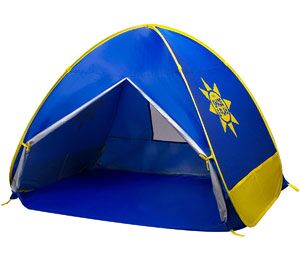 This is a fabulous shade tent for the yard, beach, or pool. It is super spacious and will protect your baby or toddler from the sun with UV protection of 50+. Best of all, this tent is big enough for 2 kids to play in at the same time!
This sun shelter is ultra-portable and includes its own carry bag. Just sling it over your shoulder and take it anywhere! The Schylling play shade can be set up in seconds; it just pops open into shape. Tie down pegs and sand pockets are included to keep it from blowing away in the wind.
Packing up is easy, too. Just fold it up and put it right back in the bag. Once folded, it is small enough to put in your suitcase for travel.
We love the little mesh window on the back! It even has its own little roll-up cover that can be left open for the breeze, or closed, depending on the angle of the sun.
Moms with an infant will really love this tent because it's big enough for them to go in for privacy when breastfeeding at the beach! It can get a little hot inside of this tent, so consider getting a little clip on fan to help keep your little one cool.
If you plan on using it at the pool, bring extra towels to layer in the bottom for comfort, since the tent doesn't have any padding on the floor. This roomy tent is well made at a great price. Perfect for families with more than one child, and big enough for mom or dad to get out of the sun for a moment, too!
Here's something from Pop 'n Go that everybody will love and enjoy! If you're looking for a lightweight on-the-go toddler tent, you'll fall in love with this one.
With the carrying bag included, it's super easy to take with you to the beach where your kids can enjoy all the fun in the sun. The included shade roof provides UV protection to keep your kids safe, so you don't have to worry. You can set up this adorable tent in seconds, thanks to its pop and release technology. And it's just as quick and easy to take it down. We love that it has a built-in safety lock!
This playpen will come in handy if you're alone and need to cater to two children. You can watch your older one's game while your baby safely plays in the tent next to you, with lots of space to move.
Pop 'n Go is perfect to use on soft surfaces like sand, grass, or carpet. However, if you're planning on using it on hard surfaces, you might want to invest in their mattress pad which is sold separately.
All in all, this is a fun tent that both parents and their kids will love. There's a variety of colors to choose from, which is always a big plus!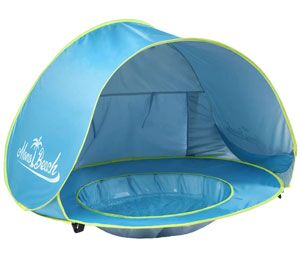 Monobeach has made the perfect baby beach canopy by combining all the benefits of a shade tent with a fun little pool for baby to splash and cool off in.
This popup baby tent provides UV protection of 50+ and features a nice big sun shade to give your little one plenty of protection from the sun. The built-in mini pool gives baby a safe place to play in the water while mom and dad relax on the beach.
Set-up and take down of this automatic pop up is super easy (see video near the end of this article). It packs up small enough to fit into your suitcase for travel, and even includes its own convenient carry bag.
To set up the tent and pool, dig a shallow hole for the little pool to sit in, open the pop up and place the little pool over the hole.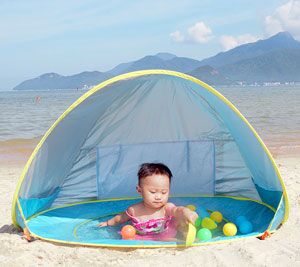 Use the included stakes (with their own separate carry bag) to keep the tent from blowing away in the wind. Then you can fill the little pool with water to the depth you're comfortable with, or if you want, skip the hole and pool altogether and just use it as a sun shade.
Some reviewers struggled with packing this tent back up after use. The enclosed instructions are a little lacking, but there are some great YouTube videos that demonstrate the process (including the one at the bottom of this article).
We suggest practicing the technique at home a couple times before you head out to the beach. This is such a fun little portable shade pool at a great price! We highly recommend it!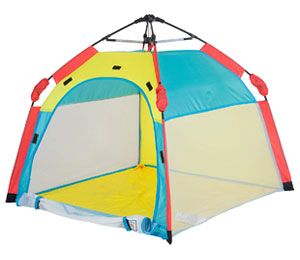 The Pacific Play Tent provides the perfect place for your little one to nap and play safely at the beach, park, or pool. It features two mesh side panels for ventilation and visibility.
The UV treated SPF 30 walls and roll down mesh front door will protect your little one from sun, wind, and bugs. The door fastens shut with Velcro tabs for added security. This tent is very roomy, measuring 3 feet on all four sides.
This play tent sets up just like a regular E-Z UP canopy or pop up camping tent. Just take it out of the carry bag, set it on flat ground, lower the corner poles, and pull up in the middle.
It's easy to take down too. Just pull up on the lock, lift all the corners to the middle, fold it back up and pack it in its own carry bag.
The tent packs down to about the size and weight of a loaf of bread, so it's perfect to take on vacation. The bottom is waterproof and it comes with a pad for extra comfort.
One user mentioned that this tent will not fit through a doorway once it's set up, so be sure to take it outside first, if that's where you'll be using it. Some moms wish the door had a zipper closure, instead of Velcro, to help keep active babies from opening the door.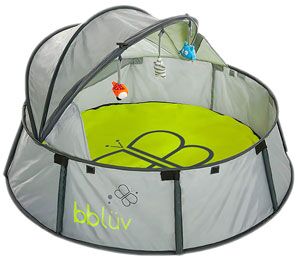 Bblüv has truly thought of everything with the design of their pop-up sun shelfter for babies. With SPF 50+ sun protection and a bug net, it's the perfect play and sleep tent for the beach, park, camping, and even around the home or back yard.
This baby beach tent also includes high side walls and a generous canopy for additional sun, sand, and wind protection.
We love the convenience and portability of the Nido pop up play tent. The entire unit can be set up or taken down and packed away in just a few seconds.
The included mosquito net is also retractable for convenience. We were impressed with this product's durability, yet it is lightweight and compact enough for easy transport and packing.
The high side walls are a really nice feature because they keep sand out of the play area. The Bblüv baby beach tent includes a carry bag, a removable mat for easy cleaning, and three attached toys to keep your baby entertained. It's recommended for infants up to six months old.
Parents and grandparents report that this play tent has plenty of room for little ones to grow and it's excellent for travel. It does take some practice to fold it up and get it back in the bag, so a few trial runs at home might be a good idea.
If you're looking for a compact unit that covers all the bases, the Nido pop-up sun shelter is a great option.
This adorable play shade from Babymoov features a mesh door to keep the bugs out, as well as UV protection of 50+. It sets up in minutes with an easy pop up system. You can literally open it up with one hand while your baby is on your hip.
Take down and pack up are easy too; just face it away from you, rotate and bring the two sides together to fold it into a circle, and then pack it up in its own convenient carry bag.
It packs up small enough to pack in your suitcase, so don't hesitate to bring it along on vacation! Four tent stakes are included to prevent the wind from blowing it away.
We love the roll up mesh netting that provides great ventilation while keeping the bugs out! The netting can be held closed with the Velcro tabs, or tie it open with the little ties on the sides.
The little mesh window in the back also helps with ventilation. This tent is roomy, too! There's plenty of space inside for nursing or changing the baby. The cushioned bottom is a really nice feature and it even pulls out for cleaning.
Users agree that this tent is great for providing sun protection and a safe place to play, however, they found it difficult to fold it back up correctly. The printed instructions that come with it are not great.
Again, we recommend watching some videos and practicing the technique at home a couple times so that you're not struggling to get it packed up on a windy beach. This is the perfect play tent for protecting your little one from sun, wind, and bugs!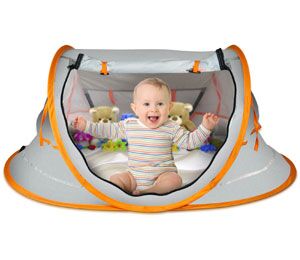 The Overcrest portable pop-up beach tent is an excellent budget-friendly option for the beach, camping, park, or back yard. It is made from UPF 50+ nylon fabric and fabric mesh for protection from the elements and good ventilation on hot days.
Overcrest's baby sun shade is extremely easy to set up. With one hand, simply unzip the bag, allowing the tent to pop out. It comes out of the bag ready to go in just seconds.
The tent folds down easily and is compact enough to fit in your suitcase for travel. A travel bag and two anchor pegs are included with your purchase.
We found this beach tent to be very roomy and love the zip down blinds to darken the tent for naptime. The ripstop nylon fabric is quite durable, yet super lightweight for portability.
Its mesh windows do a great job of keeping the bugs out, making it a great option for hiking and backpacking, too. It would also be ideal as a travel crib at the hotel or on a cruise.
Users love the portability and roominess of this beach tent, calling it a "must-have" for travel. Be sure to follow the directions carefully when folding it up to avoid puncturing holes in the fabric or bending the support frame.
The Overcrest pop-up tent for babies is ideal for families on the go and comes in at a very affordable price point.
The Bend River beach tent provides a shady place for your baby to relax, sleep, and play at the beach, park, or on a camping trip.
The UPF 50+ fabric protects baby from the sun and wind, while the mesh side windows keep the bugs out. Breathable mesh is included on all four sides for good ventilation on hot days.
This infant tent is roomy enough to use as a travel crib or bed. It's actually larger than most of the inexpensive pop-up tents for babies. The Bend River folds up compactly into its own travel bag.
Set up is easy. Just unzip and it pops open, ready to use. The manufacturer has thoughtfully included two pegs to keep the tent from blowing away on windy days.
Parents love the Bend River beach tent because it's much lighter and more compact than a pack 'n' play for travel. It's roomy enough for older babies but folds up compact enough to fit in a carry-on. The mesh is completely see-through, which allows you to keep an eye on your baby at all times.
We love the versatility of the Bend River sun tent. It can be a little tricky to fold up and put back in the bag, so be sure to practice at home before you try it on the go.
If you're looking for a safe place for baby to play and sleep while you travel, or even around the yard at home, this is a great option at an affordable price.
This portable baby beach canopy is perfect for providing a quick shelter from sun, wind and bugs. With UV protection of 50+ and breathable mesh on all four sides, this play tent is perfect for almost any activity.
This play tent is roomy and comfortable with two mats for the bottom; one is a super soft, cotton sleeping pad and the other is a cooling mat. It also includes two tent stakes for holding it down on windy days.
The unique features of this tent make it perfect not only for the beach or pool, but also for camping, the park, and other activities as well. The breathable mesh sides give this tent lots of ventilation while keeping bugs out.
We love the zipper roll ups that allow you to regulate how much air and sun your baby gets. Another neat feature of this portable pop-up are the toy hooks that allow you to hang lightweight toys from the top to keep your baby entertained.
Moms and dads will love how easy this tent is to put up and take down. It comes with its own carry bag and will easily fit into a suitcase for travel. It can be a little tricky to fold this tent up properly, and it's important to take your time and not force it or you may break it.
We recommend a couple trial runs before hitting the outdoors, just to make sure you know how to pack it up properly. Once you get the hang of it, packing up is a snap! This tent has a great design that gives it lots of versatility!
FAQs
What are some features I should look for when shopping for the best baby beach tent?
UV protection of SPF 30 or higher
Stakes or sandbags to keep it from blowing away
Mesh covered openings for good ventilation
Easy set up and take down
Portability
If you plan to spend a lot of time outdoors with your baby, a popup baby tent is a great investment. Your little one will love it for both nap and play time, and happy babies mean happy moms and dads!
How do you fold up a pop-up baby beach tent?
Three Easy Steps to Folding a Pop Up Tent:
Hold the tent so that it's facing away from you.
While rotating the tent, fold it into a circle.
Pack the tent into its carry bag to keep it from popping back open.
Here's a good video of how to setup and take down a Monobeach Baby Beach Tent: