How We Tested
We recommend these products based on an intensive research process that's designed to cut through the noise and find the top products in this space. Guided by experts, we spend hours looking into the factors that matter, to bring you these selections.
Click here for testing insights >

13
Models
Considered

41
Consumers
Consulted

277
Hours
Researched
Buying guide for
5 Best Dog Life Jacket + Vests – Floatation For Furry Friends
Sailing, kayaking or just walking along the shore are fun activities for the whole family, but what about the four-legged members? Do you need to account for a dog life jacket? Anyone who owns a dog knows that many are strong (and often enthusiastic) swimmers so they're fine around water, right?
Not always. While most dogs can swim or can be taught to swim, they'll eventually get tired. If you're on the boat with Fido for the first time and your dog jumps or falls overboard, it could be a while before you can turn and sail back to the rescue. That could end in tragedy unless you have the appropriate safety gear – a doggie life vest.
The best life jacket for dogs doesn't have to cost a fortune or be for emergencies either. If you enjoy kayaking and there's not enough space on your kayak for your dog, there's another solution.
With a life vest for dogs, he can swim along beside you over long distances. Sounds like fun? We think so.
Our Favorite Dog Life Jacket + Vests
Sizing Information
What Size Life Jacket Does My Dog Need?
Measuring your pup for the correct size dog life jacket is pretty simple (sometimes easier said than done). While some manufacturers suggest measuring length, neck, and girth, if you stick to measuring your dog's girth (chest), you're going to be fine 99% of the time.
How Do I Measure My Dog's Chest Girth?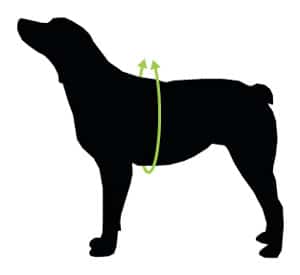 All you need is some measuring tape (flexible tailor's tape) as well as a helper. Because you need to measure Fido's chest as he stands, have your helper hold a treat above your dog's nose to make him stand.
Then, place one end of the measuring tape near the top of his spine, right behind his shoulders. Take the tape and wrap it around the widest part of the rib cage and back to the top of his spine where the other end of the tape starts. Do this a couple times and take the average measurement.
Dog Life Jacket Sizing Chart (by Brand)
This chart shows each manufacturer's recommended girth range for each size of their dog life jackets.
| Brand | XXS | XS | S | M | L | XL |
| --- | --- | --- | --- | --- | --- | --- |
| Ruffwear | 13-17" | 17-22" | 22-27" | 27-32" | 32-36" | 36-42" |
| EzyDog | – | 19-32" | 21-35" | 25-39" | 27-44" | 30-48" |
| Paws Aboard | 10-14" | 14-18" | 18-27" | 18-27" | 27-38" | 38"+ |
| Vivaglory Sports | – | 18-20" | 19-23" | 22-26" | 26-31" | 31-40" |
| Outward Hound | – | 11-15" | 16-20" | 21-27" | 28-32" | 33-44" |
| Vivaglory Original | – | 13-16" | 16-20" | 20-24" | 24-31" | 31-39" |
| Kurgo | – | 14-20" | 18-25" | 24-32" | 24-34" | 28-44" |
| Queenmore | – | – | 17-21" | 20-25" | 23-30" | 26-33" |
Dog Girth Sizes (by Breed)
It's obviously best to measure your dog's girth for most accurate fitment. But when that's just not possible, here's a chart showing the approximate chest girth for many common dog breeds of average size.
| Dog Size | Approx. Girth | Breeds |
| --- | --- | --- |
| Tiny | 13 to 16 inches | Havenese, Yorkshire Terrier, Silky Terrier, Papillon, Maltese, Toy Poodle, Chihuahua |
| Extra Small | 16 to 23 inches | Boston Terrier, French Bulldog, Jack Russell Terrier, Pug Pomeranian, Shih-Tzu, Schnauzer, Dachshund |
| Small | 23 to 29 inches | Basenji, Beagle, Puggle, Brittany, Coker Spaniel, Corgi, Irish Terrier, Australian Shepherd |
| Medium | 29 to 35 inches | Bulldog, Basset Hound, Border Collie, Boxer, Chow, Dalmation, Goldendoodle, Husky, Pit Bull, Poodle, Pointer |
| Large | 35 to 39 inches | Labrador, Golden Retriever, German Shepherd, Rottweiler, Doberman Pinscher |
| Extra Large | 39 to 45 inches | Saint Bernard, Great Dane, Mastiff |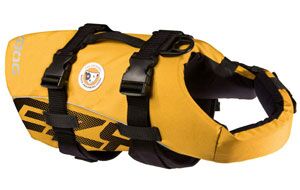 Falling midway between the Float Coat and Paws Aboard in both price and features, the EzyDog is a smart, well put together one-piece design with an external adjustment harness.
It seems to be very comfortable and uses high quality materials; the shell is tough Cordura, while the adjustment straps are neoprene.
Five sizes cover girths from 19 to 48 inches, so this isn't ideal for very small dogs, but most owners will find one that fits.
The EzyDog DFD is one of the best large dog life jackets available. Like the Float Coat, it also has a strong back grab handle and hi-vis reflective detailing.
Compared to lower cost options, you'll quickly notice the EzyDog has more floatation material to allow your pup to be in the water longer without getting tired. It's currently available in a bright yellow or red, and a camo green is available for hunting dogs.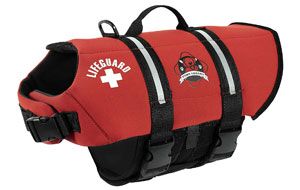 Another mid-range one piece design, the Paws Aboard looks quite boxy at first glance. That's deceptive though, because its foam panels are quite soft and flexible.
The collar and belly straps secure with both Velcro and buckles, for security and easy adjustment, and there's a good grab strap on the back.
Where this jacket shines is on dogs with a large chest; if you have a powerful breed like a boxer or bulldog this will fit them comfortably without restricting their movements.
Available in 8 colors with reflective trim and 6 sizes, you should have no problem finding the perfect dog PFD for extra peace of mind when he or she is out in the water.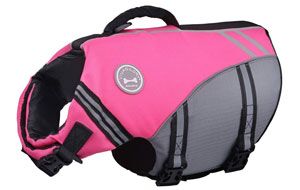 Vivaglory's new sports style dog life jacket comes in three sizes to fit dogs of all shapes and sizes. The clever design includes three fully adjustable quick-connect comfort straps around the neck, chest, and stomach to ensure the perfect fit.
This jacket has been specifically designed to keep your dog in a swimming position in the water without restricting his natural movement.
One of our favorite things about this life vest for dogs is that it comes in a variety of bright, fun colors with reflective trim, so it's fashionable while providing excellent visibility both in and out of the water.
For your peace of mind, the Vivaglory is made of extremely durable, heavy-duty 600D oxford cloth so you'll never have to worry about your dog tearing it, no matter where he roams.
We also appreciate the superior buoyancy of this flotation device that ensures your pup will stay afloat even in rough waters. A sturdy rescue handle is also included in the design, which is great for pulling your dog out of the water or lifting him out of the boat.
This jacket has a sports style design that's nice and roomy around the neck to accommodate a wide variety of activities, including swimming, boating, kayaking, canoeing, paddleboarding, and hunting.
Dog owners love the comfortable, yet secure fit and adjustability of Vivaglory's dog life vest. Be aware that this jacket seems to run a little small. If your pooch is close to the maximum measurement for one size, the manufacturer recommends going with the next size up to ensure a comfortable fit.
The Outward Hound is a cheaper option than a lot of the competition but almost just as safe, making it one of the best selling dog life jackets of all time.
While it isn't quite as neat as a premium life jacket such as the Ruffwear above – there are quite a few external straps – it's available in five sizes and will accommodate almost any size dog, from a 90 pound Labrador right down to the smallest yorkie or pug. It's one of the best puppy and small dog life jackets around.
The Outward Hound is still a high quality product, with a neat under-chin front float to help your dog keep its head above water even in rough conditions.
If the Ruffwear or EzyDog vests are out of your price range, or you have a very small dog, this is a great choice.
If you're not sure if your dog needs to wear a life jacket or your puppy seems to be doubling in size every other month, it may be a good idea to start with a lower price option such as this one.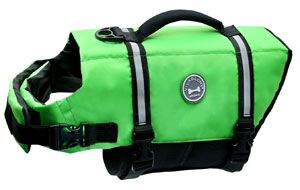 Vivaglory has another winner on their hands with their original Ripstop dog life vest. It is designed to be extremely durable and includes extra padding for good buoyancy in the water.
This life vest also includes three adjustable straps at the neck, chest, and belly. Each one has a quick release buckle and a heavy-duty Velcro closure to ensure a secure and comfortable fit without restricting your dog's ability to swim.
Vivaglory makes this floatation device in five sizes to fit almost any dog. It also comes in 9 bright and fun colors. The reflective trim provides extra visibility both in and out of the water.
This design also includes a grab handle for safety and convenience, as well as a D-ring for attaching your dog's leash.
We really love the stretchy underbelly of this PFD for dogs because it conforms to the shape of the dog and ensures a good fit even on breeds with a very deep chest. The padding isn't bulky, so it's comfortable enough for your dog to wear for a full day of swimming or boating.
Owners are for the most part quite happy with the fit of this life jacket and found the size chart to be extremely accurate. The reinforced stitching at all stress spots ensures durability, and the elastic strap keepers keep any excess strapping secure and out of the way.
Most dog owners were very happy with the Vivaglory life jacket's ability to help their dog stay afloat in the water, but some reported that it flipped their pups over on their back. This is likely due to incorrect sizing so measuring carefully and following the size chart is extremely important.
BONUS PICKS!
The Surf N' Turf is a multi-purpose jacket with a mid-range price tag. When not being used as a life jacket, the floatation liner may be removed to convert the jacket into a rain coat.
It may be also converted into a warm three-season coat when Kurgo's Dog Coat is inserted into the shell.
Two metal D-rings allow for secure leash connections while two transverse handles provide quick and easy control or extraction in the water.
You never have to worry about losing your dog in this jacket, as the red color is bright and the trim is highly reflective. The Surf n' Turf lacks floatation material in the belly so that even tired dogs have an easy time staying upright in a current.
Available in five different size ranges with a minimum girth of 14 inches and max girth of 45 inches, Kurgo offers a size chart to help you find the perfect fit for your faithful companion.
Kurgo also offers a lifetime warranty for their products, provided they are bought new from an authorized seller. Between the versatility and fit of this life jacket, you and your dog will be able to enjoy many fun outings together.
If you want a life vest for your dog that's super cute, yet functional, the Queenmore dog floatation vest might be just what you're looking for.
This dog life jacket comes in gray and features an adorable shark design with a fin that sticks up out of the water when your pooch is swimming. Alternatively, a cute pink fish design is also available.
It comes in five sizes with adjustable straps around the neck, belly, and chest to ensure a perfect fit.
For safety and peace of mind, the manufacturer has included a super-strong, low profile grab handle for emergencies. There's also a durable D-ring for attaching your pup's leash. The buoyancy of this vest is superb and lots of reflective accents are included for added visibility.
Our favorite feature of this dog life jacket is the breathable mesh lining on the underbelly to help your dog stay cool and dry fast. This jacket is made of high-quality oxford cloth and polyethylene foam, which we found to be very durable.
The quick connect buckles paired with heavy-duty Velcro closures ensure that the jacket won't come off in the water.
Dog owners love how easy this life vest is to put on and take off of your dog. The adjustability ensures that it doesn't restrict your dog's ability to move in the water, and many users love it for teaching puppies how to swim.
Unfortunately, Qeensmore has not included a way to secure any extra strap length, so it just hangs underneath, which could be annoying if there's a lot of extra strap hanging down. Unless you plan on reselling it or using on another dog, you can simply cut off the extra length.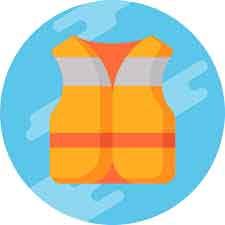 Other Products We Considered
The Life Jacket Advisor editorial team researches hundreds of products based on consumer reviews, brand quality, and value. We then choose a shorter list for in-depth research and testing before finalizing our top picks. These are the products we considered that ultimately didn't make our top 5.