When most people think of fishing, they picture sitting in a boat or on the shore, or wading in the shallows. The idea of taking your chair into the lake sounds bizarre, but that's precisely what you do with tube fishing. This novel approach to the sport has actually been around for a while and is quite popular with many circles.
The best fishing float tube will be well-constructed, have a high and comfortable seating position, have ample storage, and a high portability factor (backpack straps and/or lightweight).
Whether you don't have a boat (whether conventional or inflatable) or your favorite fishing spot doesn't allow one, a short hike is required to get to a good fishing spot, or you simply prefer relaxing in a floating fishing chair, there are some great options out there.
The following fishing float tubes are among the best on the market and represent models for both beginners and advanced float fishermen. We'll also address a few common questions regarding tube fishing.
Our 7 Favorite Float Tubes for Fishing
Fishing Float Tube Reviews
Whether you're looking to buy your first float tube or have been tube fishing for years, the following selections will give you the best of the best. Each model is durable and has a wide range of essential features to make each outing a successful one.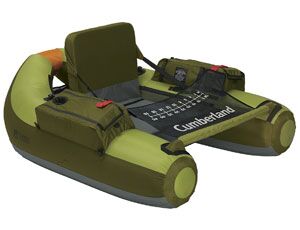 Designed for a drier fly fishing experience with higher visibility, the Cumberland has numerous features for the most enjoyable time out on the water.
A thickly padded seat includes a high-backed, adjustable backrest. The hydrodynamic hull has abrasion-resistant PVC along the bottom and mesh stripping apron with integrated fish ruler for quick measurements.
Storage is never a problem with two rod holders, large back mesh storage, two large pockets with a drink holder in each, and other storage spaces. Best of all, this 350-pound capacity float tube can be converted into a backpack with adjustable straps for easy transport.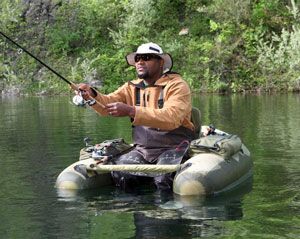 This is an excellent overall floating fishing chair and is a favorite among sport fishermen. The mesh storage on the back of the seat is mostly submerged, making it an excellent live well for sportsmen who want to photograph their best catches and release them.
The amount of storage and high portability (you can fit the tube into an SUV fully inflated) make this a great choice for any outing.
There have been a few issues with the bladder cap on the Cumberland. These issues make it harder to inflate the raft, but don't affect its ability to retain inflation.
Also, there have been a small number of instances where warehouses have shipped an older version of the Cumberland accidentally, so always check the product upon arrival in case an exchange is necessary.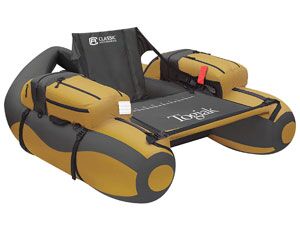 Another great tube from Classic Accessories, the Togiak has superior floatation and a 300 pound weight capacity. The high backed stadium seat features an adjustable backrest and large mesh storage.
In fact, the Togiak probably has the highest number of storage options available on any fishing tube including: armrest storage, D-rings, gear pockets, horizontal rod holder, lash tabs, reel pockets, safety flag pocket, small mesh pockets, and zip pockets.
A hydrodynamic hull and mesh stripping apron with fish ruler help make your trips a successful one. Finally, the tube can be backpacked across terrain with its shoulder straps when not in use.
Many who own this tube also own the Cumberland and describe it as a slightly smaller and lighter version. The foam padding for the seat can be removed to allow for easier transport, and the Togiak loses less air over time than its larger sibling.
Owners report that it's an excellent fishing platform compared to many other tubes on the market.
There are two main flaws with the Togiak. The first is in the design valves, which some users have reported as faulty. Owners sometimes note that the front has less floatation than the back, requiring you to remain in a reclining position when paddling.
While neither of these issues seem to be universal, they are worth noting when comparing tubes.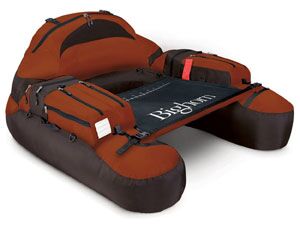 If comfort is a top priority, you can't go wrong with the Bighorn. This spacious fishing float tube has a 300-pound weight capacity and a large backrest that's a real game-changer for long days on the water. The design has a hydrodynamic hull shape for easier tracking and steering, too.
Classic Accessories has gone above and beyond with roomy armrests that have plenty of storage for all of your goodies, too. You'll love the assortment of extra reel pockets, gear pockets, small mesh pockets, and flat zip pockets built right into this unit. There's also a rear storage pocket and an additional exterior pocket to keep extra equipment close at hand.
Users report that this tube is super stable on the water, even for bigger guys. For convenience, a fish ruler has been printed right on the apron. The tube inflates in less than five minutes with an electric mattress pump. It does take a while to deflate this tube, but once done, it folds compact for easy transport and storage.
Be aware that the Bighorn fishing float tube has Velcro straps for transporting rods, but it does not come with built-in rod holders. That said, it does hold you up nice and high out of the water for casting and reeling with ease. The manufacturer also backs up their product with a one-year limited warranty for your peace of mind.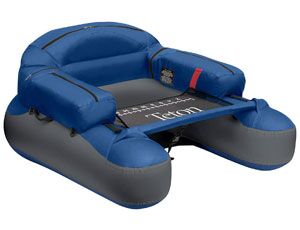 This lightweight fishing tube has a unique sculpted design that adds class and comfort to the standard hydrodynamic shape.
The lower, arched backrest creates fewer problems in wind. A stripping apron is printed with an easy-to-read fish ruler, and the armrests contain numerous pockets for a high level of storage.
Due to the simpler, cleaner design, the Teton is an excellent fishing float tube for beginners, but may not appeal to those that are more experienced.
First time tube fishers have a lot to say about the Teton. The lower seating gave them more mobility than higher seated models, and the smaller design meant it was easier for them to carry than larger backpacked models.
Despite the beginner appeal, the Teton easily holds its own when fishing beside bigger tubes that have more bells and whistles.
While the overall design is great, some owners have experienced leaks in the fishing inner tube that they couldn't locate. A few more experienced users have also complained that it sits too low in the water for their liking. The smaller size also means a smaller weight capacity of only 250 pounds.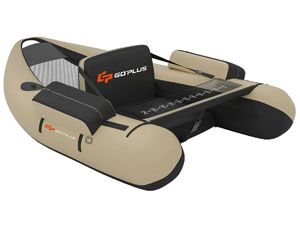 The GoPlus inflatable float tube for fishing has a clever design, including a net at the back of the seat to keep your catch fresh while you fish. This tube has excellent buoyancy to keep you high in the water for easier casting and reeling, too. The large backrest is adjustable, which is a really nice feature that's often overlooked in other models.
The GoPlus has a load capacity of an impressive 350 pounds, so it can easily handle you and your gear for a full day on the lake. This unit is made from a waterproof polyester fabric that's super durable and tough enough to stand up to heavy use. It comes with a hand pump that allows you to inflate the tube quickly, no matter where you are.
Each side of this float tube has its own storage compartment that doubles as an armrest. There's plenty of room for all of your gear, as well as a fish ruler in front of the seat for convenience. GoPlus has also included two adjustable shoulder straps for easy carrying to your destination.
There are two straps on either side of the seat to help you stay on board, even if the water gets a little rough. Unfortunately, this float tube does not come with built-in rod holders. However, Velcro straps are included to secure your fishing rods to the vessel.
If you can stretch your budget a bit, we recommend one of the Classic Accessories tubes above but if you're a beginner, the GoPlus tube is a good cheap option for starting out.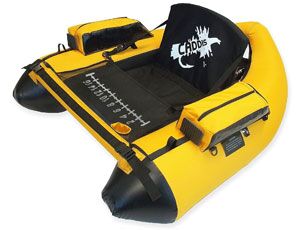 This tube lives up to its name, providing high quality comfort with an emphasis on trout fishing. The bottom and front of this tube has heavy duty tarpaulin to protect against rocks and outcroppings, while the top is covered in heavy duty rip-stop to protect against stray hooks.
The adjustable seat has 4-inch foam for the bottom and 2-inch for the backrest to provide excellent comfort and floatation. Two main equipment pockets, two auxiliary pockets, and D-rings provide modest storage space.
Weight capacity is 325 pounds making it one of the best fishing float tubes for big guys. (see also: best big and tall life jackets)
A lot of the quality in the Premier Plus is under the hood. The stabilizer bar is firmly installed and holds up to a lot of use. It's also one of the most durable models out there, which makes it ideal for less experienced users, as well as veterans who put their float tubes through a lot of abuse.
While this is an excellent overall float tube, the lack of extra storage makes it less appealing for advanced users, although the space is adequate for fly fishing. A few users have also had issues with the fill valve, a common weak point on most float tubes.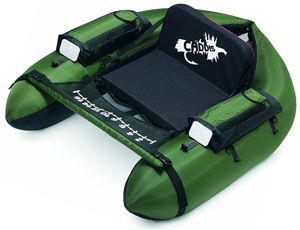 When you need a float tube that can hold up under windy weather, the low-profile Sports Pro 2000 is a perfect choice. The adjustable seat and backrest have 2-inch foam padding, and the stabilizer bar is also padded.
Storage includes two large main storage pockets, two auxiliary pockets, D-rings, and storage space behind the seat. This float tube's smaller size gives it a modest weight capacity of 250 pounds.
This float tube fits into a lower price bracket, which makes it perfect for beginners who want to try float fishing without making a major investment. More experienced fishermen tend to make modifications, customizing the Sports Pro 2000 to suit their personal needs.
The durability is also well worth noting, as owners have put this tube through its paces with little or no damage.
The backrest on this model is a bit too flimsy according to some owners. It has a habit of sagging under weight, even after tightening. The spreader bar at the front is also a source of contention for many users who find it pulls down when they're sitting.
Finally, this isn't the best choice if you plan on fishing in open waters, although it's perfect for smaller bodies of water.
FAQs
Float tube fishing has its perks, but it also raises some questions for those who have yet to experience it for themselves. Being properly prepared will make your first experience a great one.
What Else do I Need for Float Tube Fishing?
Having the right accessories can make or break a float fishing trip. In addition to your standard gear and the float tube, you'll want a good fishing life vest. Those extra pockets can prove essential, especially if you're getting a beginner tube that has a smaller amount of on-board storage.
A good set of waders and fins is also important. You use your feet to maneuver around in a float tube and often sit partially submerged, so these accessories will give you greater comfort and mobility.
See Also: Best Tubes for Floating the River
Float Tube vs Kayak vs Pontoon – What Should I Use for Fishing?
As with all equipment, there are times when it's best to fish using one form of boat over another. Float tubes, kayaks (hardshell or inflatable), and pontoon boats all have their advantages, but which should you use in a given scenario?
The following comparison chart will give you a quick reference so you'll always know what to grab on the way to that choice spot.
| | Float Tube | Kayak | Pontoon |
| --- | --- | --- | --- |
| Accessory Options | Few | Many | Many |
| Bodies of Water | Small or still | Any | Small to moderate size |
| Height & Visibility | Low | Moderate | Moderate |
| Movement | Fins only | Oar | Fins, oars, or motor |
| Profile (for stealth) | Low | Moderate | Moderate |
| Speed | Slow | Fast | Varies |
| Transportation | Easy | Difficult | Difficult |
How Do You Clean a Fishing Float Tube?
Cleaning a float tube for fishing is similar to a towable tube or even a life jacket. See How to Remove Mildew, Mold, and Smells From a Life Jacket for a step by step process.