Floating mat for boat days are a great way to relax when you're out on the lake. You can let your children play on them, do some sunbathing, and even let your dog lounge on them. They also work as an extension to your boat, which is great if you're going to be entertaining on the lake.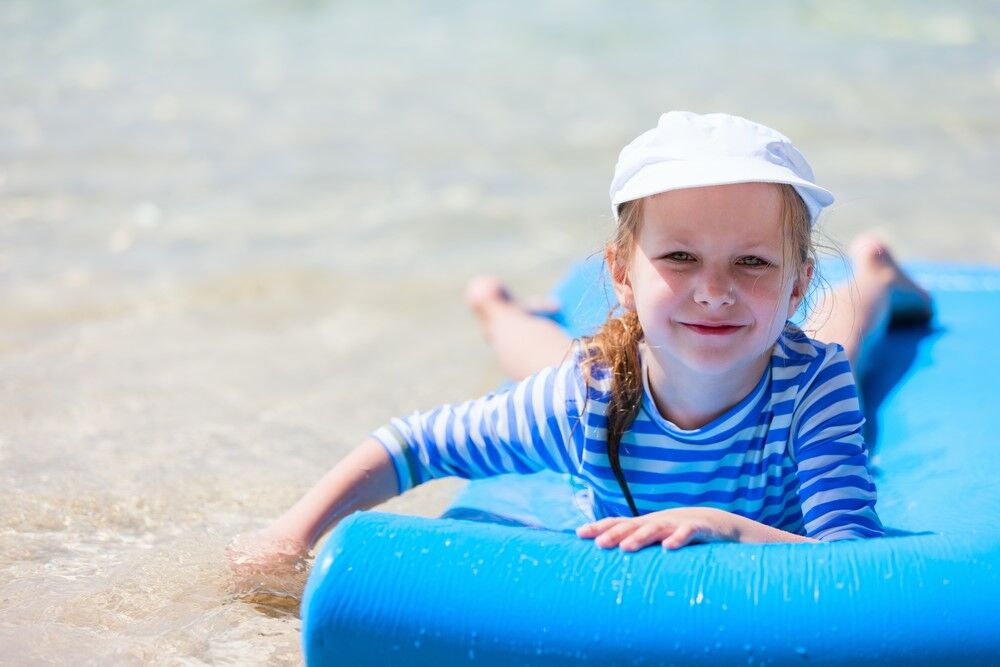 However, some floating mats for boats are better than others. When finding the best floating oasis for your next outing, here is what to look for.
What Is the Best Floating Mat for Boat?
This section of the article will discuss the top five options to consider when looking for a new floating mat for a boat.
Dimensions: 18 x 6 foot (9 x 6 also available)
Tether Included? Yes
Capacity: 4 adults
This Rubber Dockie Duckling floating water mat is the smallest option on the list, but it's the best option if you're not 100 percent sure you're looking for a floating water mat and want to test it out.
Since the Rubber Dockie Duckling floating water mat is one of the smallest choices on the market, it is an excellent option for smaller boats and pontoon boats. The downside to it being smaller is that you won't be able to fit as many people on it at one time.
However, they offer a much larger option, but it's expensive. Rubber Dockie mats are designed with bright colors, which is very important when you're out in the open water because other people will be able to spot you easily. Increased visibility is definitely an advantage.
The floating mat is made from resilient and tough materials, including closed cell foam, that won't tear or puncture and is sturdy for adults and children. It features tear stop technology, and the tuff hide outer layer provides protection for everyday use while still being easy on the skin.
Pros:
It comes in two sizes
It's extremely durable
It's brightly colored
Cons:
It can only hold up to 4 adults on the larger mat
Can get expensive
Dimensions: 15 x 6 foot
Tether Included? No
Capacity: 4 adults
This Big Joe floating water mat is made from the same material as pool noodles and is incredibly durable. It is made with EVA foam and can hold up to 1,500 pounds of evenly distributed weight.
You can have up to five adults on this floating water mat at one time, and the grommets can be used as cupholders. The only downside to this floating water mat by Big Joe is that it doesn't come with a tether, so you will have to purchase a tether separately.
It's easy to store because it rolls up and doesn't absorb any water. Once it's rolled up, it measures around two feet in size and is suitable for use on a pontoon boat.
Pros:
Extremely durable
Easy to roll up and store
Great for small boats
Cons:
It doesn't come with a tether
Dimensions: 16 x 6 foot
Tether Included? Yes
Capacity: 5 adults
This floating water pad by FloatDaddy is one of the best you'll find on the market today. The only downside is that it's blue – it would be better if it were a brighter color that could be seen by other boats easily.
The floating water pad mat is extremely buoyant because of its thickness and is also one of the sturdiest floating mats for boats that you'll find. However, the water pad's thickness makes it hard to roll it up easily after use.
It is made with three durable, heat-laminated, high-density foam layers. Additionally, it has a reinforced poly layer that adds to its durability and stability. The stainless steel D-rings are rust-resistant and mounted to both sides.
This floating foam mat is also a lot smoother than other floating water mats and won't scratch your body as other mats could. The FloatDaddy comes with a 5-foot bungee cord and an anchor point so you can attach it to your pontoon boat.
The FloatDaddy is easy to roll up for storage but may require two people.
Pros:
Very thick
Sturdy
Durable
Cons:
Blue
Hard to roll up by yourself
Dimensions: 20 x 6 foot
Tether Included? Yes
Capacity: 8 adults
This Aqua Lily pad is one of the most popular floating water pad mat options you're going to find. It can hold up to 1,300 pounds in weight and is the ultimate floating mat for the summer and all your water recreation activities.
The Aqua Lily pad comes in bright colors, is UV resistant, has loop and hook straps, is flexible, and has an installed tether system.
It's the best floating aqua pad mat you can find on the market, but because of that, you're going to be paying a premium price for it.
Another great thing about the Maui mat is that it's large but only weighs 25 pounds. It doesn't absorb any water, and as long as you have room on your boat, it's easy to store. It can prove to be your own personal floating island.
Pros:
Can hold up to 1,300 pounds
Holds up to 8 adults
Best floating mat on the market
Cons:
Dimensions: 180 x 72 x 1.5 inches
Tether Included? Yes
Capacity: 8 adults
The Floating Oasis Lake Pad by Flotation IQ is another option ideal for larger bodies of water and more people. It is constructed with UV-resistant foam that is fade-resistant. Its tri-layer construction offers premium durability and is puncture and tear resistant.
It can accommodate up to 1,500 pounds of evenly distributed weight and up to 8 adults. Set up and storage is also easy. Simply unroll the Floating Oasis pad, and it is ready to go. The included Velcro straps make storage easy. It is also a lightweight and anti-absorbent design that makes it easier to carry.
Pros
Durable stainless steel rings make tethering easier
Made with premium quality materials for durability
Hook up and hang out design
Made in the US
Cons
On the more expensive side
Some users reported that it marks up easily
Factors to Consider When Buying Floating Mats for Boats
Size
The size of your floating water mat will make or break your trip on the lake. The best floating water mat should be big enough to accommodate your entire group of friends or family, so nobody gets left out. If you plan on using it in your pool, you want to make sure that it's not too big.
The bigger the water mat, the bulkier it is. With that being said, if you have a smaller boat, you want to explore smaller water mat options. Always consider the size, including the mat's dry weight, to help determine how easy storage will be on your boat.
Weight Capacity
Weight capacity is important to consider because the floating mat will start to sink if you exceed the weight limit.
Note that the weight limit suggestion from the manufacturer for each inflatable mat is under the best scenario where the weight is evenly distributed across the floating mat. Sinking is inevitable if everyone is lounging in one spot on the floating pad.
Material Quality
If you want a floating oasis water pad that's going to last you from one season to another, then you need to find one that isn't going to rip, tear, or puncture – even if there is rough use. Look for a tear resistant XPE foam or any high quality XPE foam or closed cell foam that is good for durability and stability.
Bottom Line
When using a floating water mat, you must follow safety precautions, as with any water recreation activity.
Always make sure that your children have life jackets on and that the floating water mat is anchored down or tethered to your boat.
If you decide to purchase a floating water mat, don't skip over the large mats because of their price. If you have the room in your boat for them and a large enough group, then they're worth the investment.