Choosing the best floating water mat for your family is a big decision. Investing in the right one will provide your family and friends with a fantastic place to relax and play on the water for several seasons. A floating water mat is big enough to allow your entire group to stand, walk, play, or lounge on your own private island.
If you're tired of pumping up your water accessories every time you head to the lake, many floating water mats are made of high-density foam that never has to be inflated. They can be tied off to your boat or dock for staging other water activities, too.
Floating water pads come in many different sizes with lots of unique features. Here are the top seven floating water mats and pads to help you choose the one that best meets your needs.
Our 7 Favorite Floating Water Pads
Floating Water Mat Reviews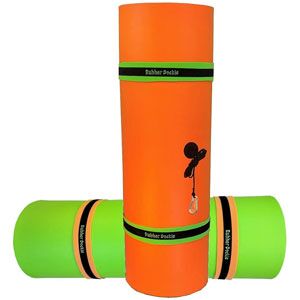 The Rubber Dockie is fantastic for lounging on the lake or at the beach. For your peace of mind, this floating mat is made in a bold, fun color combination of green and orange to provide high visibility on the water.
It's made from closed-cell foam with a tear-stop inner matrix that prevents full-length tears to keep you and your group safer while you float. The Rubber Dockie is manufactured with a tuff-hide outer layer to stand up to rigorous everyday use, and users report that it's still gentle on elbows and knees.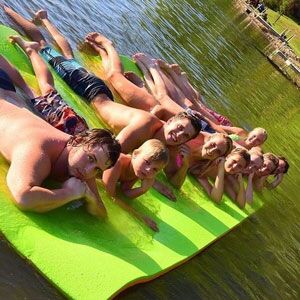 We also love that the outer layer is scratch and fade resistant, which is essential for a product meant to be used in the sun and on the water. This floating mat also has a convenient 12-foot elastic bungee tether you can use to anchor to docks or other stationary objects.

Rubber Dockie has also included two custom hook and loop straps with sturdy metal buckles to make storage and transport a breeze. This large floating mat has a weight capacity of 1200 – 1400 pounds, so it can accommodate several people comfortably and safely.
If 18 x 6-feet is too big for your group, the Rubber Dockie is also available in a smaller version that's about half the size. See our in-depth Rubber Dockie review for more details on sizing and pricing.
Keep in mind that algae may grow on the mat if you leave it in the water, so it will have to be pulled out periodically and cleaned with a hose or pressure washer. Rubber Duckie provides a one-year warranty on this product, and it's sure to be fun for the entire family!
The Maui Mat is a large floating mat that measures 20 x 6 feet and supports up to 1,300 pounds. Whether you want to pile on the entire family or stretch out and relax all by yourself, this pad will be your personal floating island on the lake, river, ocean, or in the pool.
Use it to stage your favorite water activities or simply kick back and relax, the possibilities are endless!
One of our favorite things about this swim mat is that it only weighs 25 pounds! It rolls up tight and secures with the included hook and loop straps making transport and storage a breeze.
The Maui Mat is made using special patented flex core technology to add strength and durability without adding weight. Best of all, it has no roll memory, which means it rolls up easily, remains flexible, and lays flat when unrolled.
This product is also easy to clean by simply spraying it down with a hose or with a pressure washer.
The Maui Mat is not the most budget-friendly option on our list, but most owners agree that it's very well made and worth the higher price tag. It's the perfect water accessory for every age group!
The Floating Oasis lake pad measures 15 x 6 feet and comes in eight fashionable colors. It's perfect for the lake and has a weight capacity of over 1,500 pounds, so you can relax and float with the entire family or a group of friends.
This product is made from multiple layers of lightweight polyethylene foam for durability and tear and puncture resistance.
The floating foam mat is easy to clean with soap and water, and it's fade resistant so the vivid color will last for years of fun on the water.
Key features of the Floating Oasis Lake Pad include a sturdy D-ring with a carabiner and bungee cord for tying off to the dock or your pontoon boat while anchored. This mat also comes with two sturdy Velcro straps for easier transport and storage.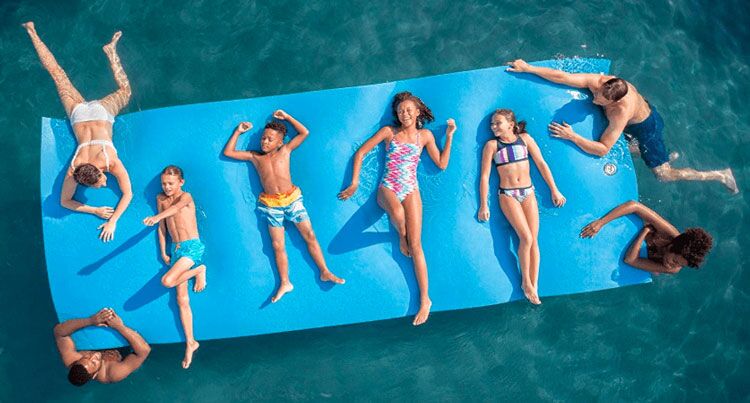 Users of the floating pad report that it's fantastic for lounging on top of the water, and it lets just enough water on board to keep you wet and cool. Like most foam mats of this type, it doesn't hold up well to sharp objects. So be cautious with life jacket buckles and your pup's toenails!
The Floating Oasis Lake pad will provide a great time for your little ones or a great place for adults to relax. The manufacturer provides a 100% satisfaction guarantee on this float pad for your peace of mind.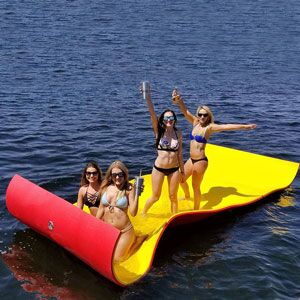 The iFloats floating water pad comes in a variety of sizes, anywhere from 12 x 6 feet all the way up to a gigantic 75 x 6-foot version. This extra-large floating pad is available in two reversible, high visibility color combinations.
It's great fun for the lake, beach, river, or pool and can accommodate multiple kids, adults, and even your dog for hours of fun and relaxation.
This float pad is made from 1.5-inch-thick, high flotation closed-cell foam. One of our favorite features of the iFloats water pad is that it comes with two pre-mounted d-rings (one on each side) so you can tie off at two points or on either side if you choose. The included bungee tether also stretches from 7 to 18 feet for even more versatility.
iFloats has gone the extra mile to make this floating water pad easy to store by including two polyester straps with d-rings that will last much longer than Velcro. The entire pad only has a two-foot diameter when rolled up tight, so it can easily be stored in a closet or the cabin of your boat.
While most users were very happy with the durability and performance of the iFloats floating water mat, there were a few reports of tearing and separation of the foam layers. The manufacturer does provide a 1-year warranty against defects for your peace of mind.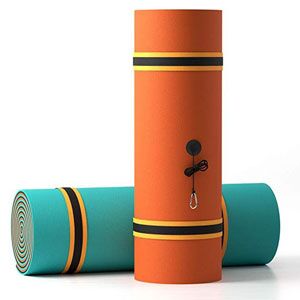 The giant Lily Pad floatation mat by Sowkt comes in five fun, high-visibility, reversible color combinations for added safety in high traffic areas. Its jumbo size (18 x 6 feet) will accommodate up to 1,320 pounds, so the whole family can spread out with room to spare.
This large floating mat will be enjoyable and relaxing for both kids and adults.
The Lily Pad is made with three layers of high-quality XPE foam, so it's tough enough for the lake, ocean, river, or even a large swimming pool. The manufacturer has even gone the extra mile to use an inner net and heat seal for extra durability. Two hook and loop straps are also included for easy storage and transport.
A 12-foot bungee tether and heavy-duty carabiner are also included so you can tie off to your boat, a dock, or an anchor. We love the Lily Pad's textured, anti-slip surface that allows for easier movement, even when it's wet. This product is backed up by a 1-year warranty from the manufacturer so you can purchase with confidence.
The World of Watersports (WOW) inflatable floating mat comes in five color options. These inflatable mats measure 6 x 10 feet (one is 6 x 6) and each one includes a connecting zipper system that allows you to connect as many of them as you like. When they're properly inflated, you can walk across them without sinking.
Many users love them for making a floating walkway between two boats when out on the water. They can also be made into an inflatable floating island for playing or relaxing. A grommet is built into each end for anchoring or tethering to a boat or dock.
The Water Walkway is made of heavy-duty 30-gauge PVC and includes vertical I-beams to provide added support for jumping, playing, walking, or lounging.
The mat dries quickly and deflates easily for storage. If storage space is tight, these are a great choice because they are more compact than a foam mat once deflated and much lighter, thus more portable.
Remember, this inflatable floating pad will have to be inflated with a portable air pump before use. And, just like any other inflatable water accessory, there is always the risk of punctures or tears. Other than the Intex below, this is the most affordable option on our list, and it's a great choice if you're on a tight budget!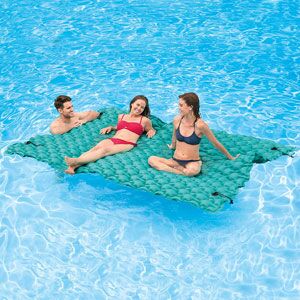 The Giant Inflatable Floating Mat from Intex is an extremely budget-friendly option that's worth considering. It measures 9.5 x 7 feet and accommodates up to 3 adults (or 600 pounds). It also includes four easy-to-use connectors that allow you to hook several floats together for bigger groups.
The Intex floating mat lets just enough water on board to keep you cool and comfortable while you lounge. The manufacturer has included two air chambers with multiple air pockets for added safety and buoyancy of the 20-gauge vinyl surface. We love how easily this floating mat deflates and folds up compactly for storage.
You will need a portable air pump to inflate this mat before each use. While there's always a risk of holes and punctures with inflatables just like inflatable kayaks or pontoon boats, several reviewers reported that this one held up well enough to allow their dogs to join in the fun.
Keep in mind that it's great for lounging, but the kiddos probably won't be able to stand up and jump off of it like they can with the foam mats reviewed above.
What to Consider When Buying a Floating Water Mat
Size
The size of your floating water mat can make or break a trip to the lake. The best foam float mat will be big enough to accommodate your entire group, so no one gets left out of the fun. On the other hand, if you'll be using it in your pool, make sure you choose one that's not TOO big.
Weight Capacity
Weight capacity is also key. If you exceed the weight capacity of your mat, it will sink below the surface instead of floating on top of the water.
Note that manufacturer maximum weight capacities are usually under the best scenario where the weight is evenly distributed across the mat. If everyone is standing in the same area of the mat, some sinking will obviously occur in that spot.
Quality
If you're looking for a floating water mat that will last season after season, choose a high-quality foam mat that won't rip, tear, or puncture even with rough use. The price of inflatable water mats may be attractive but the experience will never be as good as a nice thick foam mat.
Foam vs. Inflatable
When deciding between a foam versus an inflatable floating water mat, it all comes down to price, convenience, and durability.
Foam mats never have to be inflated and they're more durable, but they're also bulkier when it comes to storage and transport and they cost more than inflatables. Inflatable mats are more compact when deflated, but you have to blow them up every time and they may puncture or tear more easily.
Final Tips for Choosing the Best Floating Water Pad
Use this guide to help you compare the sizes and features of the best floating water mats and pads available. Whichever mat you choose, a floating swim mat will provide hours of fun for your friends and family, and the right one can last for several seasons.
As is often the case, you get what you pay for so if it's in your budget, you're going to be much happier in the long run with a high-quality foam float mat.
It's similar to those looking for a good water trampoline and then settling on a water bouncer since the price is much lower. You will likely regret not spending a bit more on the better product.