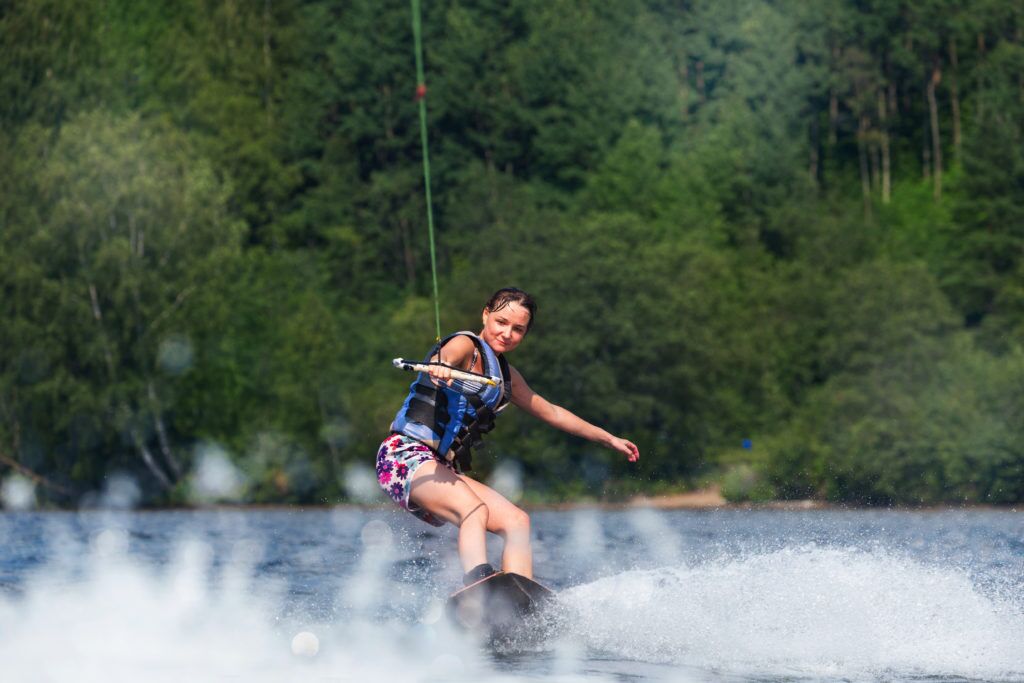 Wakeboarding is not for the faint of heart. For some of us, being in a fast boat is scary enough, let alone being towed behind one on a board! If you know a daredevil of a wakeboarder, or even someone just starting to dip their toes into the sport, you know that this isn't a hobby to be taken lightly. If they're that serious about the sport, they're going to be equally serious about their gear.
So what do you do when you want to get them a gift? Well, you've found the right article! As experts in the field of water sports, we've weeded through the gimmicky, useless gifts to find things they'll actually need and want. Be it a gift to celebrate the holidays, a birthday, or just because, we've compiled some of the best ideas to help accomplish this task.
Borrow vs. buying? Every Wakeboarder's Dilemma
Some wakeboarders either rent or borrow their gear. Renting can be costly, and borrowing isn't always reliable. There are merits to this, however. Getting to test out different styles, types, and fits of the equipment can help wakeboarders figure out what it is they do or do not want. Hopefully the wakeboarder in your life has been dropping hints or mentioned something they want. Chances are, it's gonna be on this list and your quest for a gift will be easily finished!
Board of hearing about it?
If they don't have their own board, they may have mentioned it… oh, just a few times! Our top pick for a wakeboard would be the Hyperlite New 2021 Wakeboard Destroyer. Made with a subtle 3-stage rocker to give a catch-free ride and massive boosts on the wake, this board comes with matching bindings to add control and performance. Plus, their EVA footbed makes it the most comfortable ride possible.
Wakeboards come in different sizes and shapes, so it will help to know which one to shop for. You can use this handy guide we put together to help you figure out which one would be the best fit. If you think they won't catch on, you can even send it to the wakeboarder you're shopping for in a low-key "Hey, isn't this cool?" kind of way.
Check Price Now
A New Rope
Being towed behind a boat on a board is obviously going to be much easier with a rope! A wakeboarder's rope is definitely more of a personal preference, what with them coming in a variety of lengths, colors, and grips.
Typically, beginners start with a 65 ft rope until they get more comfortable, when they can move up to a 75 or even 85 ft length. If your wakeboarder is ready to try out different lengths, this black and red Affordura Rope would be perfect! It features 4 sections they can adjust the length with to give 55, 65 or 75 ft lengths. There are 3 options of handles, all of which have EVA grip and pencil floats, and the rope itself is a hollow braid, making it easier to retrieve in the water.
Check Price Now
Better safe than sorry
Talking about safety gear for water sports isn't the most fun topic, but it is very important! Only when they're safe on the water, can a wakeboarder forget any worries and enjoy themselves to the max. The most obvious choice for safety gear would be a life vest, and our pick is the O'Neill Superlite USCG Life Vest. It's a US Coast Guard approved life vest, with a coated nylon outer shell and anatomically cut closed cell marine foam floatation. It fastens with 4 heavy duty webbing belts, with quick release Delrin buckles so it's easy to put on, take off, and keep safe when you need it.
If you want to take a look at some other options of life jackets we recommend, this guide we put together specifically looks at them in terms of wakeboarding and water skiing.
Another, less required, aspect of safety gear would be protective gloves. A wakeboarder's hands and grip strength are vital to the success of their time on the water. If they hurt too much, they can't wakeboard for as long, right? The FitsT4 Unisex 3/4 Finger Gloves will protect their hands from minor cuts and scrapes, but also give additional padding to the handle. They feature an adjustable wrist cinch and are made of a breathable spandex fabric.
Check Price Now
Surprise-free supplies
Enjoying a day by the water is great in itself, but when you add the ability to take snacks, drinks, and your most important items with you, it's even better! Using a dry bag to keep their phone, keys, glasses, etc. safe and dry is essential to a wakeboarder's worry-free day. We trust the Wise Owl Outfitters Dry Bag to protect ours from nasty water-based surprises. It comes in 5, 10, and 20 liter sizes, so you can pick the size they'll need most, in blue or black. If you want a few more options, we put together this guide to some of the best dry bags for water sports.
Check Price Now
Wise Owl are also our top choice when it comes to a waterproof cooler. Their Backpack Cooler comes in orange or blue, with generous 20 or 30 liter size options. It's made with heavyweight PEVA nylon with a 1" thermal shield, and features an adjustable air valve for custom insulation. Plus, it's comfy to carry!
Check Price Now
A boarder out of water
We would be remiss if we didn't include some fun gifts you can add in to their gift. They can't be wakeboarding 24/7 (as much as they'd like to) so here's a couple of things for when they're back on dry land.
This Vintage Wakeboard Shirt Sunset has major retro vibes and comes in a variety of colors, so you're bound to find one that suits their wardrobe.
Check Price Now
If they love comfort when they're not on a board, this Wakeboard Throw Pillow is the perfect accessory for their couch, bed, or even van!
Check Price Now
Wrapping it up (the guide, not the wakeboard gifts)
This guide is definitely not exhaustive when it comes to gifts for wakeboarders, but any of these items would help them be ready for their favorite hobby. When it comes to people as passionate as wakeboarders, they'll be sure to appreciate any gift that shows you thought about them and what they love.
It can't hurt to spend some time fishing for hints and suggestions of what things they might want or need for wakeboarding. It's best to do this far in advance of when you want to give the gift so they don't become suspicious.
As activities like wakeboarding become more popular, there are more products and accessories coming to the market all the time. This can be a double edged sword, as not all of them can be winners plus it can be time consuming and challenging to find what you need. This is why we took it upon ourselves to save you time by testing many of them and only recommend the best to you. Any water sport has inherent risks, and by giving wakeboarders the highest-quality equipment, they'll be as safe as possible while they do what they love.