If you're anything like us, a lazy day of hanging out in the water, cold beverage in hand, surrounded by your closest friends and family sounds on a hot summer day sounds like an absolute dream.
The good news is those days are right around the corner — so now is the time to start thinking about getting an inflatable floating island to make that dream a reality.
When looking for the best inflatable floating island, you'll want to make sure it's durable, large enough for your group, and perfect for a leisurely day of floating on a lake, river, pool, or even at the beach. To that end, we've rounded up our favorite picks to help you find the best one for you — including plenty with built-in features like drink holders, detachable sun shades and pillowed backrests.
Our Favorite Floating Islands
Inflatable Floating Island Reviews
The WOW (World of Watersports) Stadium Islander is one of the the largest inflatable island on the market. It has a huge 12-foot diameter and 12 mesh seats to keep you cool while you float.
The maximum weight capacity of this floatable party island is 2,460 pounds, and it's made out of heavy-duty PVC for long lasting durability.
You can use the large reinforced grommet to tie off the float to the dock or you can anchor the island right where you want it using the included rope and anchor bag.
You'll love the huge open center that makes getting on and off the island easy. Floaters can also dangle their feet in the water, and the children can play in the center.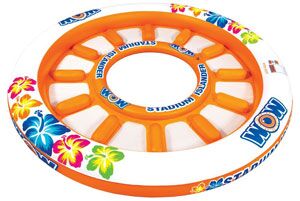 Reviewers loved this party island for both cruising down the river and floating on the lake or ocean, but you'll definitely want to use an electric pump (like for air mattresses) to inflate it because of its size.
It can comfortably accommodate 12 adults, so it's the best floating island for very large groups.
While it doesn't have any cup holders like other floats, you can easily place a floating cooler with cup holders right in the middle. At about 35 pounds, it's one of the heavier floating islands out there but it's still light enough for one person to carry (deflated) to the water.
What could be more fun than floating around the lake in a giant bright pink flamingo? This large inflatable party float is over 10 feet long and 10 feet tall to accommodate as many as six adults.
Think of it as the extra large version of the popular 1-person float tubes you see in pools or on the river.
It has wide seats and a cushy backrest all the way around for comfortable floating all day long, and the mesh floor lets you dangle your feet in the water to stay cool while you relax.
This inflatable island also comes complete with a pump and a mesh carry bag, making it easy to bring along on vacation. Each seat has its own cup holder, and there's a built-in cooler for your favorite beverages.
This giant river float is surprisingly durable and holds up well at the lake, river, or beach. Sturdy grab handles and an attached dock make it easy to climb in and out of this float, even in deep water.
Most users loved this float and found it to be constructed well, but there were a few who claimed it arrived with a leak in one of the seams.
However, the manufacturer does offer a one-year warranty against defects. While the cup holders are nice, they're really shallow so don't expect tall cups or bottles to stay put.
If flamingos aren't your thing, this float is made in a unicorn version, as well. Both versions get five stars for eye appeal and conversation starting!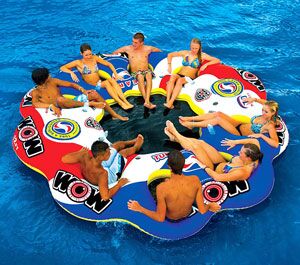 Another good quality float from WOW, the Tube A Rama is a giant, 12-foot, inflatable floating island with space for 10 adults although better suited for eight to sit comfortably.
It features eight seats, four with mesh bottoms and four that are open to the water, so you have the option of how much in the water you want to be. Each seat has its own built-in cup holder, and there are 2 large-built in coolers to keep drinks cold.
In the middle is a large mesh deck for additional seating or dangling your feet in the water.
This party float is made of heavy-duty PVC and for extra durability so you'll have more confidence floating down the river than some of the cheaper alternatives with lighter material.
The bright graphics make this float highly visible on the water for added safety on the river, lake, or at the beach.
The Tube A Rama comes with an anchor bag and tie rope, so you can put it where you want it and leave it there all day. Most owners are extremely satisfied with the quality of this floating party raft, but there were a few who felt it tore at the seems a bit too easily.
As with any blow-up product, whether it be an inflatable boat, river tube, or island, you'll want to keep it out of the sun unless you're actually using it on the water. Note that while it sort of looks like a towable tube, it simply does not have the structural integrity to be used as one.
The Tropical Tahiti Floating Island was made for a party! It has a seven-person capacity with some fantastic built-in features.
There are four super comfortable lounge chairs, eight cup holders, two built-in coolers, and two suntanning decks. It also has an integrated platform and several strong handles for easy mounting.
This huge floating raft (it's over 14 feet long!) can be anchored in place for all day fun or for a leisurely float down the river. Adults will love lounging in the sun, and the kids will have a blast jumping on and off the island into the water.
Unlike some other floats, you'll never feel cramped as the seating is well spaced out. The bright, fun graphics are visually appealing, and they make the raft more visible to passing boats.
Users love this float on calm water but reported that it can get quite wobbly and unstable if the water is rough. Many reported leaving it anchored in the water for weeks at a time with no issues, so it's quite durable.
Keep in mind this is a very large float and might actually be too big to use in some swimming pools.
The Lazy Days Inflatable Island Lounge Raft offers great value for the money with three extra-wide pillow backrests, 6 cup holders, along with heavy-duty handles and a grab rope for easier mounting in the water.
The center well is lined with mesh to allow your feet to dangle in the water. This island lounge raft has a 10 foot diameter and can comfortably accommodate six adults or even 8-10 kids.
The Lazy Days floating lounger is made of durable PVC and inflate-shield puncture resistant material. The island can be kept exactly where you want it with the included anchor.
For added safety, this inflatable lounger was designed with three separate air chambers in the base, and each pillow is its own air chamber as well.
Some owners were disappointed that this floating island doesn't have a built-in cooler but did point out that it has plenty of places for attaching a separate floating cooler on the side.
This raft does not come with a ladder or platform for mounting in deep water, and that may be a problem for some folks.
The Lazy Days raft is a simple, well-designed 6-person floating island that would be perfect for most families or groups of friends. It does go out of stock frequently, especially during the summer months, so you may need to go with another option if you don't want to wait for availability.
Another one from CoolerZ, the Tropical Breeze Island Lounge is perfect for a leisurely day of floating on the lake, river, or backyard pool.
This raft has some surprisingly impressive features for the price, including a detachable sunshade, a removable cooler bag for storing cold drinks, and six cupholders for keeping beverages within easy reach.
This incredibly versatile raft even has a large sundeck area with pillowed backrests for lounging. As one of the few models with a sunshade, it's great for those that normally wouldn't want to be out on the water in full sun exposure. It truly has something for everyone!
Users loved the mounting platform and sturdy handles that make mounting this floating island easy, even in deep water.
The extra-wide pillow backrests in the lounge area make it super comfy, and the mesh-lined center hole lets you dangle your feet in the water to stay cool, with or without the sunshade.
This model does not come with an anchor bag, but there are several sturdy places for attaching your own. It also comes with a grab rope that's great for pulling it around in the water. We found this island float to be well made and an excellent value for your money.
The Key Largo by Intex is made with puncture resistant PVC for extra durability. It has lounging room for six adults with room to spare and features a built-in cooler and 6 cup holders for cold beverages. The mesh net floor lets water in to keep you cool as you float.
Our favorite feature of this inflatable party float is the splash pack and storage chamber that keeps small items safe, so they don't float away. The attached dock and grab handles make the float easy to mount in deep water.
The Key Largo Inflatable Raft sits low in the water, and the colors aren't super bright so it may not be as visible in the water. This party float is surprisingly heavy duty and made to last a long time.
While some have reported the raft leaking air after one use, many have used it for multiple seasons without any issue.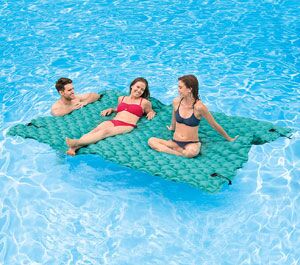 If you're looking for a super affordable float that allows you to relax on the water with a few friends, this is the float for you. The Intex Giant Inflatable Floating Mat is seven feet wide and 10 feet long, so there's plenty of space to stretch out. There's even room for your dog!
This floating mat keeps you right at the water's surface and allows just enough water in to cool you off as you float.
Much larger foam floating mats are quite popular and may be better, but their price puts them out of reach of many individuals. The Intex mat is a good cheap alternative.
The built-in float connectors are great for connecting other floats to this one, or for hooking up your own anchor line to keep it in place. Once deflated, it folds up small for storage.
There are no cup holders for drinks, but a floating cooler can easily be attached to it. Most owners of the mat were very pleased with this float and reported that it far exceeded their expectations.
Not everyone needs a massive 10-person inflatable island and for smaller families or groups, the Intex Relaxation Station fits the bill.
It's suitable for four adults with room to spare. Kids love the large middle mesh area where they can splash around.
The four seats with pillowed backrests make for comfortable lounging, and each seat has its own built-in drink holder. The included rope ladder has rigid plastic steps, making it easy to get in and out of the water.
There are also four sturdy grab handles and an all-around rope to hang onto in the water. The mesh bottom allows your feet to dangle in the water.
Although many reviewers love this small inflatable island, several felt that it didn't last as long as it should have. There were some reports of the mesh bottom ripping and easy puncturing of its 18 gauge vinyl construction.
But, if you keep it out of the sun when not in use and don't over-inflate it, it should last you a long time.
Frequently Asked Questions
Where can an inflatable floating island be used?
There are lots of places where an inflatable floating island can be used. Take them for a lazy float on the river or use them at the lake or on the beach. And, if your swimming pool is large enough, you can use it there, too!
How do you inflate a floating island?
The best way to inflate your floating island is with an electric pump, similar to the type you'd use for inflatable mattresses. This Intex electric pump will do the job well and comes at a great price.