Pontoon boats are an excellent, stable option for both sport and recreation. Unfortunately, their double-hull design means they can be a pain to transport.
The good news is that inflatable pontoons can offer the same experience as their solid-hulled kin while being much easier to carry to and from your favorite fishing spot.
Here are some of the top models currently on the market to help you find the best inflatable pontoon boat for fishing just the way you want.
Our 5 Favorite Inflatable Pontoon Fishing Boats
Inflatable Fishing Pontoon Reviews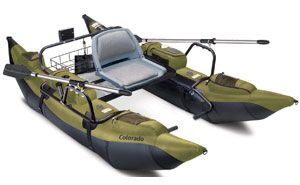 This 9 foot pontoon boat is strong enough for river use and can either be rowed or trolled. The motor mount is sturdy with two positions, while three oar lock positions can be used for either the 7 foot oars or the removable rod holder.
An anchor system uses a fillable mesh bag with cleat and pulley controls that can fit on either side of the boat.
There are 3 variations of this pontoon. This classic model comes with a foldable padded seat, while the XT variant includes a transport wheel for easy access to your fishing spot and the XTS also adds a swivel seat for comfort and mobility, allowing you to choose the features which suit you most. All models have a 400 pound weight capacity.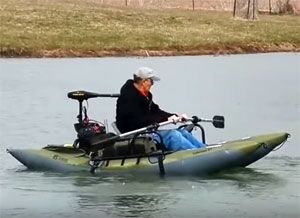 With its sturdy construction and portability when deflated, this is perhaps the best one man pontoon boat currently on the market.
You'll never have to worry about storage, thanks to the many pockets, and those who enjoy fly fishing appreciate the detachable foam fly patch.
There have been a small number of users who experienced issues with the bladder on this boat. It can be quite difficult to get a good seal which in a couple cases caused deflation or poor floatability.
A couple owners have also reported poor tracking, although others have claimed the opposite. Thus this might be a matter of uneven inflation rather than a design flaw.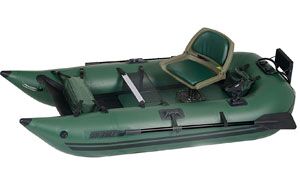 Weighing in at 45 pounds, this frameless, 9 foot pontoon fishing raft can accommodate up to 450 pounds and sets up in only five minutes.
It's made of high quality 1000 Denier with quadruple overlapping glued seams for superior durability in most bodies of water.
Despite its large capacity, this boat can draft as little as four inches of water, and the universal Scotty mounts allow for a high degree of customizability.
This Pro Package adds a swivel seat, floorboard, stripping apron, stow pouch, two Scotty rod holders, and a motor mount to the base design.
The 285 can fully inflate in fifteen minutes or less using a foot pump and holds air well. It also compacts nicely, making it easy to stow or transport (deflated) over land. The floorboard also provides a nice, steady platform to fish from.
Assembly of this pontoon fishing raft can be quite complicated the first few times, as instructions are not always clear. Additionally, the boat can be very sensitive to any adjustment in the motor, making it hard to keep steady if the motor is bumped. This tracking issue is also true of windy weather.
This 12.5 foot one or two man inflatable pontoon fishing boat is built from durable thermobonding .9mm thick German PVC. It includes four main chambers and two reinforced chambers to create unmatched buoyancy and stability.
The Aquos remains balanced even when two fishermen are casting on the same side.
The 94″ x 51″ solid aluminum floorboard adds even more stability, and allows for plenty of customization without reducing portability. There are optional seat types, rod holder, multi-row rod holder, and other accessories available to setup your pontoon just the way you like it.
With an insane 970 pound weight capacity, open deck design, and minimal draft, this is one of the best inflatable pontoon boats on the market. Even in windy weather, it remains stable, and it breaks down nicely for easy transport.
The PF380 is essentially a floating platform and, as such, has no raised edges to prevent your gear from slipping overboard. Additionally, being the most durable and stable inflatable pontoon out there comes at the expense of weight.
At 149 pounds, it's the heaviest on our list but it can be broken down completely to make transport easier.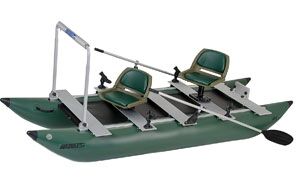 Made of durable 1000 Denier with quadruple overlap seams, this two-person, 650 pound capacity pontoon fishing boat is a great option for a day out on the lake.
The Sea Eagle 12 foot pontoon can house a 3hp gas or 70 pound thrust electric motor and assembles in only ten minutes.
Thanks to a full floor, two cushioned swivel seats, and unique folding frame design, this boat is the perfect combination of comfort and portability and likely the best 2-person inflatable pontoon out there when it comes to fishing.
Owners of this boat love the roomy layout and the ability to assemble and launch without assistance. Many recommend keeping a small dolly for easier transport, although there are also reports of individuals being able to haul the 75 pound boat unaided.
This pontoon has a manufacturing defect that we haven't been able to determine as fixed at the time of this review. You will want to reinforce the black end caps of the pontoons, as they're glued in place and might deform and begin to leak after several uses. You probably won't have any issues but it's better to be safe.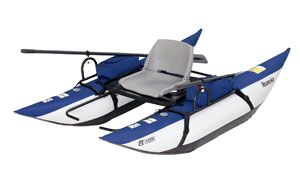 Featuring a rear storage platform, mesh under-seat apron, mesh pockets, and zippered armrest pockets, this one-man, 8 foot fishing pontoon has plenty of available storage.
The durable plastic fold-down seat and adjustable footrests improve comfort while the high-riding design ensures superior visibility. Best of all, the pontoons have abrasion-resistant PVC bottoms and a rugged nylon top to reduce risk of puncture without adding excessive weight.
The Roanoke assembles quickly and its lightweight design allows you to backpack it to and from your favorite fishing spot.
Larger users appreciate the 350 pound weight capacity which, paired with the seat and footrests, makes for a comfortable day on the water.
You will want to provide your own oars for this boat, as the included 6 foot oars are flimsy, awkward, and the boat lacks a good oar lock. Additionally, a small number of owners have had problems with the valves leaking.
This is a good, inexpensive model to get you started if you've never used an inflatable pontoon for fishing. Many owners are ecstatic with their purchase and others choose to upgrade later on to a model that's a bit more heavy duty.
FAQs
Despite being on the market for some time, you might not have heard about inflatable pontoon boats. They're still somewhat of a niche, as are other inflatables, such as inflatable kayaks, boats, or fishing float tubes.
As such, there are several things you need to know before making a purchase.
Is an Inflatable Pontoon Boat Safe?
Thanks to modern manufacturing materials and techniques, inflatable pontoon boats are just as safe to use as their solid counterparts in closed waters. Their improved portability and storage capabilities make them a popular alternative.
While best used in calm waters, inflatable pontoon boats can also be used in rougher waters when an anchor is employed. Note that you should always wear an appropriate fishing life vest when using these or any other type of watercraft.
How Do You Transport an Inflatable Pontoon Boat?
The answer to this question largely depends upon the craft you purchase. Some boats are small and light enough when broken down to be carried in a hiking pack. Most larger inflatables can be stowed in a van or the trunk of a car.
You can also purchase a small trailer for a pre-inflated boat. It's strongly advised to keep a small dolly in your vehicle when transporting a heavier boat.
Inflatable Pontoon vs Inflatable Kayak – Which is Better for Fishing?
Both of these are excellent choices in their own right, but they have some advantages over each other that need to be considered.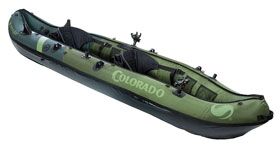 Inflatable kayaks are more maneuverable and have excellent tracking. They're more efficient on open waters and where a lot of travel is needed.
However, they require you to remain in a seated position, making fly fishing and similar forms more difficult. You are also restricted to using oars for movement.
Meanwhile, pontoons can function like mobile platforms, allowing you to stand and cast. They offer a higher visibility and smaller draft, plus less risk of capsizing. The downside is that they tend to track poorly and can be shifted more easily in the wind.
You can use oars or mount a motor, making these great for a calm lake or river, although they're a poor choice for open waters due to their poor maneuverability. Use them for fly and net fishing for a better overall experience.