How We Tested
We recommend these products based on an intensive research process that's designed to cut through the noise and find the top products in this space. Guided by experts, we spend hours looking into the factors that matter, to bring you these selections.
Click here for testing insights >

5
Models
Considered

130
Consumers
Consulted

55
Hours
Researched
Buying guide for
5 Best Life Vests for Kayaking, Canoeing, and Rafting – Easy Paddling
Whenever you're on or near water, it's common sense to have the right safety gear, but it's never more important than when you're out kayaking, canoeing, or whitewater rafting.
Kayaks and canoes are a ton of fun and very useful for hunting and fishing, but they're also notoriously unstable and prone to landing you unexpectedly in the water.
Even if you're a strong swimmer, you need a buoyancy aid to keep you afloat while you set about getting your kayak right way up and ready to move on.
Obviously, when in a canoe or kayak, you need to paddle. Freedom of movement is vital which means that your PFD won't interfere with what you're doing. When choosing the best kayak life vest, you need to ensure you get one that won't restrict you or rub uncomfortably.
Here are some excellent choices for when you're out on the water doing some kind of paddling that will let you get the most out of your time on the water.
See also: Best Inflatable Kayaks
Our Favorite PFDs for Kayaking and Other Paddle Sports
Related: 19 Best Places to Purchase a Life Jacket
Kayak Life Vest Reviews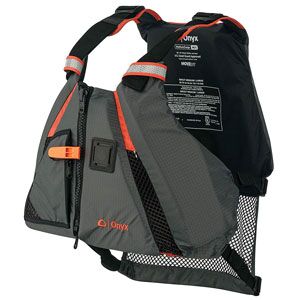 There aren't many vests that can compare to the MoveVent in terms of fit, comfort, functionality, and cost. High-positioned bubble foam on the inner back improves comfort while also accommodating kayak seats.
Fully open sides and adjustable side belts mean zero restriction while paddling and unmatched ventilation.
The shoulders have neoprene comfort pads and are fully adjustable. Even the front of the vest is sculpted and designed to be so flexible and well-fitting that you forget you're wearing the MoveVent. The comfort of the MoveVent also makes it one of our favorite PFDs for stand-up paddleboarding.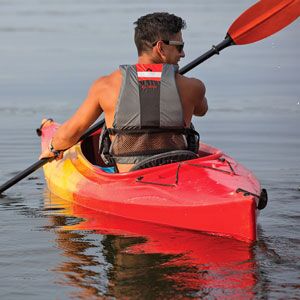 An expandable zippered pocket with mesh drainage, zip assist loop, attached whistle, SOLAS grade reflective material, and drying loop round out the many features of this sports vest.
Finding the right size can be a problem for larger individuals, although those with a smaller build or women with a larger bust seem to be able to fit into the recommended sizes without much difficulty.
ONYX makes an excellent paddle vest for the big and tall that fits chest sizes up to 60″.
It should also be noted that the back is designed for normal kayak seating and may not be appropriate for kayaks with high seat backs.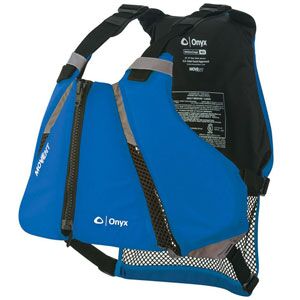 The Curve Movevent life vest by Onyx is ideal for canoeing and kayaking because it has open sides and a mesh lower back for excellent mobility when paddling.
Ventilation on the front, back, and sides keeps you much cooler than other similar products. The sculpted design conforms to your body and the adjustable shoulder, waist, and side straps provide the perfect fit for a wide range of body types.
Related: What to Wear When Kayaking
This kayak life jacket is made with soft, lightweight flotation foam and a 200-denier nylon outer shell to keep the vest as lightweight as possible.
It is also US Coast Guard approved to meet PFD regulations when canoeing and kayaking. SOLAS grade reflective material provides added visibility on the water.
Paddlers love the large armholes and minimal padding that allow for unobstructed paddling. The snug, glove-like fit can be customized to suit both men and women thanks to all the adjustments. The mesh lower back accommodates the seatback perfectly, so there's no riding up.
Some users wish the vest had a pocket or some d-rings to clip things to, but that's a small price to pay for all-day comfort and safety on the water. The Onyx Curve Movevent Paddle Sports PFD comes in three stylish colors and three sizes, from extra small to XX-Large.
This is a reliable, yet comfortable PFD that's a great choice for all types of paddle sports.
The Edge life vest from Stohlquist Waterware includes a roomy, top-loading front pocket for easy accessibility and storage of important items.
This vest has graded sizing for added comfort, so the small sizes don't have as much bulk as the large sizes.
This allows for ideal buoyancy and fits according to your body type. For example, the S/M size has 15 lbs. of buoyancy, L/XL has 16 lbs., and the XXL has 17 lbs. of buoyancy. It's really a smart way of doing it.
The side, waist, and shoulder straps are also completely adjustable, allowing you to customize the fit even further.
The Edge was designed with a low cut, offset front entry, and extra-large armholes for maximum mobility while paddling. This US Coast Guard Approved Type III PFD also has 3M reflective accents for added visibility.
While it's ideal for canoeing and adventure kayaking, many users also love it for sailing, windsurfing, and other active water sports that require a large range of motion.
We really like the slim fit of this PFD that keeps it comfortable for all-day paddling. It's easy to put on and it holds up well to rough use. The open sides provide enough breathability to keep you cool on hot days.
The lash point located on the front of the vest makes it extremely versatile for a variety of activities.
Some owners of this PFD noted that the sizing runs a little small on this vest, so keep that in mind when ordering. The Stohlquist Edge life jacket comes in five colors and looks stylish on the water. It is also available in three dual sizes for the best fit on a wide range of body types.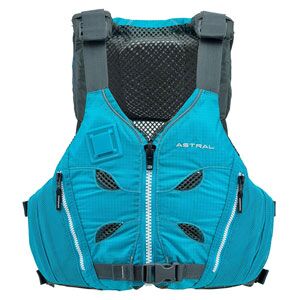 This vest was designed to let you work hard, so it's ideal for active kayakers and rafters. Open sides and unobtrusive shoulder straps mean it won't cramp your paddling style, and six adjustment straps – two on each side and two on the shoulders – ensure a perfect fit.
A lot of attention has been paid to keeping it well ventilated making it a great pick for warmer weather.
The Astral is also quite secure, with a tough zipper and quick-release waist belt. The foam panels flex comfortably as you move, so this vest can be worn all day with no chafing.
The back panel is high enough to clear most kayak seats, and there are a pair of handy pockets too.
A few users have noted the PFD feels a bit bulkier than it looks and pockets aren't located in an ideal position but for the most part, the Astral Buoyancy V-Eight gets rave reviews and is even one of our favorite sailing life vests.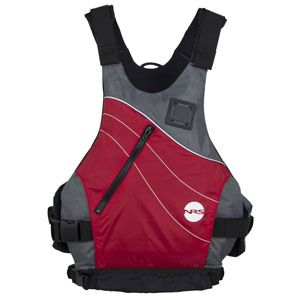 The Vapor by the well-respected company NRS is designed to give you that high-cost experience in a budget-friendly package.
This Type III vest easily slips on and closes using two adjustable side buckles. The wide arm cut allows for unrestricted movement and soft, flexible floatation foam molds to your body to provide superior comfort.
A large front pocket is kept secure by a sturdy chest zipper and covers the front of the jacket. Behind the pocket is a hand warmer pouch for those chilly days.
A lash tab and reflective piping add to the functionality and safety of this vest. While designed primarily for paddle sports, the Vapor also holds up well for fishing and other sports.
See also: How to Store a Kayak
Tested by Underwriters Laboratories and Coast Guard-approved, this Type III vest exceeds the required floatation range at 16.5 pounds, making it a safe choice for your paddling excursions.
Be warned: the comfort level and overall design may make you check occasionally to see if you're still wearing it.