Water shoes are a must for protecting little feet from hot surfaces and sharp objects. They are designed to dry quickly and keep little feet cool during all sorts of outdoor activities, on land or in the water.
The great thing about water shoes is they won't trip your child up or fall off like flip flops do, but they also dry much faster than sneakers. The best kids' water shoes will keep your little one's feet safe and dry on the beach or at the playground.
See Also:
Our 5 Favorite Toddler and Kids' Water Shoes
Kids Water Shoe Reviews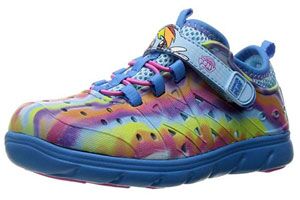 It's fairly obvious but if you want the best water shoes for kids, you should go to the best kids' shoe company. Stride Rite has been in the business of making kids' shoes since 1919, and that experience shows with the Made 2 Play water shoes.
These hybrid sneaker/sandal/water shoes are available in sizes 4 M to 10 Medium US for toddlers, 1 M to 13 M US for kids, and 4 M to 5 M for bigger kids, making this a shoe that can be worn from ages 1 to 12.
The Made 2 Plays are 100% Vegan (please don't eat them), employing synthetic materials and rubber pods on the outsole for improved grip on wet surfaces.
A secure hook and loop closure prevent the laces from coming undone during even the most strenuous play, and the shoes dry quickly after a bout of swimming. Best of all, these shoes are machine washable, so you never have to worry about odors or stains.
The wide variety of colors available make these shoes attractive to kids of all ages and tastes. Parents love the quick drying times and easy washability, while the patterns stay resilient with heavy use. Meanwhile, children love the ability to play on both land and in the water without getting yelled at.
Be careful to test the shoes out at home before sending your children out to play, as improper sizing could result in irritation or even blisters.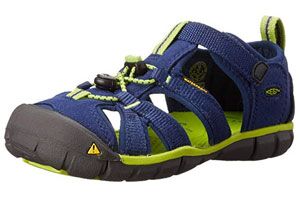 Keen Kid's Seacamp II water shoes come in a huge assortment of colors (over 30!) and sizes for little kids, big kids, and toddlers. These water sandals are made from 100% synthetic polyester for quick drying.
They feature a durable rubber sole and a rubber toe bumper to protect your little one's feet, even on rough terrain. They are arguably the best water shoes for toddlers and older kids.
The Seacamp II is an athletic sandal designed with a combination of a hook and loop strap closure and bungee elastic lacing. They're easy for kids to put on, and they'll stay on – even in the water.
For your peace of mind, Keen uses only chemical-free materials. They've also used machine washable webbing and added a non-marking rubber outsole for durability and easy maintenance.
Parents report that these shoes are perfect for everything from school to summer camp, as well as water activities. They keep little feet cool and dry, while protecting them from injury.
Some wearers experienced issues with the dye bleeding on the red sandals, so you might want to choose a different color, just in case. Other than that, Keen's Seacamp II water sandals are a great all-around summer shoe for boys and girls from one to 12 years.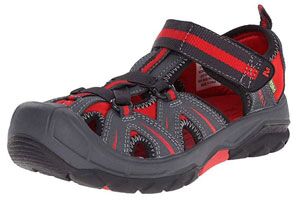 Merrell's Hydro water sandal is a great child's alternative to their popular adult line. With shoes sized for toddlers to big kids, the Hydro is perfect for a wide variety of activities.
The shoe includes a rubber sole, protective rubber toe guard, vented upper shoe, and adjustable hook-and-loop closure. Decorative bungee lacing add to the attraction.
Great for family hikes, water parks, lakes, beaches, and pools, these Merrell water shoes are as good as they get for all around use. Your little one will love how comfortable they are and may not want to take them off after play time is over.
Many parents who previously purchased Keens for their kids have switched over to Merrell once they realize the quality is maybe even slightly better although price is always a factor.
As for negatives, some have reported that sizing of the Merrells run a bit large but if the pair end up being a bit too big, returns are generally hassle-free (or you can simply wait a bit until they grow into them).
Also, Merrells are a bit heavier than some other water shoes but this also means more comfort and protection.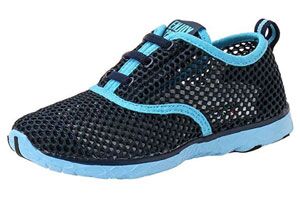 Aleader Kids' Slip-on Quick-Dry Water Shoes are available in a full range of sizes for toddlers, little kids, and big kids. With over 15 colors to choose from, both boys and girls are sure to find a design they love.
These lightweight, slip-on water shoes feature a breathable, durable mesh upper to keep feet cool and dry.
The fully molded, cushion outer sole on these shoes provides excellent traction and grip in slippery and wet conditions while providing enough cushion to be comfortable for all-day wear.
The Aleader water shoes also have quick-adjusting elastic strap closures that allow little ones to slip them on and off easily. Aleader has even designed these shoes to be stylish enough for day-to-day wear, on land or in the water.
Parents love these versatile quick-drying amphibious shoes, saying they're perfect for home and travel during the hot summer months. Some purchasers experienced difficulty getting the sizing right, so allow extra time for exchanges if you're in a time crunch.
Aleader's Slip-on water shoes for kids are an excellent, low budget option for water activities, or any time you want to keep your child's feet cool and dry.
Crocs Kids' Swiftwater Wave Water Sandals come in seven fun colors for boys and girls. These versatile sandals will protect your child's feet on land or in the water.
They're a surprisingly lightweight, all-purpose shoe with a flexible upper that includes plenty of ventilation ports to shed water and debris while keeping your child's feet cool. There's a reason why Crocs have been a top seller for both kids and adults for many years.
The Swiftwater sandals have a relaxed fit and the iconic comfort we've come to expect from Crocs. The croslite foam construction doesn't absorb water, and the durable synthetic sole protects little feet from hot surfaces and sharp objects.
The adjustable velcro closure makes these shoes easy to put on and take off, even for little hands.
Parents recommend Crocs water sandals for all sorts of adventures, from water activities to playing in the yard. Since they dry pretty much instantly, they can be cleaned easily in the sink or with the hose.
They don't retain odors, and they have a snugger fit than regular Crocs to prevent slipping. Kids love them because they're super comfortable and easier to put on than sneakers.
These shoes have a narrower design to prevent them from coming off in the water, so if your child has wide feet, you may want to go a size up for comfort. Crocs water sandals come in a range of sizes for toddlers, little kids, and big kids.
If you're looking for a go-anywhere shoe for your child that will stand up to rough wear, Crocs Swiftwater sandals are a great choice. Just be careful leaving them out if you have a puppy as they can quickly become their favorite chew toy.