A personal locator beacon (PLB) is a crucial part of any safety kit when boating, mountain climbing, or out in the wilderness. Designed to direct search and rescue teams to your location in the event of an accident, these are more durable than cell phones and strong enough to function almost anywhere.
Even the best personal locator beacon may not help you if you let the battery expire or fail to register the device.
Warning: Personal locator beacons are meant to be used only in emergencies where you are in grave and imminent danger.
Misuse has been known to disrupt search and rescue operations, often putting lives at risk. As a result, false alarms often result in a penalty similar to false 9-1-1 reports.
Keep these devices away from children when not potentially at risk, and be sure to instruct your family in the proper usage and purpose of these tools.
Our 4 Favorite PLBs
The following PLB models were chosen on the basis that they all have GPS tracking, a good reputation, and may one day end up saving your life or the life of a loved one.
Personal Locator Beacon Reviews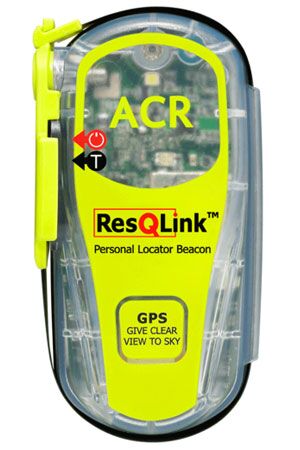 Update: The ACR ResQLink PLB-400 is the updated version of this model.
Pre-programmed with a U.S. country code, this subscription-free personal locator beacon with GPS tracking is an excellent, cost-effective choice. The beacon has a radiated power of 5W (or 406 MHz), 50 mW +/-3dB (121.5 MHz), making it easily tracked once activated to within 100 meters of your position.
Smaller than the average cell phone and weighing only 5.4 oz, the ResQLink+ has a built-in strobe light to assist nighttime rescues. Two testing options allow you to ensure the device is in full working order at the push of a button.
A non-hazmat battery is included that is certified for six years and rated for 11 years of shelf life. The beacon itself has a 5-year warranty, at which point it should be sent to a service center for replacement.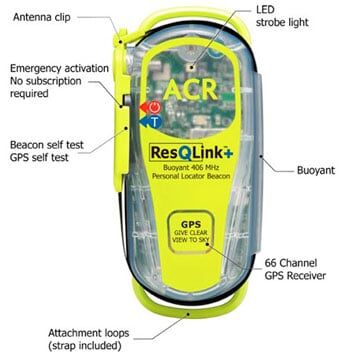 One of the biggest perks to this device has been reported by consumers who have actually used it in an emergency. The battery lasts for 24 hours once activated and is a single-use item like any other PLB.
In the event the beacon was used in an actual emergency, ACR will replace the entire unit at no cost to the owner. If you plan to do any offshore boating, the beacon should be part of your onboard supplies.
The single largest complaint about the ResQLink+ PLB-375 is the design of its blade antenna. In theory, the antenna wraps around the beacon and is held in place by a clasp.
However, users have found the clasp often comes loose, causing the antenna to unwind. While this may be solved using a rubber band to better secure the antenna, owners note there may be a slight risk of damage due to unwinding in a boat or other compact environment.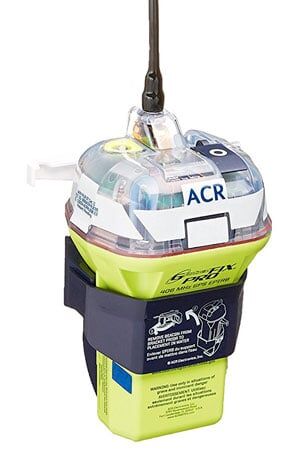 When you want an emergency beacon that's built to last, it's tough to compete with the GlobalFix Pro.
This category II PLB is a powerful device and has built-in GPS, a strobe light, manual release bracket, 407MHz signal, 121.5 MHz homing beacon with 6.3 watt transmitter, and a minimum broadcast time of 48 hours.
The non-hazmat battery lasts five years and a built-in test ensures the unit is fully functional before any risky trip. Note that category II rescue beacons do not auto-deploy, although the GlobalFix Pro is designed to activate automatically when it comes into contact with water.
As is common with PLBs, most consumers will never need to test the quality of this device. Those who have, report fast and well-coordinated responses. Like other beacons, it must be sent in for servicing after each use, and should be replaced before the 5-year battery "freshness" ends.
This is one of the best PLB models for boating, although its larger size makes it more awkward when carried on one's person. But if you're boating with the entire family including kids, go with the best.
One of the best qualities you could ask for in a PFB is redundancy, and the ACR GlobalFIX V4 Cat 2 EPIRB provides several layers of protection in order to maximize your chances of rescue.
Beginning with its user-replaceable 10-year lithium battery and two easy-to-use test options, you can quickly ensure this device is functioning before each trip. A protective keypad helps prevent accidental activation.
In the event the device is needed for an actual emergency, its powerful 66-channel GPS helps pinpoint your location quickly, even from a cold start. Your position is then broadcast using a 406 MHz transmitter.
This signal is powerful enough that orbiting Cospas-Sarsat satellites can triangulate your position in the event the GPS fails. Another 121.5 MHz homing signal and highly visible LED strobe allow nearby rescue teams to quickly close in on your exact location.
As most owners of this PFB will (hopefully) never need to use it, getting accurate feedback on how it works in an emergency can be tough. However, the testing has provided a good indication of how it will function.
Users of the testing have noted a decent success rate using the single-burst self-test (in an actual emergency, the device will send a burst every 50 seconds for 48 hours or more).
You can perform at least 120 of these tests and 84 extended tests on a single battery, allowing you to mimic emergency conditions without draining the device.
On the downside, this is one of the larger models and doesn't come with mounting hardware. This makes it better suited for larger open water boats (once you've mounted it) than small craft.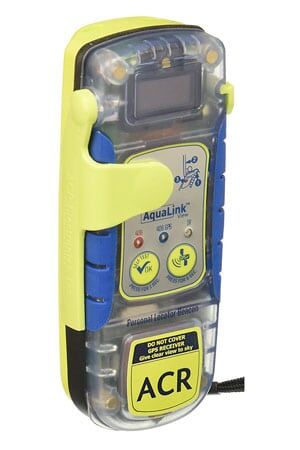 The Aqualink goes one step beyond most PLB units. It contains a unique digital display which checks your coordinates, monitors battery power, and allows for self-tests that give you more information than a few blinks or a single light.
A combination of GPS positioning, 406MHz signal, and 121.5MHz homing beacon direct rescue services to within 100 meters of your location, while a built-in LED strobe light provides short-range visibility once teams are near.
The battery has an estimated lifespan of four years before the device must be replaced.
This PLB has a fast response time, with test signals returning in as little a four seconds, even in area with no cell phone reception.
It is a little bulkier than the ResQLink+, but users report the larger battery allows for more tests and a longer broadcast time when activated.
In emergency situations, users report quick and accurate response after activating this beacon. With the risk of hypothermia in cold water or on the mountain, time is always of the essence.
It should be noted that this device has a shorter battery life than other models due to the LCD screen. Frequent use of the screen to check your position or run functionality tests will further reduce the lifespan.
Therefore, the Aqualink View is best-suited for those who are frequently on the water or in the wilderness.
---
Personal Locator Beacon FAQs
How does a personal locator beacon work?
When activated, a PLB transmits power signals at 406 MHz (a distress frequency monitored by NOAA and AFRCC). These signals communicate with a network of American, Canadian, Russian, and French satellites.
After receiving the transmission from the beacon, the satellites can fix on your location so search and rescue operations can quickly begin.
GPS compatible personal locator beacons have the benefit of quickly delivering your GPS coordinates instead of having to wait for your location to be calculated by the satellites.
Can a PLB be used anywhere in the world?
Rescue beacons that operate with using 406 MHz signal (all the models above do) can be used anywhere on the planet, including the Poles.
Do I need to register my beacon?
Yes! You must register all 406 MHz personal locator beacons with the National Authority in your country. In the US (and most other countries), registration is required by law. It allows search and rescue teams to know who you are and provide them with contacts that may help them with additional information.
In the Unites States, register online at: https://beaconregistration.noaa.gov/RGDB/index.
For other countries, register online at: https://www.406registration.com/.
Can a PLB battery be charged or replaced?
Personal locator beacons are single-use items. For safety reasons, they are not designed to allow battery replacement by consumers. Whether the device is nearing battery shelf life or it has been activated, you must return it to a service center.
Some companies will replace the unit for free, but servicing is the only way to ensure these beacons have enough charge when it's needed the most.
How do I know if the PLB is working?
Performing a regular self-test is crucial. Your manual will have instructions on how to do this as well as the frequency of these tests. Don't be caught in a situation where your PLB is non-functional when you need it most.
What if I accidentally set off a false alert?
As long as it was an honest mistake and not deliberate, you shouldn't have anything to worry about. It's important turn off the beacon right away and contact emergency services as soon as possible.
Deliberately setting off a beacon or not contacting the proper authority can result in a severe penalty, often similar to a false 9-1-1 report.