Sailing is one of the most fun things you can do, but it does have its hazards. You're out on the water by definition, and it's easy to end up IN it instead. A capsizing dinghy will have you swimming right away, and while a yacht's more stable, a simple slip is all it takes to have you over the side.
At times like that you need a good life vest to keep you afloat until someone can pick you up. In a dinghy you might have work to do getting the boat back on an even keel and you can't afford to expend time and energy just staying afloat; your vest will let you concentrate on the job that needs done.
Obviously, sailing is an active sport that involves a lot of complex tasks and movement, so the best life jacket for sailing can't be bulky or restrictive. At the same time it needs to give good support in the water.
Safety when sailing should be a priority so at the very least a strobe or whistle should be on you at all times and even a personal locator beacon is recommended.
See Also: Kayak Sailing (Pros/Cons)
Our 7 Favorite PFDs for Sailing
Sailing Life Jacket Reviews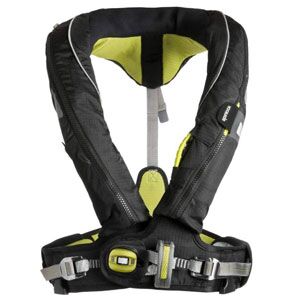 The Spinlock Automatic Inflatable Deckvest Duro is a high performance and lightweight life jacket with a safety harness that's perfect for sailing. It has an ergonomic design that sits around your shoulders and neck comfortably, but it doesn't restrict your freedom of movement in any way.
This PFD turns an unconscious user face up to keep their head above water in the event of an accidental. It also has an integrated sprayhood to protect the user from secondary drowning.
This is a professional grade PFD that's perfect for seasoned pros and beginners alike.
This sailing life jacket by Spinlock inflates automatically if water flows upward through the vest and compresses a paper capsule inside the unit, which dissolves when it gets wet. This releases a spring inside the vest which punctures the CO2 canister and inflates the vest.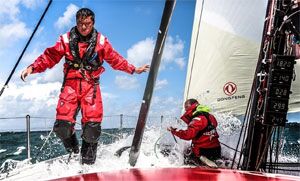 The vest will not inflate accidentally if it rains or gets sprayed with water, which is a common issue with normal inflatable life jackets, but it can also be inflated manually with the pull of a handle.
This vest features a comfortable, unobtrusive design that can be worn all day, but it is made from a highly durable material that will stand up to extreme conditions.
Additional safety features include a flexible antenna wand and a flashing LED light for added visibility in the water.
The Deckvest Duro is a bit on the pricey side, but users report that it's incredibly comfortable and easy to wear. If you sail on a regular basis, it's probably worth the extra investment. The Spinlock Deckvest Duro comes in comes in a single size for chests measuring 23.5″ to 57″.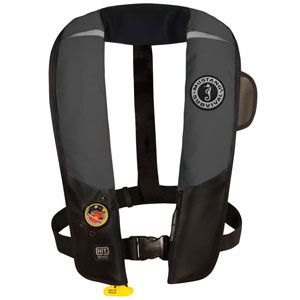 Mustang's Survival Corp Inflatable PFD inflates automatically with upward water pressure, but it will not inflate prematurely due to rain or water spray. One inflation kit is included with purchase, but you will need to purchase another one each time the jacket inflates.
A less expensive manual inflatable version is also available.
This sailing life jacket has been designed with an extra bright, fluorescent yellow-green inflation cell for added visibility in the water. Solas reflective tape, a safety whistle, and a strobe light attachment are included in the design for your safety and peace of mind.
This inflatable PFD by Mustang comes with a SecureZip closure that stays shut even in high winds but opens easily during inflation. At 35 pounds of buoyancy when inflated, this vest has twice the buoyancy of most foam PFDs.
Owners report that the harness on this life vest is fully adjustable, making it a comfortable option for adults in a wide range of sizes. It's so lightweight, many users forget they're even wearing it.
It doesn't restrict range of motion, so it's great for an active day on the water. Two d-rings are included so you can tether the jacket to your jackline.
Mustang is known for excellent customer service, and their award-winning Hydrostatic Inflator Technology (HIT) ensures that this vest only inflates when fully submerged. This is a USCG approved Type II PFD rated for use in severe weather.
Although this life vest requires a bit of an investment, you really can't put a price tag on your safety when you're out on the water.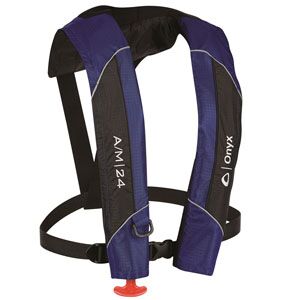 For those times when you want a minimal vest but don't want to spend a fortune, nothing beats the Onyx A/M 24 by Absolute Outdoor. If you're using the thought of a bulky, uncomfortable vest as an excuse to not wearing a PFD, we've got you covered.
Made of a durable 200 denier nylon ripstop outer and comfortable 200 denier nylon oxford inner lining, the vest will stand up to a fair amount of abuse.
The stretchable Flex-Back insert and fully open design allows for a full range of mobility, while the lightweight design keeps you cool in warmer weather. A soft neoprene neckline rounds out the physical comfort, while the option for automatic or manual inflation provides mental comfort.
The vest will inflate automatically when immersed in water or if the inflation handle is pulled. However, it can also be converted to a manual-only inflation using the back-up tube.
Suitable for swimmers 16 and older who weigh at least 80 pounds, this Coast Guard approved Type V life jacket carries a minimal buoyancy of 22.5 pounds while performing like a Type III.
The major downside with any inflatable PFD is that the vest uses a CO2 cartridge, so you will need to replace the cartridge after each non-manual inflation.
Additionally, since the Onyx A/M Rearming Kit #1352 includes a compressed air cartridge, it may not be be possible to ship the kit to Alaska or Hawaii, so be sure to bring replacement kits with you if sailing in those waters.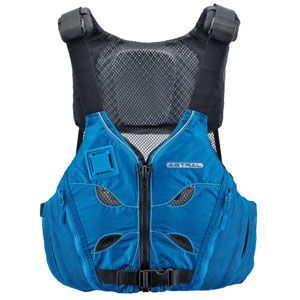 This is a very lightweight, modern design of vest built around a mesh base. A lot of attention has obviously gone into ensuring freedom of movement; the sides are very open and won't interfere with your arms at all.
The shoulder straps are unobtrusive and the front panels sit low on the body, so there's no chance of it riding up into your face. The back, however, is placed higher with a mesh lower section; it won't be forced up by the seat back in a kayak or the hull of a dinghy.
Some users using this for kayaking purposes have had issues with very high seat backs but if using strictly for sailing, it won't be an issue.
The foam panels are articulated to shape better to your body and allow even more freedom, and a combination of side and shoulder straps make it easy to adjust.
The Astral has plenty of open spaces and is well vented, so it's comfortable in most conditions, but in very hot weather it will trap some heat. That's almost inevitable with any good vest and there isn't a lot that can be done about it without making it less effective where it counts – in the water.
Overall this product scores very highly for comfort. It's also secure; the zip is very heavy duty and backed up with a waist belt.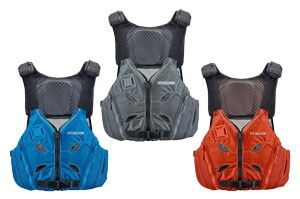 Other features include two pockets for carrying small items, and a slotted hardpoint on the left breast. A whistle, strobe or other safety equipment can easily be carried at all times. As for colors there's a choice of three, a smart blue, olive green, or a more visible orange.
For sailing, many people prefer the smaller, automatic inflatable type like the Spinlock or Onyx above which are even more comfortable but come at a higher price. Honestly, any of these options could be the best PFD for sailing depending on your budget and usage.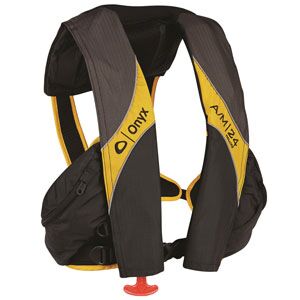 Here's another version of the popular Onyx A/M-24 inflatable vest. This DELUXE model includes most of the same features as the standard model above but adds even more comfort in the form of neoprene lining, slightly wider straps, and the addition of utility pockets and a fleece-lined sunglasses pocket.
If it's in your budget, the deluxe is worth getting over the standard version above.
If you need a minimalist flotation device for a racing catamaran or regularly sail in very hot weather, this auto-inflating vest might suit you better than a traditional sailing PFD.
The Onyx A/M-24 Deluxe is an ultra-slim harness with its flotation gabs concealed in the rucksack-style chest straps. Fall in the water, though, and it will automatically inflate (there's also a manual activation handle at belt level).
It's an extremely comfortable vest to wear, thanks to its neoprene lining, and it's also fully adjustable for a good, secure fit.
Because of its size, the Onyx also works great as a fishing vest when you want something a bit less bulky but with "some" storage.
Like with any auto-inflating vest, once inflated, you will need to purchase and install a new CO2 cartridge before using again. It's also a good idea to have a spare cartridge on hand in case of accidental inflation.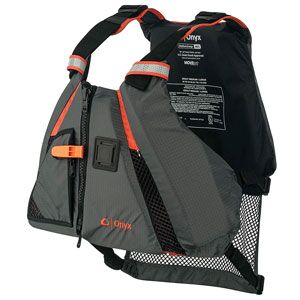 While the MoveVent Dynamic is designed primarily for paddle sports (it's our favorite kayak PFD), it also makes an excellent all-around boating vest.
On calm waters, it can be easy to forget you're wearing this vest, as every part of it is designed with comfort and fit in mind.
The front is flexible and form-fitting, while the back has a mesh lower and bubble foam-filled upper that allows comfortable seating on most dinghies and sailboats.
Adjustable shoulder straps are padded with neoprene comfort pads, and the sides are completely open and held together by adjustable side belts to facilitate maximum mobility.
An expandable zippered pocket includes mesh drainage. There is also a zip assist loop and drying loop built into the vest for added convenience and fit.
In the water, safety becomes a priority, and the MoveVent continues to deliver. SOLAS grade reflective material ensures you'll be spotted even in low light, while an attached whistle helps alert searchers of your location.
Just be sure to test the size of this vest, as you may need a size larger or smaller if you don't know your exact measurements.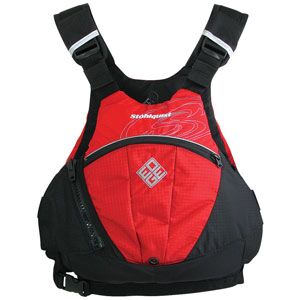 The Edge is an excellent addition to the Stohlquist family, providing both mobility and safety. The ergonomic WRAPTURE­ shaped torso has four side pulls, adjustable padded and contoured shoulders, and front waist buckle closure for easy fitting.
Ultra-soft buoyancy foam graded for each size and mesh sides to improve ventilation round out the comfort features.
A low-cut, offset zipper makes putting the vest on even easier and adds space for the large, top-loading front pocket. High visibility 3M­™ reflective accents makes it easier for rescuers to spot you in an emergency.
The only downside in this vest is that the molding is not very accommodating for busts larger than a C, making it a poor choice for women with larger chests. Instead, women want to consider a couple of these women's life vests for a better fit.
With both UL and ULC listings, as well as Coast Guard and Transport Canada approval, this vest can be worn when sailing throughout most of North America. It's perfect for not only dry sailing, but wet-sailing, SUP, and whitewater rafting.