How We Tested
We recommend these products based on an intensive research process that's designed to cut through the noise and find the top products in this space. Guided by experts, we spend hours looking into the factors that matter, to bring you these selections.
Click here for testing insights >

11
Models
Considered

223
Consumers
Consulted

32
Hours
Researched
Buying guide for
7 Best Snorkel Vests for Easy Snorkeling
Snorkeling is one of the funnest things you'll ever experience. The thrill of swimming alongside strange creatures and exploring the beauty under the ocean's surface can hardly be matched. But like with any water-based activity, there's always the risk of accident or danger in the ocean.
This is especially true if it's your first time snorkeling. Making sure you're prepared is important, and bringing along a snorkel vest can be a great investment into personal safety. Below are what we believe to be the best snorkel vests for the entire family.
Our 7 Favorite Snorkel Vests
Best Snorkeling Vests for Adults
While pretty much any snorkel vest will provide some level of buoyancy to help when snorkeling, the comfort of the ScubaPro Cruiser is what sets it apart and makes it so popular.
Unlike the typical bulky "horse collar" design of other vests, the Cruiser has a zipper on the left side which still allows you to easily put it on but it just feels a lot more secure and form-fitting.
If you're not a very strong swimmer, this style of snorkeling vest will give you the confidence to snorkel as much as you want. The neoprene covers your back from the sun so while everyone else's back will look like a lobster after an hour of snorkeling, you'll be protected.
On the front is an easy to use valve to inflate or deflate. Simply blow into it to add air or open the valve to let some air out. The front pocket is a nice touch to be able to store small items and makes you wonder why all vests don't have this.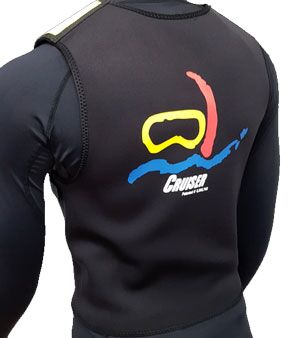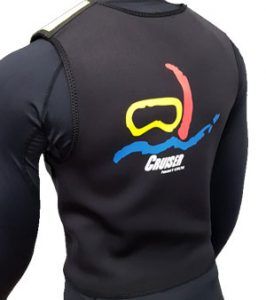 Overall, the high quality of the ScubaPro vest is quite noticeable when compared to others. It's also a lot more stylish if you're worried about that type of stuff. Available in bright yellow with black, it's a pretty slick looking vest.
Being the best snorkeling vest still has its negatives. For one, you will be paying a premium for the style, comfort, and quality of construction.
You just need to ask yourself if it's something you'll use multiple times or just once on that long overdue vacation to Hawaii. If it's the later, you might be better off going with one of the lower cost options below.
Also, because there is no crotch strap (which can be a good or bad thing), some users have reported that the vest rides up a bit after prolonged usage. Sizing is pretty accurate to what the manufacturer states. It may feel a bit tight when putting it on but that's how it's intended to be.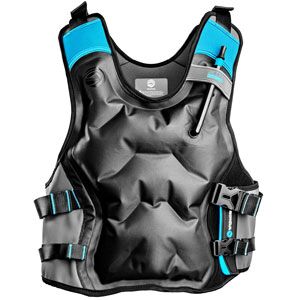 Even at first glance, there's no doubt that the Jetty vest is really a premium snorkeling jacket! It has a very stylish design and comes in three sizes for pre-teens and adults, ranging from small to large.
The Jetty is designed to help you stay afloat without sacrificing comfort or mobility. Besides snorkeling, it's perfect for paddle boarding or for those that need a bit of swimming assistance when learning to swim.
Related: Best PFDs for Stand-Up Paddle Boarding
The vest style design and side entry make this snorkel vest very easy to put on and take off, as well as extremely comfortable.
The Jetty snorkel vest is also very compact, with a snug fit around the waist to keep it from riding up without the need for an uncomfortable crotch strap.
We really love the balanced design because it keeps you stable in the water, allowing you to float easily without having to fight to stay in the position you want.

The attached air valve allows you to adjust the buoyancy of this snorkel vest in seconds, in case you want to dive down and get a closer look at the marine life. Once you're back on the surface, blow on the valve to re-inflate the vest to whatever level you desire.
We found this snorkel vest to be very durable, and the spandex side panels provide a better fit than other vests. Although the Jetty vest is not the most affordable option out there, it's near the top of our list for stability and balance, whether you're actively swimming or just floating on top of the water. Overall, this snorkel vest is well worth the investment.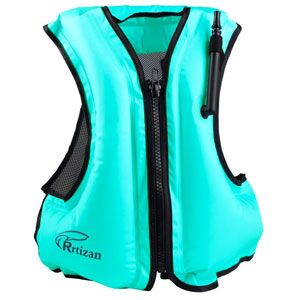 Rrtizan's second-generation snorkel vest is designed for comfort and convenience, and not just safety.
A high-density mix of 60 percent polyester and 40 percent PVC leave this vest feeling smooth and less plastic than other snorkeling vests while also providing more buoyancy.
The mesh sides and back create superior breathability and a zipper allows you to wear it as a regular vest while on the beach. Bright teal and orange variations both offer excellent visibility.
Fitting into this vest is much easier, thanks to the 46-inch waist strap and ability to support people weighing between 80 and 220 pounds. When not in use, the compact design allows it to be stored in the same amount of space as a book.
Safety is the primary concern with any snorkeling vest, and this one inflates quickly and easily. The design allows for partial inflation for those times when you don't need full buoyancy, although the lack of pockets or a crotch strap have kept it from being perfect.
Rrtizan offers a one-year warranty on the vest, allowing you to rest easier even when not in the water.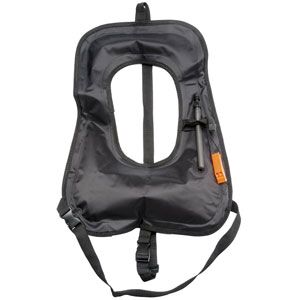 The Innovative Scuba Concepts snorkel vest comes in one size for kids (up to 100 pounds), and two adult sizes for adults (from 100 to 230 pounds).
It's available in three colors: black, pink, and yellow. We recommend going with pink or yellow for areas where visibility is a concern. This vest is made of durable, 210 denier urethane-coated nylon, so it should last for many seasons of normal use.
This snorkel vest has the more traditional over the head design that sits around the neck. Adjustable straps are included at the waist and crotch to keep the vest from riding up or slipping off in the water.
An inflation mouthpiece is also included so that you can easily adjust your buoyancy while you're out on the water.
The Innovative Scuba Concepts vest is a great option for traveling because it deflates completely and packs small and flat. It also dries fast and cleans up easily when you want to put it back in your suitcase. The attached safety whistle is a nice additional feature.
Unfortunately, some users say this snorkel vest does tend to ride up when you're upright in the water. This is a common issue with the horse collar design, but it's not a problem when you're floating horizontally.
The extra-large runs big, so don't be afraid to give it a try even if you're a little over the recommended size range. At the end of the day, this no-frills snorkel vest gets the job done at a very affordable price.
Best Snorkeling Vest for Kids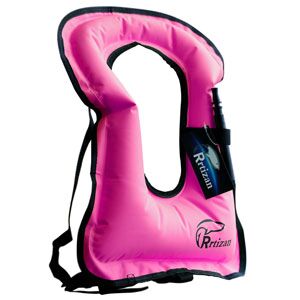 Kids love to go snorkeling too. The problem is that most adult snorkeling vests are too big, life jackets are too buoyant, and kids snorkeling vests are too hard to find. Rritzan solves all those problems with the child version of their popular vest.
This kids version is offered in an easy to put on over the head design. It's a great option for kids ranging in age from 5-14 years old and between 60 to 130 pounds.
For added safety, it comes in two high visibility colors, bright pink and bright yellow. This inflatable life jacket has a very simple design, but it provides plenty of buoyancy to give beginning swimmers confidence and keep them safe for snorkeling and swimming close to shore.
Keep in mind that this is not a Coast Guard-approved PFD, and it's not intended to be a life-saving device for boating and other offshore activities. The oral inflation tube is easy to access and use, allowing your child to inflate or deflate the device in seconds.
Adding more air will keep your child afloat on top of the water while deflating the device allows confident swimmers to dive below the surface.
See Also: Best Life Jackets for Kids
The over-the neck design allows for excellent freedom of movement and easy on and off. Rritzan has included two adjustable straps in the design of this kids' snorkel vest, one at the waist and one at the crotch.
This allows for a more perfect fit and prevents the vest from slipping off in the water. This snorkel vest packs up fairly small and dries quickly, so it's perfect to take on vacation for new or non-swimmers at the beach or pool.
Parents will love the bright color of this vest because it makes kids super easy to spot, even in a crowd. Unlike many snorkel vests with an over the neck design, this one doesn't tend to ride up in the water, thanks to its large neck opening and adjustable straps.
However, some kids may find the crotch strap uncomfortable. Coming it at a low price, this snorkel vest for kids is an excellent value for the money.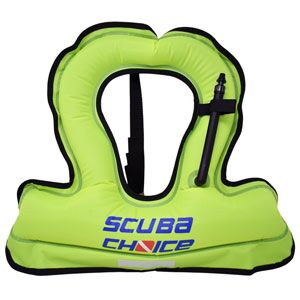 With the Scuba Choice snorkel vest, kids as young as 4 or 5 can now enjoy snorkeling without you having to worry about their safety. Of course, they should have some basic swimming experience as this is merely an aid but it does a good job of keeping them afloat.
The crotch and waist strap keeps the vest securely on them but it would have been nice if the straps were a bit shorter as there's lots extra.
On front is a tube for inflating/deflating (might need mom or dad's help) that's almost identical to those found on adult size vests. Takes up little room in a suitcase and is a must own if you're planning on going snorkeling with the kiddos.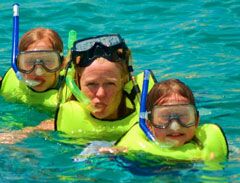 It would have been nice for other colors to be available if you have more than one child, but at least the color (bright yellow) is fine for both boys and girls.
Update: Purple and Orange colors are now also available.
It would also be nice if the vest was a bit cheaper since there's less material than an adult version but until there's more competition from other brands, that probably won't happen.
Still well worth the money for the confidence your kids will have snorkeling and for your peace of mind.
Snorkel Vest Buying Guide
What is a Snorkel Vest and How Does it Help?
A snorkel vest is a safety device that you can wear while snorkeling. It's roughly the same as a life vest, though it typically includes an additional strap around the thighs and is generally made out of a plastic material. They come in a variety of sizes and colors, and are easily affordable.
There are many benefits to wearing a snorkel vest. First, they provide extra buoyancy. This allows you to fully enjoy the experience rather than worrying about getting tired, focusing on keeping level along the water's surface, or preventing your snorkel from going under.
They also typically come in bright, neon colors, which can help parents keep track of where their little ones are at all times.
If you've snorkeled before, then I'm sure you know how terrible the sunburn can be on your back. Some snorkel vests can provide valuable UV protection against the sun, saving you a bit of money otherwise spent on Aloe Vera.
Last, but not least, nearly all snorkel vests allow you to adjust the buoyancy. If you need a break or want to have a bit more control, you can simply adjust the buoyancy for the desired effect.
The many benefits of a snorkel vest make them useful for newbies, snorkeling experts and everyone in between.
Snorkel Vest vs. Life Jacket
Some of you might ask "why can't I just use a life jacket instead of a snorkel vest?" It's a fair question. Obviously, life jackets are excellent pieces of safety equipment. However, life jackets are a general answer to all things water sports. Snorkel vests on the other hand, were specifically created with snorkeling in mind.
The added features in a snorkel vest (buoyancy adjustment, type of material used, structural differences) are not present in a life jacket. A life jacket can (sort of) work if you're going to snorkel, but they're functionally designed to keep your head out of the water rather than level with the surface.
A snorkeling vest is more in line with the activity, and generally less cumbersome and restrictive than a life jacket. That said, a snorkel vest has a specific purpose and is not a replacement for a life jacket.
Guidelines for Using a Snorkeling Vest
Here are some friendly safety reminders for snorkel vests:
Snorkel vests are specifically designed to be used for snorkeling. They aren't a functional replacement for other water based activities. A life vest is by far a better choice for activities like boating, kayaking, or waterskiing.
When adjusting buoyancy, you'll have to blow air into the tube by mouth or release it depending on what result you want. If you happen to come across older models that have CO2 cartridges used for inflation, don't use them. They are potentially unsafe.
Children should be supervised while in the water at all times, even if they have a vest.
Always check for holes and wear and tear on the snorkel vest.
Most people will use a snorkel mask and fins to complete the setup. But at the very least, a good set of swim goggles and even water shoes (to protect your feet from corral) are a good idea.
Many snorkel vests will come with specific instructions for adjusting buoyancy or how to tighten the vest. If these aren't available or difficult to understand, this site has instructions on adjusting air pressure or vest tightness.
Got Your Vest? Time to Snorkel!
Once your vest is on, fitted correctly, and adjusted for size, then it's time to snorkel! Always stay safe, and enjoy the wonders of the ocean!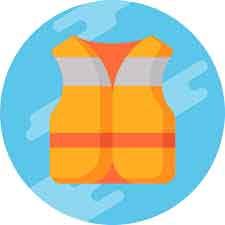 Other Products We Considered
The Life Jacket Advisor editorial team researches hundreds of products based on consumer reviews, brand quality, and value. We then choose a shorter list for in-depth research and testing before finalizing our top picks. These are the products we considered that ultimately didn't make our top 5.