There are so many comfortable life jackets on the market today, there's no excuse for not wearing one when stand-up paddle boarding (SUP). In fact, the US Coast Guard requires paddlers to wear a PFD when outside of surfing, swimming, or bathing areas. At this point, SUP boards are treated as "vessels".
When you want the best SUP life jacket for the money, you want to look for comfort, breathability, adjustability, and of course USCG approval. Whether you prefer a traditional vest, inflatable vest, or inflatable belt, you've got a lot of options.
We've narrowed those down through extensive research in various paddle boarding forums and communities.
If you also take part in other paddling sports, you may also want to consider some of the kayaking life vests we recommend.
IMPORTANT: DO NOT use an automatic inflating PFD for SUP or other water sports where falling in the water is common. Otherwise, you risk using the CO2 cartridge due to an unnecessary inflation.
Our 6 Favorite PFDs for SUP
SUP Life Jacket Reviews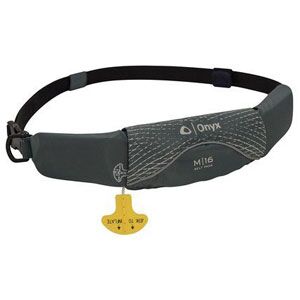 For a water activity such as stand-up paddleboarding, a comfortable, non-obtrusive personal floatation device is desirable. The Onyx M-16 belt pack is super compact and low profile but is great insurance if you need it.
The M-16 is a USCG approved Type III PFD which is quite popular with stand-up paddle boarders for its lightweight comfort and freedom of movement. It manually inflates with a 16-gram CO2 cartridge that's included.
The cartridge is one-time use, but it is easily replaceable once deployed. It can also be inflated orally for extra buoyancy, or in the case of failed deployment. Once itflated, it provides up to 26.5 lbs. of additional buoyancy.
This PFD belt comfortably fits waists up to 52 inches and chests from 30 inches all the way up to 52 inches. It's recommended for those over 80 pounds and shouldn't be worn by anyone under 16 years old.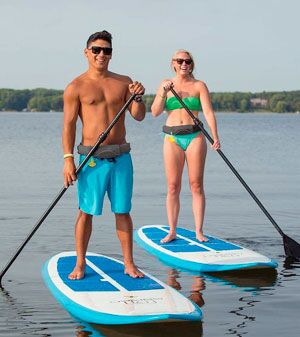 The M-16 belt is inflated by pulling the yellow lanyard on the side of the belt, making it perfect for strong swimmers who want something to keep them safe during an emergency and to meet USCG regulations.
The top portion of the bladder is pulled over your head and shoulders after inflation to keep your head above water.
There is no restriction of movement with this floatation device making it perhaps the best PFD for SUP out there. In fact, it's very easy to forget you're even wearing it!
This product does not have a pocket, but there is a D-ring where you can attach a key or whistle.
Users of this inflatable belt love how light weight and comfortable it is to wear. There were a few complaints of the indicator tab breaking easily, but Onyx customer service was found to be excellent and replacements were easy to obtain.
It's worth noting that if you're not a good swimmer, you may want to go with a more traditional non-inflatable type PFD such as one of the options below.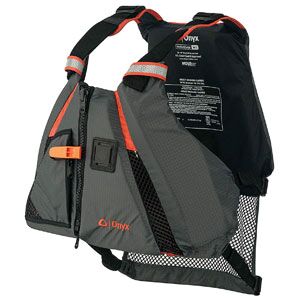 The Onyx MoveVent Dynamic is made of nylon and comes in four different color options and three different sizes. It has bubble foam on the inside of the back, making it more comfortable for long term wear.
Front and back ventilation are also provided to allow for maximum airflow and to help keep you cool. It's a USCG approved Type III personal flotation device which is perfect for SUP.
There is an expandable, zippered pocket with mesh for drainage and a drying loop on the back. This vest also has a lash tab for small accessories, like a knife or other gadget.
It also includes an attached whistle for safety and the SOLAS grade reflective material give better visibility.
We love how the flexible design of this vest conforms to your body, making it a great paddle boarding vest! You hardly even notice the vest when you're wearing it, mainly because of the mesh in the back.
The arm holes are big, and it doesn't rub against your armpits while paddling.
It stays in place and doesn't ride up. The shoulder adjustments and adjustable side belts ensure the best fit possible. It zips up the front, and we found the zipper to be strong and durable.
Many users who have tried other PFDs say it's the most comfortable vest they've ever worn. They find the outside of the vest to be soft, not scratchy as is the case with other nylon exterior vests. The many adjustments make it easy to get the perfect fit within minutes.
This is a great jacket for beginners since you don't have to worry about inflating it manually and possibly the best SUP life jacket on the market today.
While it would have been nice if the pocket was a bit larger on this vest, a pocket is better than no pocket. Also, the MoveVent does take some time to get it adjusted properly (since there's a lot of adjustment points), but once you do, you'll forget you even have it on!
The Stearns manual inflatable belt pack is another great option for stand up paddleboarders who don't like wearing a traditional PFD. It is a US Coast Guard Approved Type V flotation device that must be physically worn to meet legal requirements for stand-up paddleboarding.
It can be reused after arming by purchasing a CO2 rearming kit. It can also be inflated manually, without the CO2 cartridge, should the need arise.
We love the low-profile, compact design and convenience of the Stearns belt pack. If you're not familiar with how manual belt packs work, they're very easy to operate.
If you fall off your board and can't get back to it for some reason, simply pull the activation cord and the jacket will inflate automatically. It even has an adjustable neck strap for more stability in the water.
The best thing about the Stearns SUP life belt is that it's so unobtrusive, you'll probably forget you even have it on. It won't interfere with paddling, swimming, or mounting your board. Reviewers love it because it doesn't hold in heat as traditional life jackets can.
Keep in mind that the wearer must be conscious and able to pull the activation cord in an emergency. If you'll be paddleboarding alone, you may want to consider a more traditional life jacket.
This inflatable belt pack comes in three colors and one universal size for adults over 80 pounds. We like the bright yellow color for added visibility. This PFD is a little pricey, but it's worth it if you spend a lot of time on the water.
Yet another Onyx PFD (they make great products!), the M-24 manual inflatable vest is super comfortable and has a lightweight, low profile design. The vest is available in red or "Real Tree" camo. It provides safety and peace of mind without being bulky or restricting movement.
You just pull the "Jerk to Inflate" handle on the front to inflate it in an emergency. It inflates with the included, replaceable, C02 cartridge.
The product is equipped with a red/green indicator to show that your CO2 cartridge is fully functional. The vest can also be inflated orally in the case of equipment failure during an emergency.
This vest is made of polyester and it has a soft neoprene neckline for added comfort. It's easily adjustable to get the perfect fit. You will hardly even notice that you have it on!
Although it does not have any pockets, the attached D-ring is perfect for your rescue whistle and/or paddle leash. Like the others here, it's a USCG approved type III PFD.
Several users noted that they gave the M-24 a trial run by purposely inflating it in a swimming pool. They all found it to inflate very quickly. It kept even the largest folks afloat, with their head above water.
Their range of movement wasn't compromised, even when fully inflated, and they were able to swim freely. When fully inflated, the life vest offers an additional 22.5 lbs. of buoyancy which is quite a bit when in the water.
Repacking and rearming it with replacement CO2 cartridges was super easy as well. Users were confident that they could count on this device in an emergency. The price of this manually inflating model is also much less than the auto inflating PFDs (which you shouldn't be using for SUP anyway).
The biggest complaint from users of this vest is the lack of pockets. Some users also felt that the cost of the rearming kit was a bit too high but that is the case with most inflatable PFDs.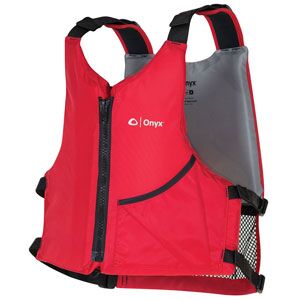 The Onyx universal paddle vest is a US Coast Guard approved PFD for adults over 90 pounds (one size fits most). It has a zip front closure for easy on and off.
Adjustable straps are included at the sides and shoulders for a more custom fit. The open sides and mesh lower back provide additional breathability on hot days.
We like this vest for stand-up paddleboarding because the open sides don't get in the way when you're paddling. It's also a great choice for kayaking because it doesn't ride up when you sit in your seat, thanks to the mesh lower back.
The large front pocket is an added bonus for carrying everything from your phone and keys to an energy bar.
Users love this vest because there are so many adjustments, making it easy to get the fit just right. You can also let the straps out to fit over cold-weather gear on cool, windy days.
It's not super bulky like some other products, so it's more comfortable for all-day wear. This is a great vest to keep around for company because the fit can be customized for a wide range of body types.
The only flaw mentioned by reviewers is that the pocket doesn't have a zip or Velcro closure, but that's pretty minor considering how great this vest is for stand-up paddle boarding. The Onyx life vest comes in a bright red color making it easy to spot in the water.
While this vest will fit most adults, an oversize version is also available depending on your body type.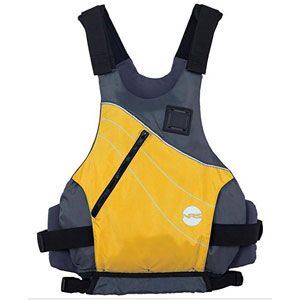 With the NRS Vapor (like the Onyx above), you also have your choice of four color options. The side-entry design of this vest makes it easy to get on and off. With four side and two shoulder adjustments, it's easy to find the perfect fit.
The vest features soft, flexible foam, keeping it light weight and comfortable. There is even a hand warmer pouch to keep your hands nice and toasty on cold days.
The lash tab on the right front shoulder is perfect for your knife or whistle. There is a huge zippered pocket on the front for keeping small items secure. The Vapor is made of nylon and includes reflective piping for added visibility.
As an SUP vest, we like that it's not bulky and it doesn't get in the way when paddling. This PFD offers plenty of chest room, making it a perfect choice for women (see other women's PFDs).
The low waist buckle prevents it from riding up and it doesn't chafe around the armpits. This is a USCG approved Type III PFD.
Owners of the NRS Vapor found it to be great for stand-up paddle boarding or any water sport where good arm and shoulder range of motion is necessary. They love the large pocket, and many used it for their phone.
The pocket isn't waterproof though, so be sure to put your phone in a zip top bag or waterproof case first.
Some users found this vest to be a little bulkier than they were expecting although it's mainly in the front on not on the sides where the arm openings are. But most will tell you that this is a great PFD and worth its price.
FAQs
Is a life jacket required for stand-up paddlers?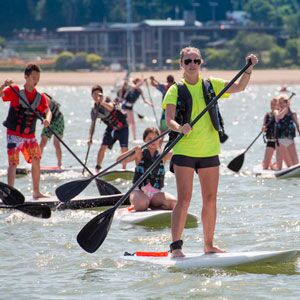 Yes. Paddlers must have a USCG approved PFD with them when on the water when outside of surfing, swimming, or bathing areas. At a minimum, belt pouch type PFDs may be worn, while other types are OK if they are on the vessel.
You are also required to have a whistle always, and a flashlight if you are on the water after sunset. While most paddle boarders go bare-footed, a good pair of water shoes can provide extra traction on a slippery board. A good dry bag with loop will keep your phone, wallet, and keys dry.
Life Vest vs. Inflatable Belt – Which is better for SUP beginners?
Non-inflatable life jackets are the best option for those getting started with SUP. They are guaranteed to keep you afloat with your head above water without having to worry about manually inflating them.
If you're not a strong swimmer, vests will also keep your head above water so you don't have to work as hard to swim to safety.
No matter which type of life jacket you choose, make sure it's comfortable so you don't use that as an excuse to not wearing one. It's no good to you if you can't get to it easily during an emergency.