How We Tested
We recommend these products based on an intensive research process that's designed to cut through the noise and find the top products in this space. Guided by experts, we spend hours looking into the factors that matter, to bring you these selections.
Click here for testing insights >

11
Models
Considered

256
Consumers
Consulted

40
Hours
Researched
Buying guide for
8 Best Waterproof Sunscreens for the Entire Family
Did you know that a good sunscreen can protect you not only from sunburn, but premature aging as well? When shopping for the best waterproof sunscreen for your family, you want to look for one that provides broad spectrum UVA and UVB protection with an SPF of at least 30.
Waterproof sunscreens (they're technically only "water-resistant") should be water-resistant for at least 40 minutes. Sun exposure causes damage to the skin, even when you don't see a burn.
Being around, or in, the water can magnify the effects. Sweating and swimming can also wash off your sunscreen, so be sure to reapply often.
Our 8 Favorite Water-Resistant Sunscreens
Waterproof Sunscreen Reviews
Sun Bum Original moisturizing sunscreen lotion is available in SPF 15, 30, 50 and 70. It's a broad-spectrum sunscreen with both UVA and UVB protection. This hypo-allergenic sunscreen is water resistant for up to 80 minutes.
The Skin Cancer Foundation has tested and approved this sunscreen, and it is non-comedogenic, paraben free, cruelty free, and oil free. It is also free of parabens and PABA and contains only 100% vegan ingredients.
We love the non-greasy formulation of this product, and find it safe to use on the face. It's great for people with sensitive skin, too. It doesn't transfer on to clothing or leave a white residue.
Users love the (smells like Hawaii) banana-coconut scent of this sunscreen and find it to be very effective, even on pale skin. They say it goes on silky (not greasy) and lasts for hours without reapplication.
It moisturizes the skin, but leaves a matte finish. It feels light on the skin and absorbs nicely.
Some users did not care for scent which lasts a long time. So if you work in an environment with a lot of people, Sun Bum might not be a good daily sunscreen. It's also a little more expensive than other sunscreens, but most users agree that it is well worth the price!
Blue Lizard Australian Sunscreen is simply one of the best water-resistant sunscreens for sensitive skin that we found. This formula claims to protect skin for up to 40 minutes but many users report it lasts much longer. There's good reason it's such a popular waterproof sunscreen.
Blue Lizard contains 6% Zinc Oxide for superior protection from UVA and UVB rays. A neat feature of this product is that the bottle turns blue when exposed to UV rays, reminding users to apply sunscreen. Parents have noted that this actually makes their kids want to wear sunscreen.
This sunscreen rubs on clear and is non-greasy. It won't run into your eyes even when swimming or sweating. A little goes a long way with Blue Lizard and one bottle will last quite a while.
Be sure to apply a light coating so you don't end up with a white cast. Dermatologists love this sunscreen and recommend it to their patients regularly.
Something users love about this sunscreen is how breathable it feels on the skin. They also appreciate that it is made with minerals instead of harsh chemicals.
Moms recommend this sunscreen for very fair skinned children, saying it does the best job of preventing sunburn of any sunscreen they've ever used. A couple users who have previously had melanoma swear by this sunscreen.
Be aware that this sunscreen does contain parabens, so if that's a concern for you, you'll want to choose a different option. Update: The newest formula is now paraben-free!
Also, the active ingredient, zinc oxide, tends to leave a white cast to the skin, so you will have to be careful when applying so you don't look like Casper. We're big fans of Blue Lizard and it's a perfect sunscreen when spending a lot of time on the water such as wakeboarding, jetskiing, or tubing.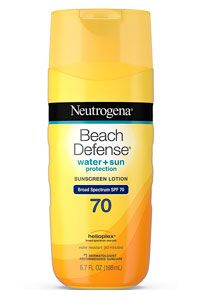 Neutrogena Beach Defense is an SPF 70, broad spectrum UVA and UVB protectant sunscreen lotion. This light-weight, oil free formula is water resistant for up to 80 minutes. It is fast absorbing and PABA free.
We find it to be a long-lasting formula that stays put for a couple hours, even after swimming or sweating. This formula doesn't leave you feeling greasy or sticky and there's no white residue.
We really love that this sunscreen doesn't burn, even when applied to sensitive skin. The smell is pleasant and beachy, not like a typical sunscreen.
Users say that they use this sunscreen for long days at the beach without getting sunburned, just be sure to reapply according to package directions. Those with dark skin were happy to report that there was no white residue with this sunscreen.
They say the formula goes on well, applies evenly and absorbs quickly, with great protection.
There was some disappointment that this product is not reef safe, so if you plan to wear it while diving or snorkeling, you might want to seek other options.
A few users also complained of receiving an expired product, so be sure to purchase from a reputable retailer. Most users agree that it's a great product at a very affordable price.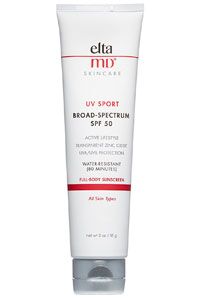 EltaMD UV Sport sunscreen provides broad spectrum UVA and UVB protection with an SPF of 50. This is a zinc based sunscreen that is water resistant for up to 80 minutes. It has a no-drip formulation that stands up to sweat and swimming. The oil-free formula is easy to apply, even on wet skin. It doesn't leave any white cast, not even on very dark skin.
We love that dermatologists recommend this product! The formula is safe for sensitive skin and doesn't run into the eyes. The active ingredient is zinc oxide and the product is light weight and non-greasy.
The scent is pleasant, not like most sunscreen with their chemically smell.
Users of this product recommend it for use under make-up, saying that it dries matte but is not drying to the skin. Another user said that the product doesn't sweat off even during a long run. They report that it doesn't cause breakouts, it has no odor and they were completely protected from sunburn.
However, a few users felt that it stayed a little too sticky for their preference. It isn't the cheapest of sunscreens, but most agree that it's worth the price.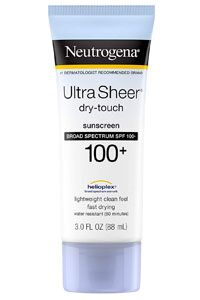 Neutrogena's Ultra Sheer Dry-Touch sunscreen is a light-weight, water resistant lotion with an SPF of 100+. This active ingredient in this formula is avobenzone which offers broad-spectrum protection against the signs of aging, sunburn, and skin cancer.
The formula also includes Neutrogena's exclusive Helioplex for maximum protection
The Neutrogena brand is well known for creating products that are gentle on the skin, and this product certainly lives up to expectations. Not only is this lotion PABA free and dermatologist recommended, it's also non-comedogenic, so it's great for both the body and the face.
With 80 minutes of water resistance, this waterproof sunscreen is an excellent option for daily use, as well as outdoor activities both in and out of the water.
Our favorite thing about this sunscreen is its Dry Touch technology that leaves skin with a clean, non-greasy, matte finish. It's basically invisible once absorbed and it's so lightweight, you'll forget you're wearing it.
Many women find that it makes a great base for makeup and it doesn't cause breakouts.
Neutrogena Ultra Sheer doesn't have a strong smell like many other sunscreens do. Unfortunately, some report that it does sting if it gets in the eyes, so it's probably not the best choice for kids.
At the end of the day, this sunscreen offers superior protection at a very affordable price and it's a great choice for anyone who doesn't want the white cast or heavy feel that many sunscreens have.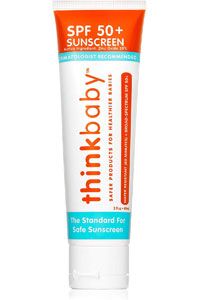 Thinkbaby's Safe Sunscreen lotion provides 80 minutes of water resistance and a broad-spectrum SPF of 50+. It's also the first sunscreen ever to pass the Whole Foods Premium Care requirements.
It's also received several other awards, as well as being EWG rated since 2010.
Thinkbaby sunscreen is also Leaping Bunny (cruelty-free) certified, gluten-free, and vegan. This sunscreen is free of biologically harmful chemicals like avobenzone, oxybenzone, phthalates, and PABA, so it's reef friendly.
According to Thinkbaby, this formula also has the highest level of biodegradability on the market.
We found that this mineral-based waterproof sunscreen also absorbs and applies easily without leaving a greasy or oil finish. Best of all, it has a very light, fruity scent, not the strong chemical smell of many other products.
Like most other physical sunscreens, this one does leave a white cast, however, reviewers report that it is minimal.
If you're looking for an environmentally friendly product that's also safe for sensitive skin, Thinkbaby's Safe sunscreen may be a great choice for you. There are cheaper sunscreens on the market, but most parents feel that this high-quality product is worth the higher price tag.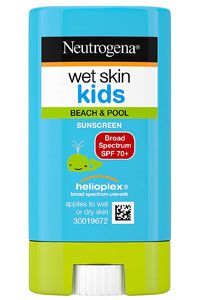 Neutrogena's Wet Skin Kids sunscreen offers broad-spectrum SPF 70 sun protection and 80 minutes of water resistance.
It protects from both sun damage and sunburn in a hypoallergenic, oil-free, PABA-free, formula. It also features Neutrogena's Helioplex technology for superior protection.
The beauty of this sunscreen is that it cuts through water, so it can be applied to wet or dry skin with equal effectiveness.
No more need to wait for your impatient kids to dry off before reapplying their sunscreen! We also love how easy it is to apply this sunscreen even when you're sweating.
Neutrogena's waterproof sunscreen stick won't drip into the eyes even when the skin is wet or sweaty.
Parents love this unique formula for their kids' faces and older kids can even apply it on themselves. It doesn't leave a white cast or an oily feel to the skin, so it's great for adults, too.
The Wet Skin sunscreen stick is a fantastic, mess-free sunscreen to carry in your purse. This product is a bit pricier than some other options, but it also offers some fantastic benefits you won't get from other sunscreens.
If you're looking for the best sunscreen to use on your kids' faces, this one is definitely worth a try.
Sunblocz Baby+Kids sunscreen is the best waterproof sunscreen for kids. This is a 100% natural mineral sunscreen with an SPF of 50. It is made with 24.5% zinc oxide and has broad spectrum UVA and UVB protection.
You can expect this sunblock to be very water resistant for up to 80 minutes. It's perfect for when your baby is floating around on their pool float or your toddler is splashing around in their Puddle Jumper.
It does not contain any parabens or phthalates. It is also non-comedogenic and hypoallergenic so it's safe to use on super sensitive skin.
One thing we love about this sunscreen is that it also repels bugs with natural essential oils! The formula contains no artificial scents and it doesn't sting the eyes if you sweat while wearing it on the face.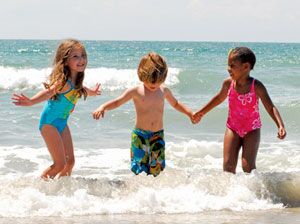 Leaping Bunny certifies this product as cruelty-free and pediatricians recommend it as safe for use on children.
It may leave a slight white cast to the skin because of the zinc oxide, but it does a superior job of blocking UV rays from burning the skin and entering the body.
If you take the time to rub it in thoroughly, it becomes almost invisible on the skin. It's great for adults too!
Parents and grandparents love how natural this product is. They report that their children who have allergic reactions to other sunscreens can wear this sunscreen with no problems.
Users were happy to note that there is no oily feel on the skin after applying Sunblocz and it has a wonderful natural scent of rosemary and lavender.
Some users did feel that it was a bit hard to get out of the tube, even after kneading the tube for a minute. This is a pricier sunscreen, but most moms agree that it's worth its price for the extra peace of mind it provides!
For ultimate sun protection, you may also want to consider getting a rash guard for kids and a cute sun hat for the littlest ones.
FAQ
Q. What level SPF should I use?
A. A minimum SPF of 30 is recommended by dermatologists, which will block 97% of the sun's UVB rays. A higher SPF will block more of the sun's UVB rays, but no sunscreen can block them 100%. Also, make sure the sunscreen provides broad spectrum UVA and UVB protection.
Q. How often should I reapply sunscreen?
A. It's very important to reapply your sunscreen about every two hours. Also, try to make it a habit to apply your initial application 30 minutes before going out into the sun to allow the ingredients to fully bond to your skin.
Q. Why do I get a sunburn faster when I'm around the water?
A. Water is a reflective surface. When you are around the water, the sun's rays are reflected at you, magnifying its effects. Make sure to reapply your sunscreen frequently when you are in the water to prevent sunburn and skin damage. The same goes for when you are around snow since it also has those reflective properties.
Q. Besides helping to prevent sunburn, does sunscreen have other benefits?
A. Absolutely! A good sunscreen will protect the essential skin proteins, like collagen, keratin, and elastin. These are the proteins that keep your skin smooth and healthy. Apply sunscreen to your face daily to prevent dark spots and blotchiness, as well. Wearing the right sunscreen can lower your risk of skin cancer, too. Reoccurring sunburns put you at greater risk of lethal melanoma and other types of skin cancers.
Q. How should I protect my tattoos from the sun?
A. Use a thick, lotion type sunscreen with an SPF of at least 30 to protect your tattoos from the sun and prevent fading. Take extra care and reapply every hour. With the multitude of benefits that sunscreen provides, everyone should be using it every day, especially in the spring and summer. Always make sure your kids are protected, too. The younger they are, the more dangerous the sun's rays can be.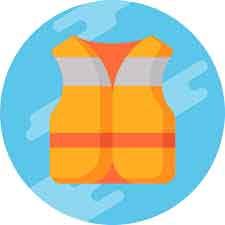 Other Products We Considered
The Life Jacket Advisor editorial team researches hundreds of products based on consumer reviews, brand quality, and value. We then choose a shorter list for in-depth research and testing before finalizing our top picks. These are the products we considered that ultimately didn't make our top 5.