How We Tested
We recommend these products based on an intensive research process that's designed to cut through the noise and find the top products in this space. Guided by experts, we spend hours looking into the factors that matter, to bring you these selections.
Click here for testing insights >

13
Models
Considered

32
Consumers
Consulted

213
Hours
Researched
Buying guide for
8 Best Life Jackets for Women – Reshaping Safety
Now some top manufacturers have recognized the demand for more versatile PFDs and some of today's best women's life vests and jackets have all the features of their male counterparts. They're not all girly pink life jackets either – you can get that if you want, but it's not compulsory!
More women are taking part in water-based sports than ever and doing a great job of proving that they're at least as good as most men. They do face some special challenges though.
A lot of safety gear has traditionally been made to suit the male figure and quite often women struggle to find a life vest that fits.
Here are our top choices for women's life vests no matter if you're petite or plus size.
Our 8 Best Women's Life Vests and Jackets
Women's PFD Reviews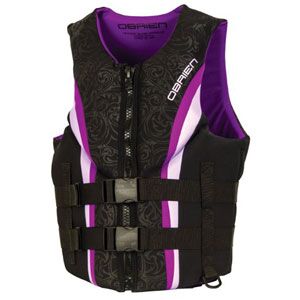 Easily one of the most fashionable PFDs out there, the Impulse Neo is an excellent choice for most watersports. The design features large armholes and multiple hinge points in both the front and back to improve flexibility.
The 1.5mm neoprene outer includes a zippered, patterned front enclosure; two adjustable quick-release belts; D-ring for easy key access; and highly visible purple and white striping.
The vest is designed to be comfortable and secure both in and out of the water. Many women use this style of life jacket when going out on the water during pregnancy. Of course, choosing at least a size larger than normal is usually going to be necessary.
Sizing this vest seems to be the trickiest part. A large number of customers have attempted to estimate their measurements, causing them to need a larger or smaller size than the one recommended by O'Brien's sizing chart.
To help avoid the potential delays of exchanging a vest, it is best to find your exact measurements before ordering.
Remember, a good life vest will fit snug when you first put it on but loosen slightly when wet, so make sure you don't choose a size that starts off a little loose.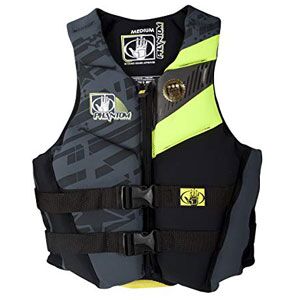 The Men's Phantom is one of the leading wakeboarding life jackets out there for the most active sportsmen, and the women's model is packed with all the same features.
It's a simple, stylish, low bulk vest made from top-grade Yamamoto neoprene, which encases shaped and beveled flotation panels of PVC foam. That means it crams a lot of buoyancy into a small package, and it does it without restricting movement either.
This is a perfect women's watersport life vest. The armholes are very large, giving you almost complete freedom whether you're kayaking or water skiing. The chest panels come up quite high but there should be no risk of them riding up into your face; the lining is printed with Glide-Lock material to keep it firmly in place.
The two waist belts let you adjust for a perfect fit, making it even less likely to slip out of place.
The vest itself, and the foam panels, are shaped to fit female curves but there's still a knack to getting the right fit. Like all womens' neoprene life vests, this one will loosen by up to 15% once it's got wet and been warmed by your body heat, so when you put it on it should be tight.
As long as you can fasten the zip, it's big enough – if it's at all loose at first, after half an hour on the water it will be dangerously large and prone to slipping. Choose a snug size and tighten the belts properly, too.
The quality of finish on this vest is very high and it's also available in two attractive color schemes including bright pink. If you want to be defiantly feminine that's the one for you.
There are also some nice detail touches, like the bottom-mounted D-ring for attaching small accessories. All around, a very good vest indeed.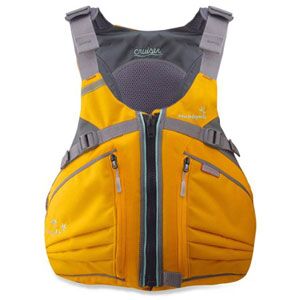 Stohlquist's Cruiser life jacket for women is designed for the female kayaker and stand-up paddler. The Cruiser is shaped specifically for women and includes a smaller cut with a shorter torso and supportive inner cups.
The back of the vest is half flotation foam on the bottom with half cool mesh above the seat back and on the side panels to help you stay cool.
We love that this PFD for women comes with two big zippered pockets for things like a cell phone, keys, or your camera.
This vest was designed with your comfort in mind and includes neoprene padded shoulders and lower back waistband, so it's comfortable even when worn with a swimsuit. The extra-wide armholes allow for the complete range of motion.
The Cruiser also features a zippered front, so it's easy to put on and take off. The adjustable straps at the sides and shoulders allow for a custom fit. The vest is made with a 500 denier Cordura shell and a 200-denier oxford liner for extra durability. 3M reflective trim on the front and back offers added visibility.
The Stohlquist Women's Cruiser is available in four colors and three sizes ranging from extra small to plus. While most users were happy with the fit of this PFD, some users feel the panels are a bit too big for women with a very small frame.
If you're looking for a women's life jacket that's suitable for kayaking and paddling, the Stohlquist Cruiser is a great option.
The Trend life vest by Airhead is a budget-friendly women's life jacket that's suitable for most watersports and boating. It is a US Coast Guard Approved Type III personal floatation device.
This life vest is closed on the sides and it has roomy armholes along with a deep-v front for a good range of motion.
We found this sleek life vest to be very lightweight, thanks to the poly-e floatation foam inside and the soft woven 200 denier polyester shell.
The neoprene lining dries quickly and feels fantastic against the skin. Four adjustable straps are included on the jacket for custom fit and comfort.
Users report that the Trend vest is very well made, and it holds up nicely even during rough use. Women with larger chests also found the buckle closure much more customizable than a zip-up vest would be.
It's fairly popular for snorkeling and floating among women who aren't strong swimmers where a typical snorkel vest is used. Although this vest is great for stand-up paddling, the torso may be too long for kayaking, especially if you have a short frame.
The Airhead Trend women's PFD comes in a stylish hot pink and black color scheme and it's available in four sizes ranging from extra small to 3XL. If you're looking for an affordable PFD for active water sports, this one is worth considering.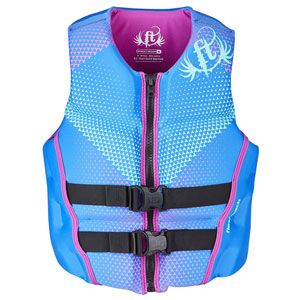 The Full Throttle Women's Hinged Rapid-Dry Flex-Back life vest was designed with a shorter waist to suit the female frame. It includes a stretchable flex-back insert and seven segmented hinge points to provide excellent flexibility.
For your peace of mind, this is also a US Coast Guard Approved Type III PFD.
This women's life jacket from Full Throttle was designed with your comfort in mind. It has a soft, comfortable, neoprene construction for maximum stretchability and a polyester/spandex inner that's super soft against your skin for all-day wear.
The large armholes and flexible back allow for maximum range of motion during paddling and other activities.
This vest has a zip-up front with two adjustable straps that clip, making it easy to get on and off. We love the hinges because they allow you to twist and turn freely for waterskiing, jet skiing, and paddle boarding.
Unfortunately, there are no pockets on the Full Throttle vest and it doesn't have mesh panels for breathability.
Many reviewers report that the sizing runs small on this product, so you may want to order a size up and allow time for exchanges, if necessary. The Full Throttle vest is available in two colors and five sizes. It's a great choice for waterskiing, kayaking, and other water sports that require freedom of movement.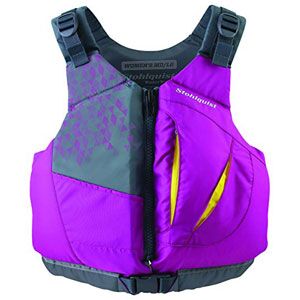 Yet another life jacket from Stohlquist, but this time it's one of their "recreational" vests. The newly redesigned Escape is lighter and more compact, and while it lacks some of the features of the Betsea above, it's made to the same high quality.
The shell is 200 denier nylon and the lining is the same oxford as the Betsea. A full-length zip and two waist belts give security and easy adjustment. There are also adjustment straps on each shoulder to get that perfect fit.
The foam chest panels are internally sculpted for comfort. A single large zippered pocket gives a decent amount of storage space.
If you're looking for a good women's PFD that won't obstruct you in a kayak the Escape is a great choice.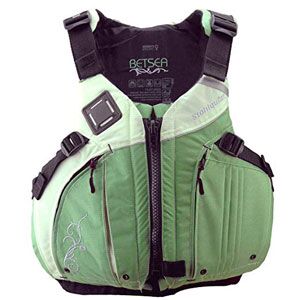 The Betsea is what Stohlquist calls a "touring" vest, that's ideal for extended wear. It also has loads of features that make it ideal for cruising or sailing.
The vest is covered in heavy-duty Cordura with a soft Oxford liner and has Stohlquist's WRAPTURE™ torso shaping to perfectly accommodate feminine curves.
It doesn't give up an ounce of performance though, with large beveled foam panels giving plenty of flotation.
There's also plenty of storage space, so whether you want to safely stash your keys and sunglasses or load up on small tools for rigging repairs, it has you covered.
Two large zippered pockets are mounted in front, and there are two 4-slot accessory tabs as well, one on the right breast and the other behind the left shoulder. With all the storage, it's possible to use the Betsea as a fishing life jacket specifically for women.
It should be no surprise that Stohlquist dominates the field in women's PFD wear. The Women's Flo is a high-performance PFD with a durable 400×200 denier ripstop shell and softer 210 denier oxford inner liner.
Perfect for paddling, its high back facilitates kayak seats, while the mesh back and shoulders provide superior ventilation without compromising float-ability.
Open sides further improve breathability, while a cross cinch strap helps to prevent ride-up. The built-in lightweight PE Foam has an inner mesh lining and supportive cups that are sculpted to better fit your curves.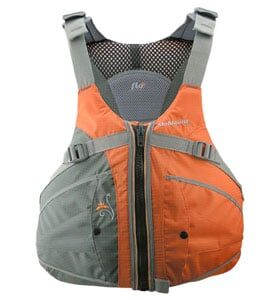 Finally, the vest includes bellows pockets for storage on long excursions. This vest is recognized by many to be one of the most comfortable and cool life jackets available for women.
The Women's Flo is often touted as being the perfect vest for women with larger bustlines. While it does work for many in this regard, it can still be a little tricky to adjust properly the first time wearing it.
A large number of straps allow for precise fitting if you know what you're doing. But once you've adjusted it to fit, it's no longer an issue.
As a Type III PFD, this vest exceeds coast guard requirements with a sea-level buoyancy of 16 pounds, 2 ounces, making it an overall excellent choice.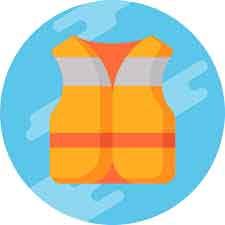 Other Products We Considered
The Life Jacket Advisor editorial team researches hundreds of products based on consumer reviews, brand quality, and value. We then choose a shorter list for in-depth research and testing before finalizing our top picks. These are the products we considered that ultimately didn't make our top 5.