How We Tested
We recommend these products based on an intensive research process that's designed to cut through the noise and find the top products in this space. Guided by experts, we spend hours looking into the factors that matter, to bring you these selections.
Click here for testing insights >

11
Models
Considered

205
Consumers
Consulted

32
Hours
Researched
Buying guide for
9 Best Youth Life Jackets And Vests (50-90 lbs)
Growing children love adventurous sports, but they're experts at getting themselves into situations that terrify parents. Whether you're scrambling around rock pools or boating as a family, you'll feel a lot more relaxed if your kids are properly kitted out with effective flotation vests. The youth life jackets in the 50-90 pound range won't interfere with their fun but can be relied on to keep them afloat when needed.
These PFDs also need to be adjustable to cope with their growth. Luckily there are some excellent models available, and they don't have to cost an arm and a leg.
Once your child outgrows their kid's life vest (up to 50 lbs) and can't quite fit into adult size models, you'll want to move them to "youth" size life jackets. Typically, kids between 6 and 12 years old will fit into this size if you don't know their weight but they may be younger or older depending on their build.
See Also: 19 Best Online Stores to Buy a Life Jacket
Our 9 Favorite Life Vests for Youth
Youth Life Jacket And Vests Reviews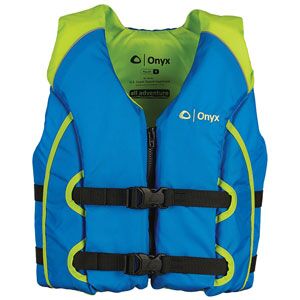 Like all other personal floatation devices in this list, the Onyx All Adventure youth vest is made for kids weighing 50 to 90 pounds. With its overall comfort and well-designed features, it is arguably the best youth life jacket you'll find.
This US Coast Guard approved Type III PFD has bright-colored shoulders and reflective piping for improved visibility. It's made with durable, lightweight floatation foam and a high-quality nylon outer shell to stand up to rough use.
When it comes to youth life jackets, comfort is essential, or they just won't wear them. With that in mind, Onyx has designed this vest with seven segmented hinge joints so never feels restrictive.
It also has a zip-up front closure for easy on and off. Two adjustable waist straps are also included for a secure fit and to prevent the jacket from riding up.
Parents love this youth life jacket for older kids who are in between little kids and teen/adult sizing. It dries quickly and doesn't rub or chafe under the arms or around the neck.
It's suitable for boating and other water activities, but it also works at the lake, ocean, or pool for kids who aren't strong swimmers.
Like many nylon life jackets, some users say it does tend to ride up slightly in the water, but the issue is kept to a minimum by the adjustable waist traps.
The Onyx All Adventure Youth vest comes in two colors: blue and purple. If you're looking for a reliable, comfortable youth life vest at a reasonable price, this one is definitely worth considering.
The Stearns antimicrobial youth life jacket is a US Coast Guard approved Type III PFD that can be used for a variety of water-related activities. The outer shell of this youth life jacket is treated with antimicrobial protection to prevent the growth of bacteria, mildew, and mold to save time cleaning the vest.
Parents love this Stearns vest for a day on the boat or jet ski, as well as swimming in the lake or ocean. The vest is easy to put on with an adjustable fit, thanks to three tough nylon belts that go around your child's torso along with a front zipper.
It does a great job of keeping young ones afloat with their heads out of the water.
The design also includes a hanging ring on the collar for convenient drying (we wish other PFDs had this feature!). Thanks to the closed sides and the three adjustable chest belts with squeeze style quick-release buckles, the jacket has a tight and secure fit. Children will feel safe and confident in the water wearing this life vest.
Some felt that this jacket was a little too big on kids at the lower end of the weight range. They also wish it had a between-the-legs strap to keep the jacket from slipping off or riding up in the water but that feature is not typical for this size of a life jacket.
The Stearns antimicrobial nylon youth life vest comes in two bright colors: blue and yellow.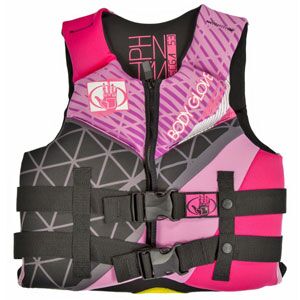 The Phantom is an extremely neat neoprene-covered life vest that's ideal for kids weighing between 50 and 90 lbs. It's also US Coast Guard type 3 approved and one of the most comfortable youth life vests around.
If your kids are too slim for some of the other options, this could be a great solution. Front zip and two quick-release belts hold it secure and allow easy adjustment at the same time.
Versus their nylon counterparts, neoprene vests are less bulky and offer a snugger fit and even a bit of warmth in cold water. Their main downsides are their higher price and the fact they are much heavier when wet since they absorb water.
This vest provides plenty of buoyancy and because it's so thin, it's ideal for wear in a small boat – it doesn't get in the way at all.
While it's perfect for most water activities, paddlers should be aware that it's a little bit more restrictive and might rub under the arms. Apart from that, it's excellent. Available in 3 colors.
As one of the most comfortable life vests for your child, the Full Throttle "rapid-dry" jacket has five segmented hinge points for extra flexibility which allows easier movement than many other brands.
Also, the back of the vest has a stretchable insert for even more maneuverability.
This US Coast Guard approved Type III PFD is also fast drying so your kiddo can get back in the water after a quick break. Great for the beach, boating, or water sports, it's sleek enough where they won't complain when wearing it for extended periods.
This neoprene vest with its front zipper and two buckles won't ride up as some nylon vests do. Available in high visibility green/blue, lime/black, or purple/blue so whether you have a boy or girl, they'll love the color combos.
Fitment is good by most accounts although a few users have noted that the vest seemed too tight on their child in the upper end of the weight range. Since neoprene offers a tighter fit due to its stretchier material, whether it's too tight is debatable.
Also, a few users have recommended using a rash guard under the vest. This may be due to the sensitivity to the neoprene of the youth.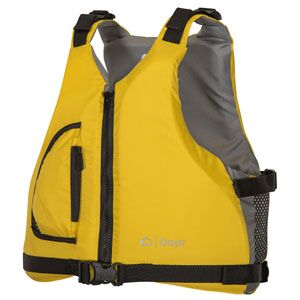 The USCG approved type 3 youth paddle sports life jacket by Onyx has a low profile, lightweight, compact design that's more comfortable for your child than bulkier vests. Like all other youth-size life vests, it's intended for kids in the 50 to 90-pound range.
Because of its large armhole openings and high foam back (to accommodate seatbacks in kayaks or canoes), it is probably the best youth kayaking life jacket currently available. to accommodate the seatback in a kayak or canoe.
The sides and lower back of this life jacket provide excellent breathability to keep your child cool on hot days. Six adjustable straps allow you to cinch the vest up snuggly for a secure fit.
The large armholes and side adjustments allow for an excellent range of motion when paddling. It has many of the same features as one of the best kayaking life vests for adults, the Onyx MoveVent line.
While this life jacket is specifically designed to be comfortable when paddling, it's can also be used for general swimming, floating, or even jumping on a water trampoline. Kids will love the handy little pocket on the front of the jacket.
When ordering a life jacket for your child, it's important to note that this youth life vest does not have a strap between the legs like jackets for little kids do. The Onyx Youth Paddle Sports Life Jacket comes in red and yellow for improved visibility on the water.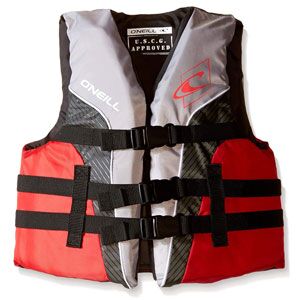 O'Neill is known for its quality vests, and the Youth SuperLite is an excellent addition to their line of Coast Guard-approved type 3 PFDs.
This model has a relaxed fit to accommodate a wide range of body types without compromising security.
Larger armholes and a design based around minimal bulk allow for full mobility, making the vest suitable for numerous watersports including boat tubing, or wakeboarding.
A highly durable coated polyester shell ensures the Youth SuperLite will last for many outings, while the lightweight polyethylene foam allows the vest to be both soft and comfortable.
Finding the right fit seems to be an issue with this vest, and many have discovered their child was too big for the vest they bought.
Getting precise measurements before ordering will help with this issue, but if you are purchasing online, it is best to order one size larger if you aren't sure of the fit.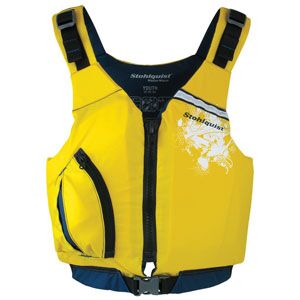 Stohlquist has a great reputation for safety gear and their life jackets are usually near the top of every best toddler life jacket and best 30-50 pound kids life jacket lists.
When your kids get a bit bigger, the Child Escape is the perfect next step. As a USCG approved Type III PFD, it has a sea-level buoyancy of almost 13 lbs.
It's a high-quality but affordable life vest that's ideal for children from 50-90 lbs, and it's been carefully designed (and recently updated) to let them enjoy themselves freely without compromising protection.
The Youth Escape is a low-profile vest covered in durable 200 denier oxford nylon, with soft buoyancy foam on both front and back flotation panels. Because it's meant for older kids, it's less bulky and lower profile than other Stohlquist kids vests.
This PFD has a comfortable design with plenty of space for the arms to move. That makes it ideal for kayaking and sailing, where you need to be able to move freely. There's also a deep V at the neck.
The vest secures with a heavy-duty zip and there's a waist belt for security, complete with a quick-release buckle.
It's always nice to see the attention to detail, and this vest shows plenty. There's a flat pocket on the lower right, which is perfect for holding a safety whistle, snack, or other small items. The padded shoulders allow additional comfort and reflective accents add safety.
There is also a hi-vis reflective strip on the chest, and the logo on the upper back is reflective too.
Some parents feel the size runs a bit too big which makes it ride up in the water on their child even with the waist belt. For that reason, you may want to consider a different option if your child is on the smaller end of the weight range.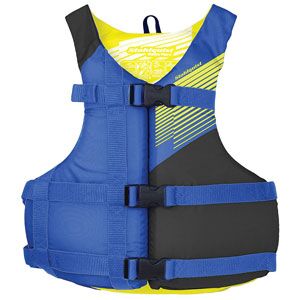 The Stohlquist Youth Fit life jacket comes in two sizes for kids from 50 to 90 pounds and 75 to 125 pounds. This is a US Coast Guard approved Type III personal flotation device that's suitable for boating, kayaking, swimming, and other water-related activities.
It has open sides and large armholes for good mobility and three adjustable straps for a secure, custom fit.
This youth life jacket is perfect for kids who love being on the water but aren't quite big enough for an adult-sized jacket. The torso of this vest isn't so long that it rides up around the chin when your child sits down. It's also very lightweight so kids won't mind wearing it.
We love the clean design and contoured fit of this jacket. It's a simple, no-frills design that does exactly what you need it to. Since durability is so important for active kids, this jacket is made with a 200-denier nylon outer shell and a 200-denier oxford liner.
While it's not as comfortable or snug-fitting as some of the more expensive jackets, this Stohlquist is a good budget-friendly USCG approved life jacket for infrequent use. Available in two colors: blue or red.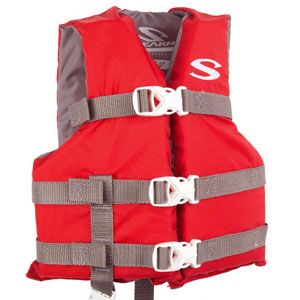 This popular, inexpensive vest from Stearns is USCG-approved and will support most kids from 50 to 90 pounds. It's a simple, classic design with foam panels inside a tough nylon shell.
If you're having trouble finding a vest to fit your child, the Stearns is probably just what you're looking for.
With its three straps, two of them running right round the body, make it both easily adjustable and incredibly secure. It is slightly bulkier than some of the others but it's effective, sturdy, and a good cheap youth vest that will keep them safe.
The Stears youth boating vest is good enough for all-around use whether jet skiing or fishing with Dad. We recommend the highly visible red or yellow colors over the blue.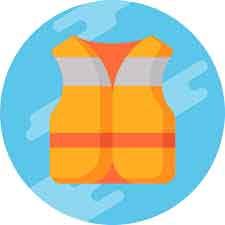 Other Products We Considered
The Life Jacket Advisor editorial team researches hundreds of products based on consumer reviews, brand quality, and value. We then choose a shorter list for in-depth research and testing before finalizing our top picks. These are the products we considered that ultimately didn't make our top 5.