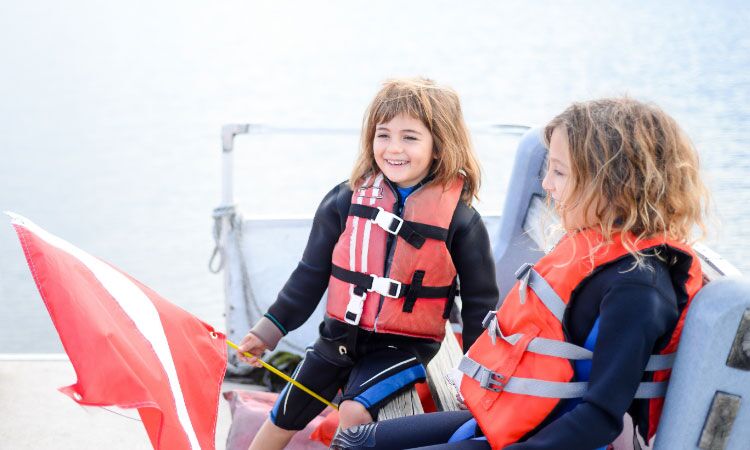 Being outdoors promotes a healthy lifestyle. Family outings should be a regular part of the schedule. Your family can have such a busy schedule with work, school, after-school activities, community events and various other commitments that you often forget.
Spending family time together should be a priority and boating can be a fun family outdoor activity for all to enjoy. Teaching kids about boat safety is a necessary step in the planning process.
Related: 15 Ways to Make Boating Fun For Kids
#1 – Be the Example
The best way to keep your kids safe in the boat (or around water in general) is to be a good example. Children like to mimic adults. By following proper boating and water safety procedures, children will learn what is expected of them while on the boat. When communicating the safety rules, explain why the rules are so important.
Supervising your children at all times during the boating excursion is a priority. If you are loading items on the boat, children need to be supervised. Have a system for loading the boat; the kids can sit on the shore or on the dock with another adult.
Take time to explain the depths of water around the boat, currents and other water related information. Kids need to know the differences between open water compared to a swimming pool.
#2 – Buddy System
For larger boating outings, develop a buddy system among the children. Older children can help keep the younger ones safe. Interaction between children also helps promote learning while having fun.
#3 – Life Jackets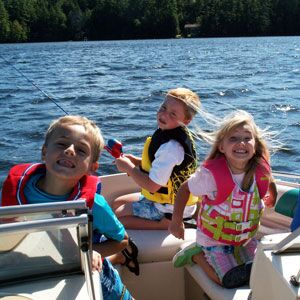 Every person in the boat should have a proper fitting life jacket. As parents you need to stress the importance of wearing a life jacket at all times. The life jacket needs to be one designed for the child's size and weight and should have proper fitting straps to keep the child secure at all times.
There are specific child life jacket requirements for every state and they're there for a reason so make sure you follow them.
Do not use water wings or swim vests as a substitute when on a boat; they're not made for that. To help children get excited about wearing a life jacket, let them pick out one of their own or check out these additional tips.
Children's life jackets come in various colors; many have cartoon or movie characters. Children will love picking out one of their own.
#4 – Check the Weather
The weather is important factor when going boating. Changing weather can cause a disruption in boating fun. Knowing the weather prior to the outing can help in planning. Even if you do everything right, a surprise storm can hit so make sure you know what to do in case your boat capsizes (worst case scenario).
Younger children can get cold quickly causing discomfort and in some cases hypothermia especially when temperatures drop or they become wet. Be prepared for changes by having dry blankets or towels available and keep your boat stocked with other essentials.
Safe boating practices should become second nature while on the water. Teaching kids the rules of the boat and being around open water is for their own protection. The boating excursion should also be a fun family event. Families who spend time together will create lasting memories; go outdoors and enjoy.