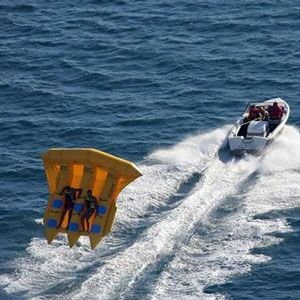 In the event you've never heard of flying boat tubes, you're probably not alone. The sport only lasted for a little over a year, but was very popular during that brief period. So just what are these flying boat tubes and why were they so short-lived?
Flying Boating Tubes Take Off
Man has always been fascinated with flight, and some water sports give a brief taste of this. Thus, when two companies released water tubes that fly at certain speeds, people clamored to buy them.
Unlike regular towable tubes, these tubes could maintain speeds of 20 to 35 miles per hour once the wind catches under their wide lower surface.
These flying boat tubes were so popular that the Wego Kite Tube was awarded Sports Product of the Year by the Sporting Goods Manufacturers Association after their release in 2005.
Its chief competitor, the Sevylor Manta Ray, resembled a giant, rideable ray. The Manta Ray was capable of soaring up to 15 feet above water level.
Related: 13 Tips for Fun, Safe Tubing Behind a Boat
Losing Altitude
As with any sport, there should always be a focus on safety. The Kite Tube had warning labels setting a speed limit of 20 miles per hour. Use of helmets were encouraged, as was general boating safety.
Due to altitudes that could reach up to 30 feet for the Kite Tube, concerns about impact damage were at the forefront of many safety experts.
As the months passed by, injury reports began to trickle in, especially in regards to the the Kite Tube. When the wind picked up or there wasn't a good spotter, people were having numerous accidents.
Some of the injuries reported included loss of consciousness, broken vertebrae, ruptured eardrums, and punctured lungs. Those falling from higher altitudes faced additional impact damage, as water feels increasingly solid the faster you hit it.
As the number of injuries continued to pile up, a Consumer Product Safety Commission report warned that riders had very little control while the tubes were airborne, and that various factors could cause the tube to spin or wreck.
Not convinced kit tubes are dangerous? Check this out:

The Final Crash
By July 2006, the number of injuries had risen to 84 and three people were killed over a four month period. This prompted the Consumer Product Safety Commission and Wego to issue recalls of the Kite Tube.
Over 19,000 of the tubes were marked for recovery, and many businesses found themselves having to pull a popular product from the shelves.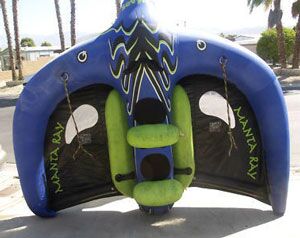 It quickly became illegal to use flying boating tubes on many bodies of water throughout the US and Canada. In places where the boats weren't banned, boaters were held responsible for any injuries caused by flying tubes.
An investigation into the sport itself was launched to determine the actual level of danger. In the year after these tubes had first taken flight, it seemed unavoidable that they'd be permanently grounded.
Three years after their initial release, Manta Rays were also no longer available new, yet they can still be found on eBay and various classified ad sites. But, the sport is essentially dead.
Even if you could find a body of water where you could use them, finding a flying tube had become almost impossible. Enthusiasts took these bans personally, but the overall safety risks proved the deciding factor in deflating this briefly popular water sport.