When Aqua Lily set out to innovate from their original pad, they did so in a big way with the Maui Mat. Changing everything from the look, size and everything in between, the Maui Mat is no doubt a premium floating mat. The team cut no corners designing this mat, even adding in cinch straps to easily store the summer toy. So, being a love of all things water sports, our Life Jacket Advisor team just had to take it for a dip. Here's our review on what we liked, disliked and learned from our time on the water with the Maui Mat.
Safety First: How to Use Maui Mat
Before we talk about all of the wonderful features of this floating mat, we'd be remiss if we didn't touch on a few of the safety tips. You might be tempted to roll out the Maui Mat and start testing it in shallow water but the Aqua Lily team explicitly advised us that the mat should not be used in less than 6 feet of water. Also, the use of a life jacket is recommended by anyone who's using this mat, especially in deep water. See our life jacket section for answers to common questions and our top performance picks.
Features We Loved:
Factory Installed Tether Kit
Storage Straps with Pad Protectors
100% Cross-Linked Polyethylene Foam
Easy Handling (14 and 20 foot mats only required 1 person to move)
The 1-Year Warranty Covers All Damage Under Normal Use
How Big is a Maui Mat?
The Maui Mats, and their larger friend the "Big Kahuna" were built to be larger, better versions of the original Aqua Lily Pads. So you'll notice that they can handle far more people and weigh significantly more than other floating mats.
| | | | |
| --- | --- | --- | --- |
| | MM14 | MM20 | BK22 |
| Size | 6 ft x 14 ft | 6 ft x 20 ft | 6 ft x 22 ft |
| Weight | 24 pounds | 40 pounds | 50 pounds |
| Capacity | 900-1,050 pounds | 1,500-1,650 pounds | 1,980-2,160 pounds |
| Layers | 2 | 2 | 3 |
There you have it, if you need something larger than other brands like Rubber Dockie, Maui Mats are the way to go. Here's a picture of the MM14 when we unboxed it for context.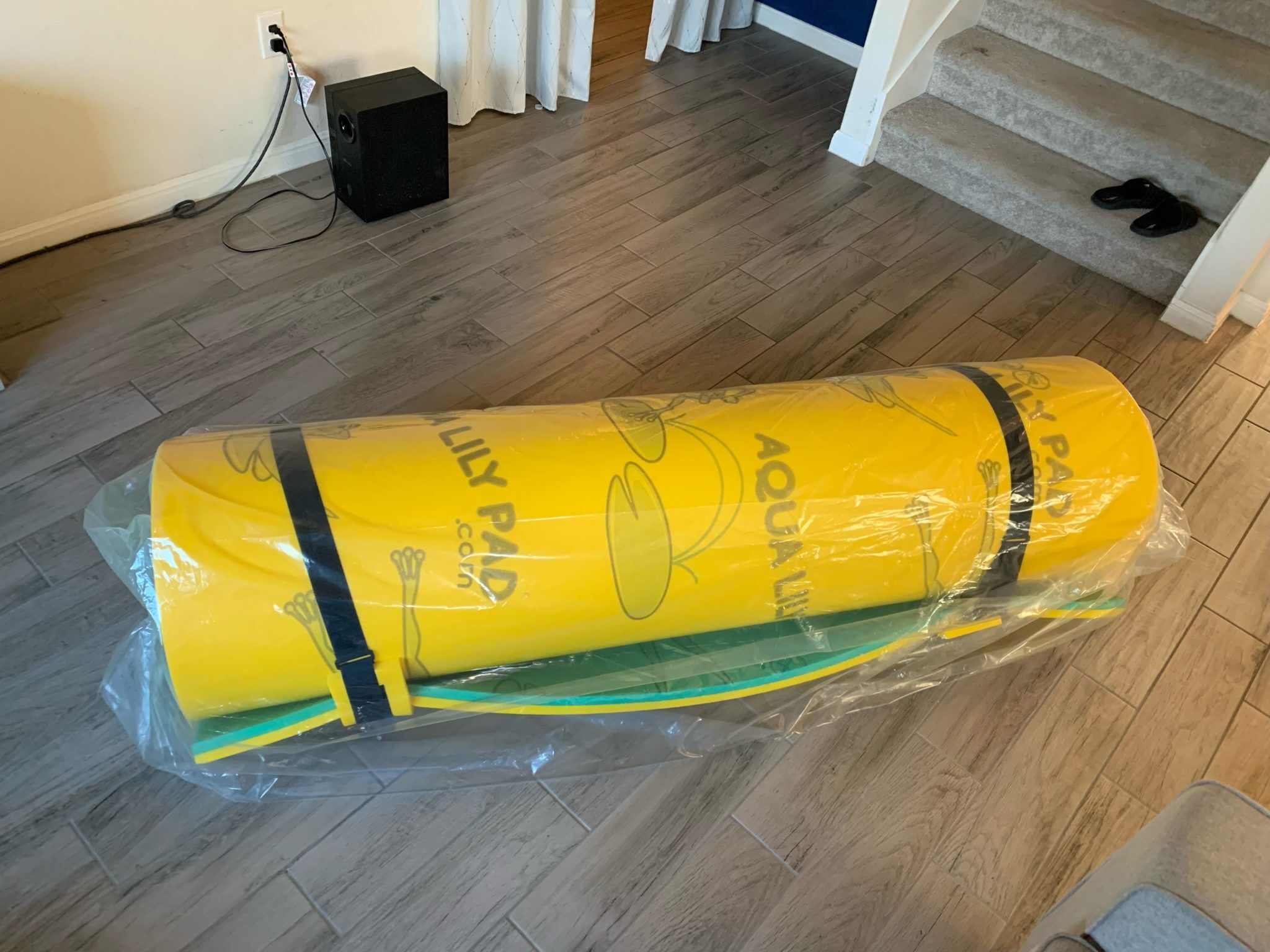 How Much Does a Maui Mat Cost?
If Maui Mats are able to hold more weight and come with fancy storage features, wouldn't they cost more, too? The answer is yes, Maui Mats are more expensive than other floating mat brands. What you pay for is what you'll get, right? While the Maui Mat is expensive, it's not the highest price floating mat on the market by a long shot. At the time of writing this review, the smallest, 14 foot Maui Mat was between $550 – 650. The medium size, 20 foot Maui Mat was between $850 – 900. Finally, the largest, Big Kahuna mat was not in stock at the time.
Check Maui Mat Price Now
Where Should I Buy The Maui Mat?
Do a quick Google search and you'll find endless ways to buy the Maui Mat. So which one should you go with? Amazon is the best option in our opinion. When we review products, we shop on Amazon because we get the benefit of their phone/web chat support and their advanced tracking so that we can see when our new toys are being delivered. That being said, Maui Mat has their own Aqua Lily Pad website and are available at Walmart, too.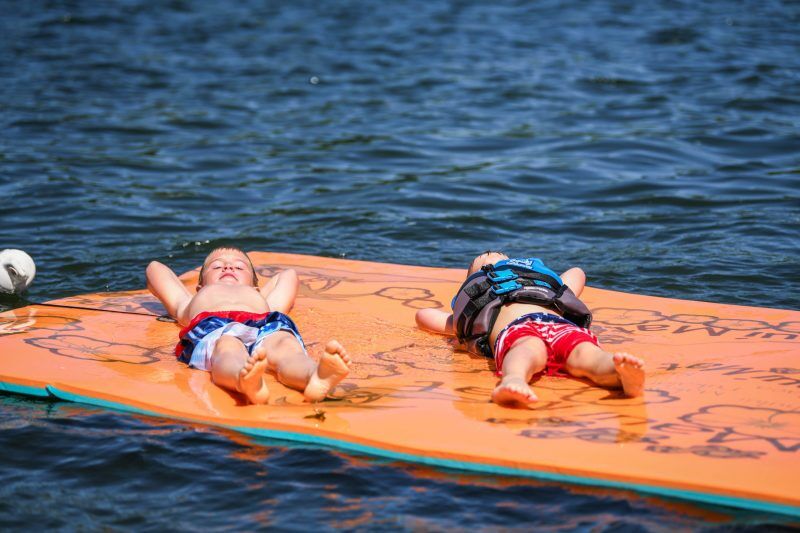 Maintenance: The Not So Fun Part
Luckily, the Maui Mat and pretty much any of the best floating mats we've reviewed come with very low maintenance requirements. Essentially, when you're done using the mat, just rinse it off and roll it up. The Maui Mat requires even less maintenance than others because it comes with cinch straps to keep the mat from unraveling when you store it away.
Let's See It In Action
We're not one for the camera, so we pulled in the Maui Mat's Aqua Lil Pad team to show you around their mat and how its made.
Quick Do's & Don'ts For Rubber Dockie
Do: Follow the Maui Mat weight recommendations
Don't: Tow the floating mat behind a boat
Don't: Jump on the floating mat to get on it
Maui Mat FAQs
How to Anchor a Maui Mat?
Anchoring your floating mat is an essential task to enjoy the Maui Mat without drifting away from the dock that you launch. We've created an easy guide on how to anchor a floating mat the right way.
Where Are Maui Mats Made?
Another cool thing we learned about Maui Mats is that they're made right here in the United States. The materials are sourced in the USA and the mats themselves are produced in Elkhart County, Indiana.
No Doubt About It, Maui Mat is THE Floating Mat
Buy Maui Mat on Amazon