I think we can all agree that toddlers love being in, on, and around the water. But their developing ability to get around means there's a good chance they're going to end up falling in at some point. Whether it's an unexpected plunge in the pool or a stumble on the deck you need to be prepared for the landing in the water, and getting them one of the best toddler life jackets for the money should be your highest priority.
For example, a good life vest for an 18-month-old child needs to be adjustable to fit their fast-growing body, have good neck support, and be secure enough that curious little fingers won't be able to undo a strap for them to wiggle free.
Toddler life vests are sized for most 15-30 pound children and they're sized similar to (and sometimes exactly the same as) an infant life jacket but should not be confused with a toddler swim vest (see how they compare).
Top Rated Life Vests For Toddlers
Best Toddler Life Jacket Reviews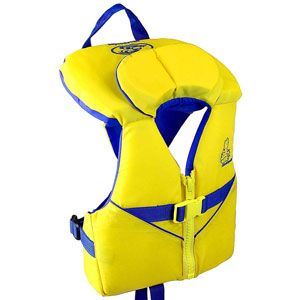 The Nemo Stohlquiest Infant Life Jacket is probably the best infant life jacket you can buy, and the same size scores very highly for toddlers as well.
It's a comfortable, USCG type 2 rated, compact vest that allows fantastic mobility and good ventilation, so a 1 to 2-year-old can get the most from family activities while staying safe.
The Nemo's outstanding feature is its excellent collar, which restricts mobility slightly more than the Mustang model but does a great job of holding the head above water.
The Nemo comes in a choice of three color schemes. We recommend you stick with the bright red or yellow, instead of the less visible blue.
While we never want to think a boating emergency would ever happen to us (think a non-functioning PLB), having your toddler in a Stohlquist life jacket should give you peace of mind.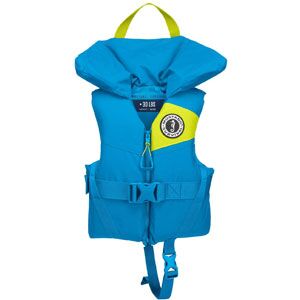 The Lil' Legends floatation vest from marine survival specialists company Mustang is available in three sizes; infant/toddler, child, and youth.
Mustang recently updated their top-selling life jacket and it looks better than ever. In the toddler size life jacket, its feature set makes it pretty much unbeatable.
This type 2 PFD is built around a mesh base for comfort and ventilation, with front and back flotation panels. The back has internal airflow channels to help keep active toddlers cool, and all the panels are shaped to allow maximum mobility.
In front, there's a full-length zipper and the neck is cut away to ensure the chest panel doesn't slip up over the child's chin.
For extra security, there's a waist strap with a tough quick-release buckle. The toddler-sized model also has a crotch strap. This is designed to prevent the lower edge from riding up, but it also makes it more secure.
One feature of the Lil' Legends Mustang Life Jacket that is really impressive is the large, multi-section collar. That does a really good job of keeping the wearer's head above the surface, and it also includes a sturdy grab handle for retrieving your child from the water.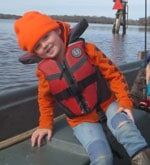 The latest Lil' Legends Mustang Life Jacket comes in a bright blue w/ yellow or bright red w/ blue color scheme making both varieties highly visible in the water. This is an improvement over the previous colors which were not as visible.
Overall this is a very high-quality life vest that's ideal for a 15 to 30-ish lb child. It's well made, highly buoyant, and comfortable enough to wear all day. It's made by experts to do an important job well, and that's exactly what you need.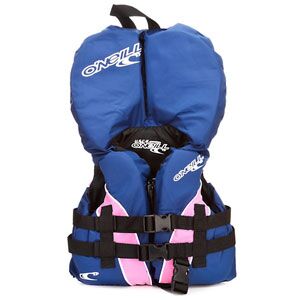 The Wake Waterski toddler life vest is a good reminder that some PFDs are made for swimming, and some for survival. This type-2 vest is among the latter, with the lightweight fluid foam neoprene panels focused in the front to immediately flip children onto their backs.
A USCG-approved life vest head support panel helps to keep your child's head above the water while they await rescue. This head support is not always comfortable on smaller children, as it is designed to support infants and toddlers up to 30 pounds.
However, older toddlers will have less difficulty moving around in the life vest and feel a higher degree of comfort while you can enjoy knowing they are safe.
To further improve the safety side of this PFD, there is an adjustable safety belt that fits between the legs and quick-release dual safety buckles to ensure that the life vest stays on until you're ready to take it off.
A safety strap located on the head support allows you to pull the child to safety easily.
While the safety focus of this life vest makes it difficult to swim normally, the strap's location makes it possible to teach your child certain swimming techniques.
Choose bright colors and this Coast Guard approved safety toddler life vest will keep your child safe for many fun boating trips.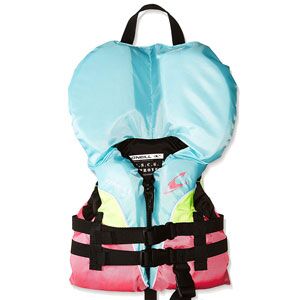 The Superlite Toddler Life Vest by O'Neill is a Type-2 personal floatation device that uses lightweight polyethylene foam for more comfortable use out of the water.
Its collar folds down when not needed, allowing for more mobility, and the three quick-release Delrin buckles keep your toddler secure without making removal a hassle.
Approved by the US Coast Guard for infants and toddlers up to 30 pounds, this highly adjustable vest will grow with your child.
As with most type-2 PFDs, this vest is designed to roll your child on their back if they fall into the water and includes a safety strap on the neck support for easy retrieval. It can thus be a little more difficult to swim in for many toddlers.
Children who are just beginning to walk may also find this and other type-2 toddler life jackets to be top-heavy due to the safety features.
The Pacific blue and yellow versions are easy to spot, and a brighter turquoise and berry color scheme makes this toddler life vest popular with boys, girls, and parents alike.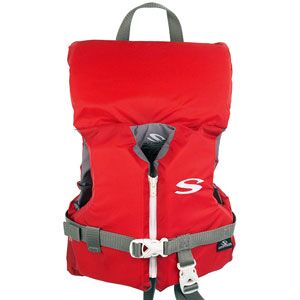 The Stearns Classic is a very affordable type II flotation toddler vest but it's also a capable one. The simple but rugged nylon-covered vest is secured with a full-length zipper and a quick-release chest strap that runs all the way around the body for extra strength.
To make it even more secure there's a leg strap too. This is a smaller version of Stearns' children's life vest but, to make it safer for the typical 2-year-old, a head cushion has been added.
The collar on the Stearns isn't as sophisticated as on the Mustang or Nemo but it's still effective enough at keeping a small head above the surface.
It also doesn't get in the way as much out of the water, because the cushion hangs down the back out of the way until the wearer is actually floating.
With Coast Guard approval and a reasonably low price, the Stearns Classic certainly won't let you down. Again, opt for the brighter red color instead of blue.