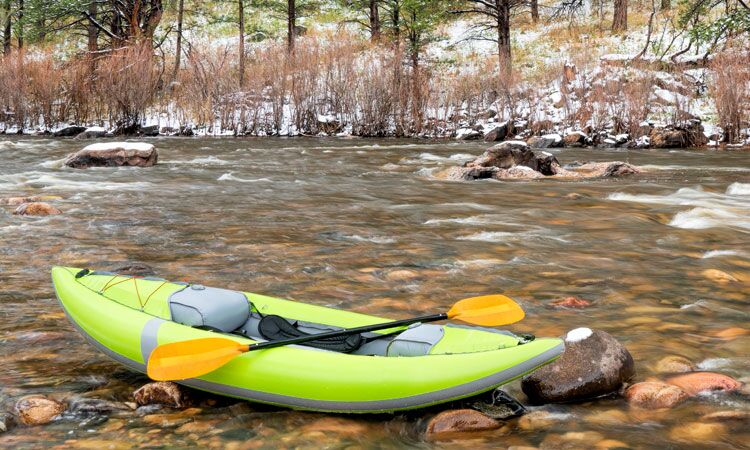 Would you like to invest in a kayak, but don't have the room to store one or the means to transport it? Inflatable kayaks can be a great solution to these issues! Unfortunately, there are many myths about inflatable kayaks that often cause consumers to doubt whether they're a viable option.
In this article, we hope to clear up any confusion or misconceptions you might have about inflatable kayaks. If you've never used an inflatable kayak, this should give you all the information you need to decide if they're a good option for you!
See Also: Best Inflatable Kayaks for Beginners
Common Inflatable Kayak Myths
Myth #1 – Inflatable kayaks will sink if they puncture or tear.
Nope. In fact, inflatable kayaks are often called unsinkable. Why? Because you can fill them to the top with water and they just won't sink.
It turns out that a puncture or tear in an inflatable kayak really isn't as serious as it sounds. That's because they have multiple air chambers. Although it's very unlikely that an air chamber will deflate completely, even if it does, the air in the other chambers will keep you afloat.
In most cases, the air will leak out slowly, so you'll have no trouble getting back to shore. And, of course, you'll also be wearing a life vest just in case.
You should also know that inflatable kayaks come with repair kits that allow you to do minor repairs on the spot. Or, you can send it to the manufacturer if major repairs are required.
Related: Best Dry Bags for Kayaking
Myth #2 – You can't drag an inflatable kayak across a riverbank or on gravel.
Actually, inflatable kayak manufacturers know that some dragging on gravel or sand will be necessary when getting to shore on riverbanks. They build their kayaks to stand up to some of this type of abuse.
However, you should be careful and try to minimize dragging as much as possible. It can lead to scratches and wear and tear. Just like anything else, your inflatable kayak will last longer if you take good care of it.
Myth #3 – Inflatable kayaks can't maneuver easily on the water.
Depending on which model of inflatable kayak you choose, they can maneuver very well. Unfortunately, some models won't perform nearly as well as a hard-shell kayak. On the other hand, many rigid kayaks don't maneuver as well as a well-made inflatable kayak.
Choosing an inflatable kayak that a skeg or rudder will greatly improve your maneuverability and tracking on smooth water. Whether you're kayaking on the ocean, lake, or river, performance will greatly depend on choosing the right model.
Related: 11 Underrated Kayaking Benefits
Myth #4 – Inflatable kayaks are overpriced.
Inflatable kayaks can range in price from $100 to more than $2000. Just like anything else, the cost depends on the quality and construction of the product.
The good news is, there's a decent inflatable kayak for any price range, and when comparing to rigid kayaks, they're certainly not overpriced.
Myth #5 – Inflatable kayaks aren't durable.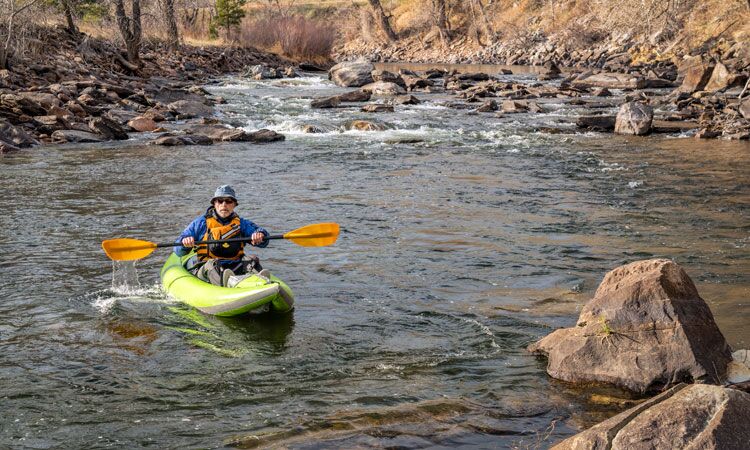 This is a common misconception about inflatable kayaks, but the truth is, they hold up just as well, if not better than hard-shell kayaks.
Inflatable kayaks are constructed from heavy-duty materials, like Nitrylon, Hypalon, and PVC. These materials are incredibly durable and sturdy and can also be found on inflatable rafts and pontoon boats.
Many manufacturers layer these materials and reinforce the seams with glue or welding, which makes them even tougher.
Myth #6 – You must avoid sharp objects in an inflatable kayak.
Once again, all inflatable kayaks aren't built the same. If you will be doing a lot of kayaking on rivers where you'll bump up against rocks, sticks, and other sharp objects, choose a kayak that's built for whitewater use.
Inflatable kayaks for rapids are tested to hold up to all kinds of obstructions on the river. If you choose a quality model, you won't have anything to worry about. In fact, most inflatable kayaks made for flat water are not torn or punctured easily.
Of course, you'll want to do what you can to avoid sharp objects. It's always a good idea to be on the lookout.
Myth #7 – Inflatable kayaks aren't stable.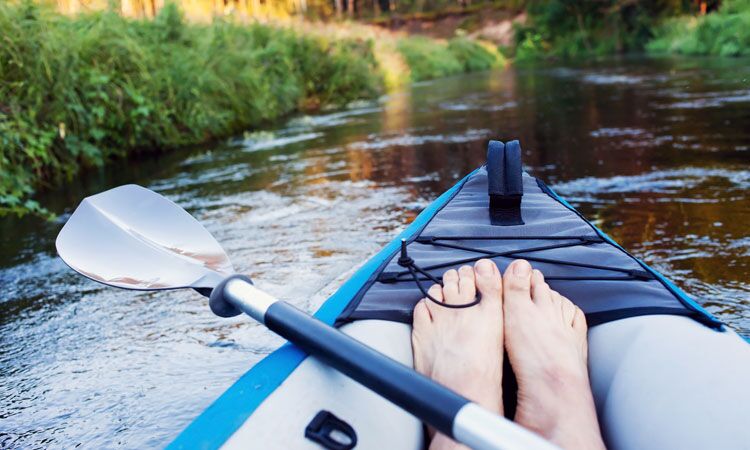 This couldn't be further from the truth. In fact, inflatable kayaks tend to be more stable than hard-shell kayaks. Why? Because their bottoms are usually flat, which makes them extremely stable on the water.
We've found that you can even stand up in many models with no problem. And, since they have multiple air chambers, they're very buoyant and tough to tip. If you're still worried about stability, choose a wider kayak.
Related: What to Wear When Kayaking
Myth #8 – Inflatable kayaks are hard to care for.
Inflatable kayaks are actually one of the easiest types of watercraft to care for, especially the sit-on-top variety. They really don't require any maintenance.
Just hose them off and make sure they're dry when you pack them up, so they don't get moldy in the bag. Don't store them where they'll be exposed to extreme cold or heat.
If you're concerned about UV exposure, you can spray your inflatable kayak with a good UV protectant spray to keep the material strong and prevent fading.
Myth #9 – Inflatable kayaks are hard to inflate.
Actually, inflatable kayaks are pretty easy to inflate. Sure, it will take a long time if you're using a foot or and pump, but it's not hard. And, if you invest in a good electric air pump, the process will be fast and easy.
The fact that it's inflatable is one of its biggest benefits. Not only is it easy to transport, you don't run into the typical problems when it comes to storing a hard-shell kayak.
Final Thoughts
Hopefully, this article will change the way you look at inflatable kayaks. In the past, they weren't considered an option for recreational or hardcore paddling. But, today's inflatable kayaks are far superior and there's no denying their quality, performance, and convenience.