It's no fun playing alone, though. A proper day out needs friends or family (or both). So, anyone who needs a life jacket doesn't need just one. Sometimes, opting to buy the 4 pack life jackets is a much better idea than buying one at a time.
Getting out on the water is what life is all about. Sailing down a river, fishing on a lake, or getting some exercise by kayaking all bring peace of mind and a deeply satisfying inner joy. Water can also be dangerous, though. We need lifeguards around, even when the waters seem calm. A little precaution is definitely worth it. We can relax and enjoy ourselves most when we know we're safe. The best way to feel that security comes from having a comfortable and effective life jacket.
Do I Even Need a Life Jacket?
Life jackets, or life vests if you prefer, are wearable personal floatation devices. They come in different classes, (Type 1, Type 2, and Type 3), based on how much buoyancy they provide and how well they will keep your head above water if you fall unconscious. You can find inherently buoyant life jackets, which use foam to help you float to the surface, and you can find inflatable life jackets, which you will fill with air to keep you afloat.
If you plan on spending time in or on water, then life jackets are an absolutely necessary piece of safety equipment. It doesn't matter if you're on a calm lake, a flowing river or an ocean. Any water can be dangerous when an emergency happens. It also doesn't matter if you're a good swimmer or if you're not planning to have any accidents. Nobody tries to have an accident, but you should be prepared if one happens despite your best efforts.
The great part about life jackets is that they're passive. Just put it on and buckle up before you get in the water. Now you have massively increased your safety, and you can focus on enjoying yourself with your loved ones.
Why Should I Get the 4 Pack Life Jackets?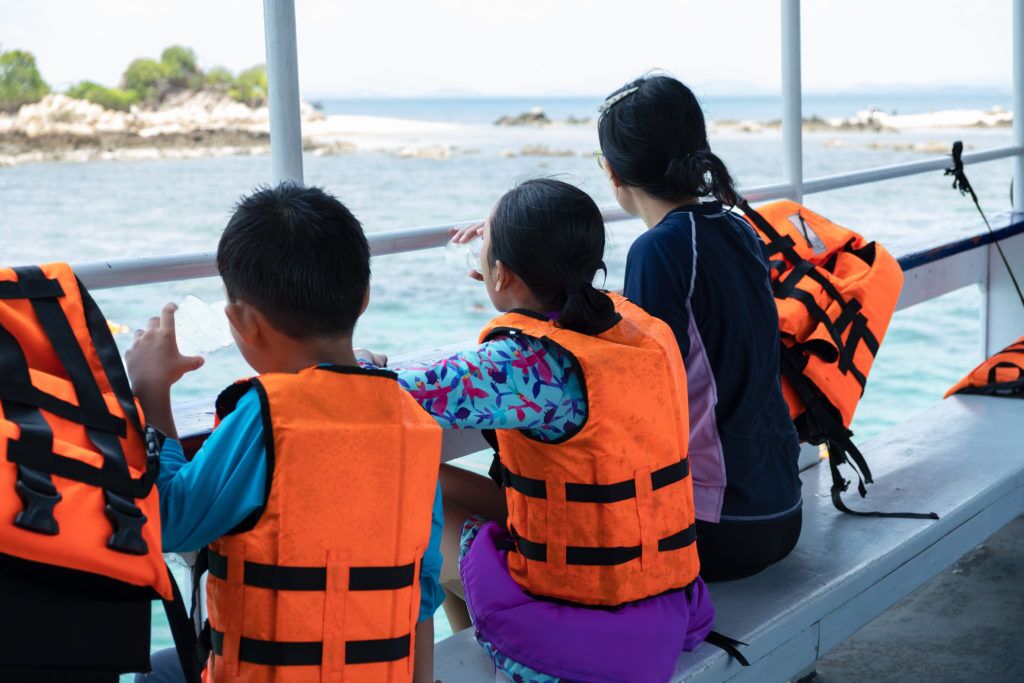 So let's dive into it. There are lots of good reasons to get a bundle of life vests instead of buying them individually. There are some drawbacks too, so let's go over all the details.
All-in-One Convenience
One excellent benefit of the life jacket 4-pack is that you only need to make one purchase to get all you need. Of course, if you have a larger family or circle of friends, you may need to purchase more than one of these convenient 4-packs. Still, it's nice to have fewer parcels to deal with, and you can help the environment by needing less packaging.
Our favorite versions of these life jackets in bulk come with their own carrying case. This is where the convenience really shines. Being able to take all of that safety equipment with you in a single hand is one of the simple pleasures of life we often overlook. Plus, if you're on a boat, you always know where all of your life jackets are.
Buy in Bulk and Save
Another great benefit to picking up a 4-pack of life jackets is saving money. If you already know that you need several life vests, then getting a bundle is the same as getting a discount. You might be thinking – I don't need 4 life jackets right now; I only need two or three. That's totally understandable. Maybe three life jackets is cheaper than a pack of four. However, having a back-up is not a bad thing. Maybe one gets lost? Maybe one gets damaged? Maybe an extra person decides to join you at the lake and you need more? There are enough possible situations that would make a spare life jacket a reasonable purchase.
What About Variety?
If you have started looking at 4-packs of life jackets, then you've probably noticed that most of them are sets of four identical adult-size life jackets. This might be perfect for you, and you should snap them up. However, you may have children that don't fit in adult-sized life vests. Fortunately, there are variety packs available in an assortment of adult and child sizes. This will let you outfit your family easily.
The main downside to buying these bundled packs is that they may not have exactly the sizes you need in the quantities you're looking for. Finding a custom pack of life jackets is unlikely, so if you have an uncommon need, buying individual life jackets will be the best move for you.
Bottom Line
If you want to get on a boat, a jet ski, or a wakeboard, then you need a life jacket for safety. Putting on this simple piece of gear will let you enjoy the water worry-free. You may want to consider getting a 4-pack of life jackets to save some money and get a convenient carrying case for them. That way you should have enough for your friends or family to join in the water sports or other activities you have in mind. Make sure you look for the right sizes, and try to find a cool design if that's possible so you can all go out in style.