Having a properly fitted life jacket is essential for boating, fishing, kayaking and many other water sports. This can be especially challenging for folks with a plus sized build. The best big and tall life jackets don't have to be ugly, bulky or uncomfortable.
There are actually many options on the market today that are stylish and comfortable as well as functional.
When shopping for a plus-sized PFD (personal floatation device), look for one that has lots of straps that can be adjusted to get the perfect fit. It's great if there are straps that allow for adjustment on the shoulders as well as the chest and around the middle.
The better the fit, the more comfortable the life vest will be, making you more likely to wear it. Here's what we recommend…
Our 5 Favorite Big and Tall Life Jackets
Big and Tall Life Jacket Reviews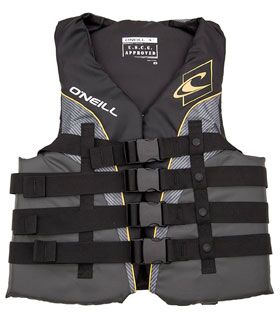 This Men's Superlite USCG approved life vest by O'Neill comes in sizes Small all the way up to 6XL. With four adjustable straps, even big and tall guys can achieve a comfortable fit.
This life jacket allows full range of motion and it has minimal bulk.
It's great for all types of water sports, including kayaking, skiing and tubing. It comes in several bright colors that are great for visibility.
We found this vest to be very comfortable and soft, with a relaxed fit. The nylon material of this jacket dries fast, and that's a huge plus, especially if you store your life jackets right in your boat.
It also has a really nice design that doesn't ride up like some life jackets can. This is a high-quality product that's made to last a long time.
Owners of this life jacket really love the streamlined look and feel of it. They felt that it was comfortable enough to wear all day. Many purchasers had a tough time finding the correct size in this vest.
Some recommended buying a size up, while others stated that it's true to size. We recommend ordering true to size using the measurement chart provided by the manufacturer.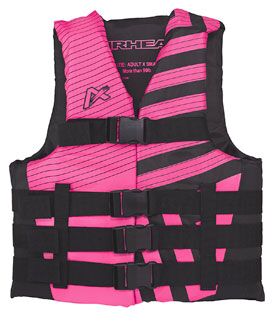 The Airhead Women's Trend Vest is available in sizes ranging from XS thru 3XL. The strap closures allow for lots of room for adjusting to fit.
There's plenty of room in the chest area, even for a large busted woman. This is a USCG approved type 3 life vest.
The lightweight, nylon life jacket dries fast. We found this product to be very sturdy and well made. It comes in a hot pink and block color combination that's super cute and great for visibility.
This jacket is not super bulky, so it's great for paddle sports like canoeing or paddleboarding. It also performs well for skiing and tubing; it's a great all-around life vest.
One individual noted that she doesn't know how to swim at all, but she was able to go snorkeling and floating while on vacation in the Caribbean, thanks to this vest!
Be aware that the brand name, "Airhead," is displayed in big letters on the back of the vest. A few women felt a little self-conscious when wearing it.
Some purchasers also felt that this jacket was too long for a woman who is very short, saying it rides up too far when they sit down.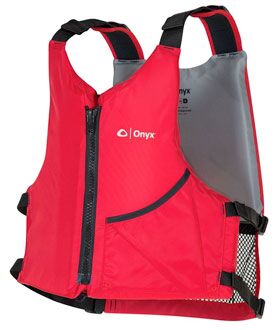 This oversized Universal Paddle Vest by Onyx has a compact and lightweight design with a high foam back to accommodate high seat backs making it perfect for kayaking. The breathable mesh lower back helps keep you cool.
There are adjustable straps at the shoulders and sides to help you get just the right fit, and a zip closure up the front. This is a USCG approved Type III PFD.
The large front pocket on the front of this vest is a great feature! This is a great big and tall life vest with plenty of room in the chest for the ladies. We love that it's not bulky under the arms so it doesn't interfere with paddling at all. It comes in a bright red color that's very important for visibility.
Users love the adjustability of this jacket, saying that it works well for a wide range of body types. They love that it doesn't chafe at the neck or ride up when you're sitting down.
Some users were disappointed that there is no Velcro or zipper closure on the pocket. They also wished there was a d-ring or some other way to attach a whistle to the jacket as well.
The Onyx Kayak Fishing Life Jacket is available in universal or oversize. In fact, it's one of our favorite fishing life jackets overall.
This jacket is full of great features like pockets that either zip or Velcro shut and lash tabs to hold your knife, whistle or other small gadgets.
There is even a tray pocket that can hold a small tackle box. With six adjustment straps, it's easy to get a perfect fit! You can even adjust the back to fit the height of the seat on your boat or kayak.
The mesh back gives the jacket great breathability to help you stay cool in hot weather, and the fleece lined pockets are great for warming your hands when it gets cold.
The design of this jacket allows for great range of motion while paddling, without chafing under the arms or riding up in the back. This is a USCG approved Type III PFD.
Owners of this vest found it to be very comfortable and well made. It's great for both men and women and they love all of the storage capabilities.
Some reviewers felt that this jacket could be improved by adding a buckle closure over the plastic zipper. A few reviewers also stated that it was hard for them to get the zipper started.
The Stearns Adult Classic Series Vest comes in universal or oversize sizes. The oversize version fits chests up to 62". This jacket is a USCG approved Type III PFD, so it will keep you legal on the water.
This life jacket features three adjustable straps with buckles for a custom fit.
The open sided design allows for good range of motion when paddling and helps you stay cooler. We love that this jacket is made in the USA! (This appears to no longer be the case as China is the likely current country of manufacturing. See article comments below for more information.)
It is available in two color choices, blue or red. We recommend the red for greater visibility.
This vest features durable nylon construction, and it dries quickly. The length of this jacket makes it great for taller people.
Those who use this jacket on a regular basis found it to be very comfortable, especially for paddle sports, thanks to the open sides. The adjustable straps allow it to fit a wide range of body types, both male and female.
Purchasers did say that this jacket runs a little small, so bigger folks will want to get the oversize version.
FAQs
Are straps or zipper better for plus-size life jackets?
Look for straps when shopping for a plus-sized life jacket. Straps will give you more adjustability so that you can get a custom fit. You can let them out or shorten them depending on your size and body type.
Can women wear "men's" life jackets?
Absolutely! Men's and women's life jackets can be worn interchangeably. We would like to note, however, that many women's vests have features like contoured cups that might make them more comfortable for a large busted woman.
The most important thing is that it fits you properly and it's comfortable so you won't mind wearing it.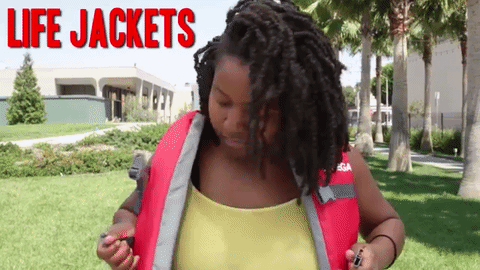 It is important to do your research and shop carefully when purchasing a big and tall life jacket. After all, it could save your life!