When your kids or grandkids are around water for hours on end, a good rash guard or swim shirt is one of the best ways to protect them from the elements (sun, water, and sand).
See Also: Best Rash Guards for Adults
Not only do rash guards protect against sunburn, they shield your kids from painful chafing that can occur from long days at the beach. Best of all, rash guards are comfortable and designed to dry quickly.
Rash guards for girls are worn on top of their normal bathing suit while boys simply wear them like a t-shirt (hence why they're called swim shirts). They're available in both short sleeve and long sleeve versions.
You'll still want to apply a good water resistant sunscreen on the child (and at regular intervals) for areas not covered but with a good rash guard, there is a lot less area to protect with sunscreen.
Our 6 Favorite Rash Guards for Kids
Best Boys' Rash Guards and Swim Shirts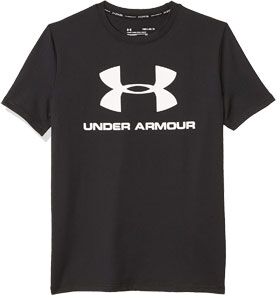 Under Armour's UA Surf Shirt for boys provides UPF 50+ sun protection and comes in 17 colors and sizes from 2T to 7. It's designed to fit like a short-sleeved tee-shirt but has plenty of stretches to allow for complete mobility in the water.
The best thing about this boys' rash guard from Under Armour is that it's comfortable and easy to put on. Your child won't mind wearing it, and you won't have to struggle with getting your child to hold still while you apply sunscreen to his back and torso.
This rash guard tee is made from polyester and spandex, so it dries quickly and repels water. The material is salt resistant, too, so it doesn't fade or come apart even after hard use at the beach. Toddler sizes also have an elasticized waist, which stops the shirt from riding up in the water.
It's worth noting that this swim shirt has a looser fit than traditional rash guards. Some reviewers report that it can become baggy in the water. However, it dries quickly and returns to its normal fit, so it's a great choice for boys who don't like a tight-fitting rash guard.
Unlike many rash guards, the the UA Surf Shirt is machine washable, which is incredibly convenient for busy parents.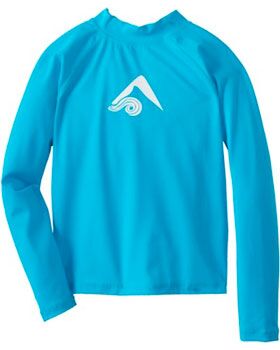 The Kanu Surf Boys' Platinum Rash Guard is available in both toddler boys' and big boys' sizes x-small thru x-large. The long sleeves and UPF 50+ will provide great sun protection for your little one.
The shirt is 86% polyester and 14% spandex and it is machine washable for easy care. This water shirt is lightweight, breathable, and soft, making it super comfortable for a day at the beach or pool. Boys will love the bright, fun colors, too!
We're impressed with the durability of this shirt. It holds up well to chlorine, saltwater, sun and machine washing. Your child can wear it for anything from rough sand play to ziplining!
It's nice not having worry about applying and reapplying sunblock to your child's torso and arms, too. As parents, we've all been there where your child has gotten a bad sunburn because we forgot to reapply sunscreen.
Moms were very impressed with the sunburn protection this shirt gives. They stated that even after a full day at the beach their child had no sunburn where this shirt was covering the skin.
Some owners of this shirt did recommend line drying to prevent the logo from melting off in the dryer. Also, keep in mind that the sleeves run a little long when deciding what size to order.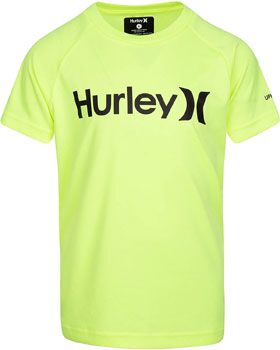 Here's another short-sleeved rash guard for boys to consider, especially if your child prefers a loose-fitting swim shirt. It's made by Hurley and comes in 26 colors and sizes ranging from 2T to 7. It features Nike dry-fit technology, so it dries quickly and looks great both in and out of the water.
We love the style of this shirt, and even the fussiest of boys won't mind wearing it. It's designed to fit like a t-shirt with a crew neck and short raglan sleeves. The soft jersey fabric has built-in 50+ sun protection, too. Hurley has kept the graphics simple on this shirt, which older boys will appreciate. It features just the brand name on the front, so it doesn't look like a little kids' shirt.
This shirt doesn't have the snug fit of a rash guard. It can become baggy in the water, which may be a drawback for some users. However, it's a great option for boys who don't like a tight-fitting rash guard. It also dries fast and returns to its normal shape quickly out of the water. It's super soft and lightweight, making it ideal for land-based activities where your child needs extra sun protection, too.
Although the company claims this shirt can be machine washed, we found that that this rash guard shirt does not hold up well to machine washing. You can maximize the longevity of this product by handwashing it soon after it's been exposed to salt water or chlorine.
Best Girls' Rash Guards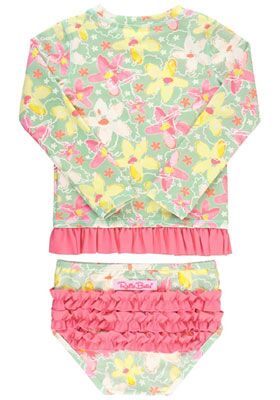 With its long sleeves and UPF 50+ sun protection, RuffleButts 2-piece rash guard for girls provides protection from the sun and sand to keep your little one safe and happy at the beach.
It comes in 16 adorable color patterns and sizes ranging from 2T to 10 years. The adorable design features RuffleButts signature ruffles on every pair of bottoms.
You'll love the full coverage of this swimsuit for your little one, and it's ideal for all types of water activities. It holds its shape well and won't stretch out, even when wet. The fabric is also very high-quality. It's resistant to fading and very durable, yet still soft and comfortable so your little one won't mind wearing it.
Owners of this swimsuit report that the top pulls on. It doesn't come with a zipper on the back, which could be an issue for children who don't like to pull things over their heads. That said, it doesn't cling to the skin, so it's easy to take off even when wet.
Like most rash guards and swimsuits, this product should be hand washed in cold water and laid flat to dry. Be sure to rinse the suit with fresh water after exposure to salt or chlorine to prevent fading. With proper care, this suit should last for a long time, and we love that RuffleButts backs up their products with a 100% happiness guarantee!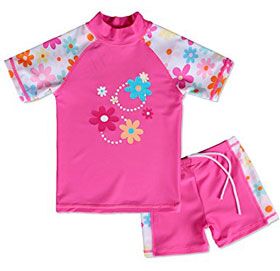 The Baohulu two-piece tankini is a super cute rash guard for little girls! It comes in girls' sizes for 3-12 years. You can choose from shorts and short sleeves or pants and long sleeves in several color options.
Your little one will be protected from the sun by the UPF 50+ this suit offers. The high collar even gives extra protection for the neck area.
The suit is stretchy, soft, and lightweight so it's very comfortable for all day wear. The quality of the suit is excellent and it holds up well to rough play and machine washing. It should be laid flat to dry, but it dries super-fast so that's not an issue.
Putting sunscreen on a child can be a challenge at best, so we love that it's only needed on the hands, feet, and face if you choose the long pants and sleeves option! Or add a cute sun hat for almost full coverage.
Moms who reviewed this suit said their kids love it! It's very comfortable and soft on the skin. They love the drawstring waist that keeps the bottoms from falling down in the water.
Several purchasers felt that the sizing ran a little small, so consider ordering a size larger than you normally would. Also, the top is not lined, so it might be a little sheer for an 11 to 12-year-old girl without a swim top underneath it.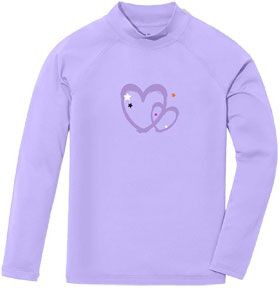 This long sleeve rash guard by TSLA is a true rash guard for girls' that's been designed specifically for water sports. It has a snug fit that keeps its shape in the water, and it won't restrict movement when swimming or paddling. It's available in 19 fashion colors and sizes X-Small to X-Large for girls.
The long sleeves and high crew neck, in addition to UPF 50+ sun protection, prevent sunburn, even if your child is in the water for hours. Of course, you'll still need to apply sunscreen to other exposed areas, but this shirt provides excellent protection for hard-to-reach areas like the back and the back of the neck.
We are really impressed with this company's attention to detail, especially at such a fair price point. This rash guard has some fantastic features you won't find in competing products, including two-way air circulation and moisture sensing, quick-dry fabric. The flat-lock stitching also ensures that the seams don't become loose, even under heavy use.
The durable high-density fabric is amazing for protecting the skin against rashes and abrasions, too. Keep in mind that this swim shirt is designed to fit snug. If that will bother your child, consider ordering the next size up.
Some users were disappointed that there was no lining or shelf-bra built into this shirt. Plan on having your child wear a swimsuit top underneath to prevent-see through.