If you enjoy water sports such as wakeboarding, jet skiing, or water skiing, it's essential to have the right safety gear – water can be dangerous, after all. Not all life vests are the same though.
A sailing life jacket might not be the best choice for jet skiing or kite boarding as it doesn't provide the same cushioning as a life jacket for higher speed water sports.
There are some basic features that will always be the same but comfort in a small boat doesn't always come together with the security you need for high-speed activities.
The best life jackets for water sports need to be durable enough for even the most extreme water sports, fit securely, and be comfortable enough to wear for hours on the water.
Our 5 Favorite Life Jackets for Water Sports
Wakeboarding and Jet Ski Life Jacket Reviews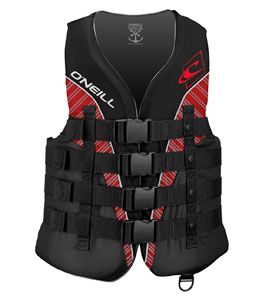 O'Neill has a great reputation among surfers and it's easy to see why from this outstanding life vest. Unlike more mainstream vests, which tend to have open sides with large front and back panels, it's a more enclosing design.
That means the foam is more evenly distributed and has a lower profile, so it's an extremely close-fitting and compact vest. It's also simple and robust. Being a nylon vest, it dries much quicker than neoprene and is still comfortable to wear.
Almost all life vests close with a front zipper, then usually have a belt for added security. The Superlite does it differently; it skips the zipper altogether and replaces it with no less than four heavy duty straps. Three of them pass right round the body, giving unbeatable strength.
A bonus is that it's really easy to adjust the straps for a close but comfortable fit. With sizes up to 6XL, it's a great PFD for the big and tall crowd.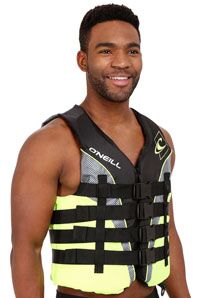 Its design means the Superlite encloses your upper body more than some other vests but it's still not restrictive, and the low profile means you'll soon forget you're wearing it.
It's also tough enough that it gives some extra protection for sports like tubing, which can be very welcome.
Related: 6 Reasons Jet Ski Tubing Beats a Boat
The main body of the vest has been kept as thin as possible, but there are shaped double-thick panels either side of the waist to add more buoyancy – and padding – without getting in the way. It's a very clever design. The Superlite is also one of our favorite youth life jackets.
It's also worth mentioning that this water ski vest looks great. It's available in a choice of colors, most of them heavily biased towards black and gray.
Bright secondary colors are options though, some being more noticeable than others. None of them are the most conspicuous in the water but considering the sports they're made for that's not a big deal. Overall this is an excellent vest for jet skiing, water skiing, and wakeboarding.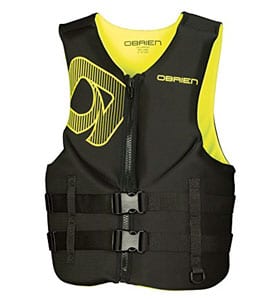 The O'Neill Waterski is a comfortable vest, but some people find woven fabric uncomfortable against their skin – especially when they're soaked in salt water.
If you're not wearing a wetsuit or other clothing, a neoprene vest might be the way to go and this classic design from O'Brien is an excellent choice. It also has one of the most low profile designs with huge arm cutouts for maximum agility, no matter what sport you're doing.
The O'Brien closes with a full length zip; two belts add some security, and also combine with the stretchy material to make the perfect fit easy to achieve.
If you want to look great out jet skiing, while being as safe as you can, give this vest a shot.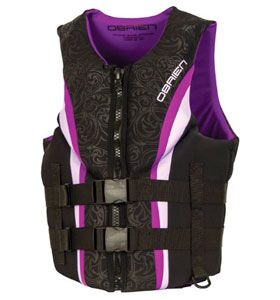 The Impulse Neo is an excellent vest designed specifically with the active woman in mind. Beginning with a comfortable 1.5mm neoprene outer, zippered front closure, and two adjustable belts with squeeze-style side release buckles, this vest is both comfortable and secure.
O'Brien takes things a step further by adding wide armholes and multiple hinge points in the front and back for a greater range of motion.
Sizing is important on this vest, as your exact measurements can mean going with the size recommended or choosing one size off. Many customers have attempted to estimate the size and found they needed to adjust due to a miscalculation.
What makes this vest most unique is the attention to aesthetics. The vest has a bright purple interior lining, with highly visible purple and white stripes dividing the plain black sides from the subtly patterned front.
An attached D-ring allows you to keep your waterski keys on-hand, even if you don't have any pockets, making the Impulse Neo as functional as it is fashionable.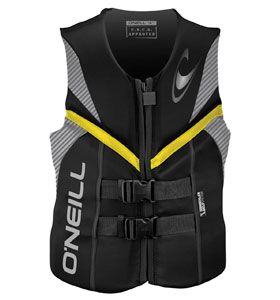 Mobility and safety go hand-in-hand with the Reactor. This Coast Guard approved life vest features a segmented foam core and anatomical flex points to allow for unparalleled freedom of movement, while expansion panels help to comfortably fit your unique build.
Quick release safety buckles and a heavy duty front zipper ensure safety on the move without sacrificing the relaxed fit.
Sometimes the size chart is a little off, so make sure to test this vest out before any return policies run out. Made of neoprene and polyester with mesh added at key points, the Reactor is lightweight and comfortable.
See Also: Winterizing a Jet Ski (and De-Winterizing for Summer)
An excellent choice for sporting enthusiasts, the Reactor is perfect for swimming, towable tubing, wake sports, and waterskiing.
There have been a few issues with the foam bunching up in the shoulders due to the design, but overall, this vest carries the same high level of quality expected from O'Neill.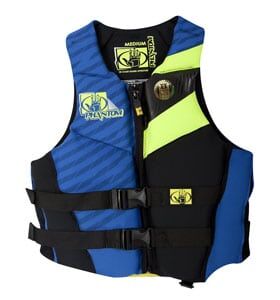 The Phantom is another neoprene vest, and like the O'Brien it secures with a zipper and two straps. Again it's really easy to adjust and won't ride up no matter what's going on.
There's even a women's life jacket version of the same great vest. The quality of construction and materials is pretty impressive throughout.
It's slightly bulkier than the O'Brien but still shouldn't get in the way during intense activities. It also comes in a range of color schemes, including several with bright red or yellow panels, and has plenty of reflective logos; this could be a better choice for open water.