Growing children are adventurous and most of them love water, making activities like sailing, canoeing or even just scrambling on rocks great summertime family activities.
Of course, that makes quality safety gear even more essential. Any child in or near the water need a good kids life jacket, so it has to be designed according to their needs.
When searching for the best life jackets for kids, it's important to find the sweet spot between good head support and a comfortable fit so that your child can enjoy themselves — all while staying safe in the water.
With that in mind, we've rounded up our favorite best kids life jackets for children between 30 to 50 pounds. They are all rated USCG Type 3, meaning they are safe for almost all water activities (we'd recommend Type 2 for offshore boating or extra peace of mind). Baby life jackets and toddler life jackets have different considerations and requirements, so it's important to familiarize yourself with that information instead.
Now let's dive in.
Top Kids Life Jackets (30-50 lbs)
Child Life Jackets For Kids (30-50 lbs) Reviews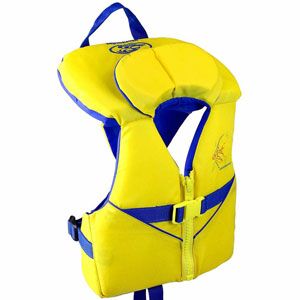 The best-selling Stohlquist is available in a range of sizes, and thanks to clever design and great construction, it's at or near the top of the class in all of them.
For children weighing anywhere from "about" 30 to 50 pounds, it has all the features you need in a life vest, making it our top pick. Unlike the infant/toddler version, the child-size is a type 3 PFD which is pretty standard for this weight range.
The Stohlquist child PFD is a sleek, low-profile vest that still packs in a lot of buoyancy. Its filling is well distributed to keep a child floating high in the water and the collar design is particularly impressive.
The main collar is quite low and won't get in the way, but still does a fantastic job of keeping the head safely up, while a separate neck rest gives some extra support. It's also designed for comfort. Many life jackets for kids zip high on the chest, which can feel restrictive, but the Stohlquist has a deep V front for freedom of movement.
It still fastens securely though, with a heavy-duty zipper and a security strap as a backup. There's a crotch strap too, so even a slim child won't be in any danger of slipping out. Side straps let you adjust it for a good fit.
This kids life vest is large and easy to catch hold of, and it's also threaded with floating beads to keep it on the surface even when soaked.
The Stohlquist is covered in tough 200 denier nylon, making it durable, easy to clean and quick to dry. Nine color schemes are now available and it's always best to stick to bright, easy-to-locate colors.
The dark blue one looks nice, but it's a lot less visible and could add long seconds to the time it takes to spot a child in the water, so keep that in mind as you pick a color.
That said, if you plan to take your little one boating or doing another offshore activity, we recommend going with a type 2 vest as mentioned earlier. This will do a better job flipping them over into the face-up position if they can't do it themselves.
View on Amazon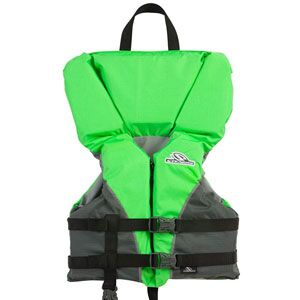 While slightly less comfortable than a Type 3 vest like the Stohlquist above, this US Coast Guard approved Type 2 kids life vest is a much better option for activities when not around the shoreline (such as boating or even kayaking). This is especially important for younger children.
One of the rare Type 2 life jackets in the 30 to 50 pound range range, this Stearns "Child Size" vest will do its job of turning a non-swimmer or unconscious child on their back to a face-up position.
Two straps around the waist and a padded crotch strap will keep the vest securely on your child while a collar handle is standard. Bright lime green is the only color offered but is very noticeable in the water.
One negative of this model is true with any Type 2. It will feel a bit more restrictive than a Type 3 but you can't compromise on safety and you as a parent will feel much more at ease.
Another small annoyance is that the buckles are a little harder than normal to snap and unsnap but that's almost nitpicking. Overall, you'll be hard-pressed to find a better Type 2 life vest for small children than the Stearns Heads-Up.
If you decide to go with a different Type 2 PFD model, make sure it is truly a USCG approved Type 2 and not simply "styled" as a Type 2 which some lesser-known brands may advertise.
View on Amazon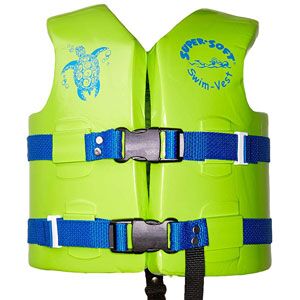 The kids' Super Soft USCG Swim Vest from TRC Recreation comes in four fun colors and a range of sizes for boys and girls. This kids life vest is designed with your child's comfort in mind, which is incredibly important if you want to keep them from ditching the vest when you're not looking.
The vest is made from vinyl-covered, closed-cell foam and includes an adjustable back slot for the best fit possible.
Sizes extra small and small include a crotch strap to prevent the vest from riding up or coming off in the water. The design includes Kwik-snap closures on the front of the vest that make it easier to put on or take off.
For added peace of mind, the Super Soft kids vest is a USCG-approved Type III PFD. Parents love this kid's life jacket for the beach, pool, lake, or river. These vests are coated with a super soft, water-repellent material that doesn't soak up water.
It doesn't rub or cause skin irritation like some vests. The bright colors provide excellent visibility in the water. The TRC Recreation Kids' Super Soft USCG Vest is made in the USA. It's an excellent kid's life vest for swimming or boating.
View on Amazon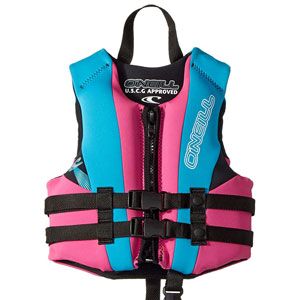 This O'Neill vest is another unobtrusive option for kids who want something even sleeker than a Stohlquist. It's USCG approved (Type 3) kids lifejacket and easily supports up to a 50 pound child, and buckles securely with two sturdy straps that run right around the body. There's also a full-length zip and crotch strap.
Made out of neoprene, most kids prefer the comfort it provides over the various nylon materials other vests use. The downside is that neoprene makes the vest heavier when wet and it takes longer to dry.
Currently, three different stylish color combinations are available, so there's really something for every child here. While blue with yellow may be the most popular option, opt for two brighter color combos for the best visibility.
Like most of the PFDs on this list, it doesn't have a collar and is a type 3 PFD, so it shouldn't be used for off-shore activities like boating, but it's a high-quality vest that's ideal for most situations.
View on Amazon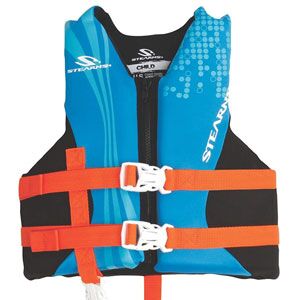 This child hydroprene vest from Stearns is available in blue and pink versions for kids from 30 to 50 pounds. It's a US Coast Guard-approved kid's life jacket made with a soft and flexible hydroprene (like neoprene) shell and cross tech PE flotation foam.
The vest features an ergonomic design for an easy range of motion in and out of the water.
The Stearns Hydroprene vest was designed with a zipper closure plus two adjustable straps with buckles for secure wear at the lake, beach, or pool. An adjustable crotch strap is also included to prevent the kids' jacket from riding up or coming off in the water.
Parents love this kids' life jacket because it's so comfortable their kids don't mind wearing it all day. It doesn't force the child to hold their arms out at an awkward angle as a Puddle Jumper does.
The bright colors give good visibility in the water and the vest also dries quickly for the material type.
The only downsides to this life jacket are that depending on your child, they may feel the fit is too tight. We've also heard that the crotch strap can rub on the inside of the leg, although you can remedy this with proper adjustment.
Overall, the Stearns Child Hydroprene Vest is a great choice for all-day wear during fun boating and water activities.
View on Amazon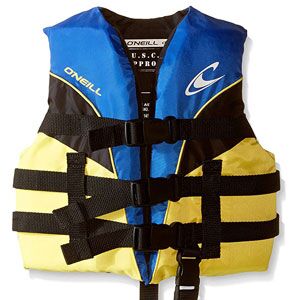 The O'Neill Child Superlite life vest comes in four color combinations for kids from 30 to 50 pounds. This US Coast Guard-approved Type III PFD child life vest includes a head panel to keep your child's head afloat and the neck safely supported.
This life jacket for kids was designed to be extremely lightweight with a nylon shell and closed-cell PVC marine foam. It's not as bulky as some PFDs, so it's more comfortable both in and out of the water.
The Superlite features three adjustable front closure straps with quick-release buckles for easy on and off. An adjustable crotch strap is also included to keep the vest from riding up or slipping over the child's head in the water.
Parents report that the O'Neill Superlite gives their kids more confidence in the pool, lake, or at the beach. Most parents report that this kids' life jacket is so comfortable their kids forget they're even wearing it, but some wished the chest was longer.
It may be a little too tight around the chest for kids on the higher end of the recommended weight range. It's a good choice for kids who need a USCG Approved PFD for boating and other water activities.
View on Amazon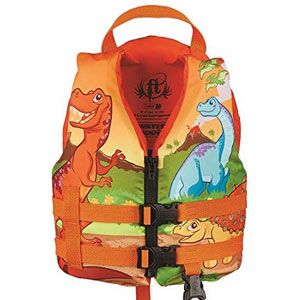 Full Throttle's Water Buddies life vest for kids comes in five adorable styles that boys and girls will love. Your little one can choose from five friendly and imaginative characters, including an astronaut, dinosaur, ladybug, princess, or turtle.
This US Coast Guard approved Type III PFD is made to fit children from 30 to 50 pounds.
The design features a zippered front and two west belts with adjustable buckles. It also has a fully adjustable leg strap to prevent the vest from riding up in the water or slipping off over your child's head. Full Throttle has also included a top grab handle in case of emergency.
Owners of the Full Throttle life jacket love this PFD because it gives their kids extra confidence in the water and the fun characters make them actually want to wear it.
It's great for swimming because kids still have a good range of motion when wearing it. The back of the vest is designed so that it sits flat, making it more comfortable when little ones want to sit or lie down.
It's important to note that while this kids' life jacket will keep your little one afloat, it is not designed to turn the child face-up in the water.
It's probably better suited for kids who know how to kick, move their arms, and keep their heads up, and of course, adult supervision is required at all times. At the end of the day, this is a great life jacket for active kids, especially if you're on a tight budget.
View on Amazon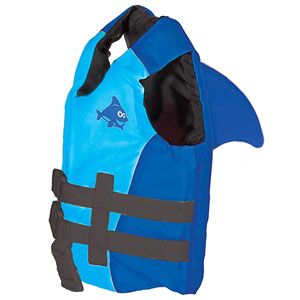 Some children aren't exactly thrilled to wear safety gear, either because they think it's going to be uncomfortable or because they want to be "grown-up".
Responsible adults are going to be wearing flotation vests on a boat, but maybe not for some onshore activities, and an adventurous child might not want to be the only one wearing a life vest.
Swimways have a great solution; instead of telling the child to wear their safety gear, why not ask them if they want to be a shark?
This Sea Squirts Type 3 kid's vest is low profile and close-fitting, so it won't get in the way and fastens securely with a zipper, crotch strap, and two front buckles. It's a great solution for that child who never wants to wear a life jacket.
To add some fun, it's a two-tone blue and has a cool fin on the back. The fin's flexible, so won't get in the way, and can also be used as a handhold if you're teaching kids to swim.
There's a grab loop at the neck making the necessity of a rescue easy. The lack of a collar and colors that don't stand out as well as others might not make it ideal for open water boating or sailing (in that case, you'll want a Type 2).
But for the beach or that above ground pool in your backyard, it's a fun and functional vest.
View on Amazon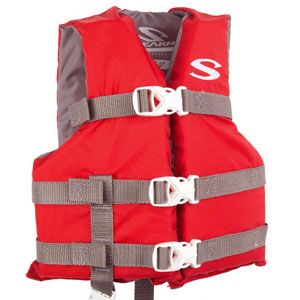 The Child Classic Series is a no-frills life jacket designed specifically for children weighing between 30 and 50 pounds and is a USCG Type 3 PFD. Featuring open sides, three adjustable chest belts, and a leg strap, the vest fits tight and comfortably.
It's made of PE floating foam with a durable nylon casing and one-inch nylon for the straps to ensure the vest will last for a long time.
The Child Classic Series is great for use in a variety of activities, including boating, swimming, tubing, or simply floating the river. Coast Guard approved, the vest comes in blue or red although the red is recommended since it stands out better in the water.
One omission that drags this vest down is the lack of a safety strap on the back of the neck. This makes it more difficult to grab hold of your child if they are panicking.
Proper sizing of this vest can also be a problem, so be sure to get accurate measurements before purchasing online to avoid having to wait for a replacement.
View on Amazon